Nanjing Weather in April
The Nanjing weather in April is neither hot nor cold and it is one of the best months to travel. However, it is comfortable in daytime but a little cold in the morning and night. The temperature ranges from 11 to 20 °C (52 to 68 °F). The average temperature is 15°C (59°F) and the average humidity is 73%. Sometimes it rains a little.
Chinese
Qingming Festival
(Tomb Sweeping Day) usually falls in early April. At this time, many Chinese people will offer sacrifice to their ancestors. Mountain climbing is a choice of many people. With pleasant climate, it is a good time for tourists to enjoy outdoor activities. Besides, a beautiful Cherry Blossom Festival also is held in the early April.
Averages for Nanjing Weather in April
Temperature: 15°C / 59°F
High Temperature: 20°C / 68°F
Low Temperature: 11°C / 52°F
Humidity: 73%
Rainfall: 73 mm
Rainy Days: 10 days
Sunrise: 05:21 ~ 05:54
Sunset: 18:24 ~ 18:44
Air Quality in April
Average AQI:59

What to Wear in Nanjing in April
Long-sleeved shirts, light pants or sweatpants and casual shoes are advisable for April. The temperature is cooler in the morning and night, so you'd better pack thin sweaters or coats.


Where to Go in Nanjing in April
In the warm weather in early April, Xuanwu Park becomes a sea of cherry blossom and a charming Cherry Blossom Festival will be held here. A throng of photography lovers are found to enjoy the charming scenery. Besides, Mochou Lake Park is also a beautiful scenic spot that you cannot be missed. It occupies an area of 47 hectares with pretty beautiful natural scenery. In April, an interesting boat ride here can help the visitors enjoy the flowering blossoms from nearby crabapple trees while being immersed in the lively and attracting scenery around the lake.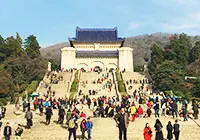 Dr. Sun Yat-sen's Mausoleum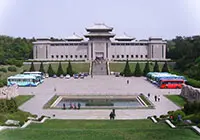 Yuhuatai Scenic Area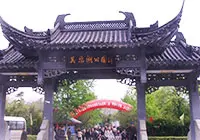 Mochou Lake Park
Presidential Palace
Other Tips
If you are allergic to pollen, it is necessary to prepare some anti-allergy medicine before traveling. Remember to wear a mask for outdoor activities. It is advisable to prepare some other commonly used medicines before traveling. What's more, pay attention to safety when visiting around the lake.
What is the temperature in Nanjing in April?
High/Low Temperatures of Nanjing in April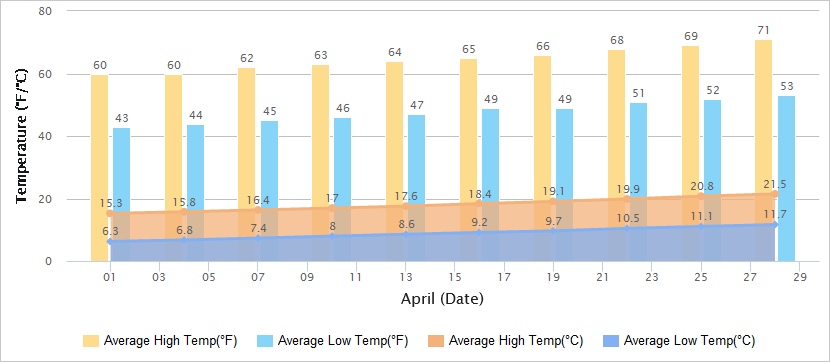 Air Quality of Nanjing in April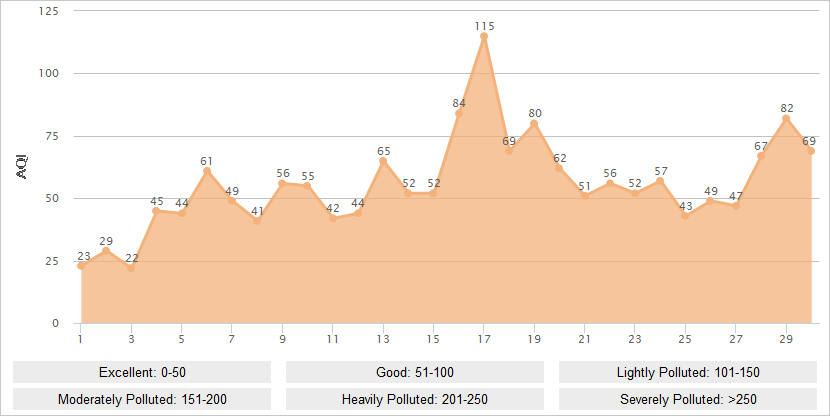 Historical Nanjing Weather in April
Apr
Temperature
Sunrise / Sunset
Humi-
dity
(%)
High
Low
1
15.3°C / 59.5°F
6.3°C / 43.3°F

05:54

/

18:24

31
2
15.5°C / 59.9°F
6.4°C / 43.5°F

05:53

/

18:25

41
3
15.6°C / 60°F
6.6°C / 43.8°F

05:52

/

18:25

46
4
15.8°C / 60.4°F
6.8°C / 44.2°F

05:51

/

18:26

55
5
16°C / 60.8°F
7°C / 44.6°F

05:49

/

18:27

48
6
16.2°C / 61.1°F
7.2°C / 44.9°F

05:48

/

18:27

48
7
16.4°C / 61.5°F
7.4°C / 45.3°F

05:47

/

18:28

45
8
16.5°C / 61.7°F
7.6°C / 45.6°F

05:46

/

18:29

49
9
16.8°C / 62.2°F
7.8°C / 46°F

05:44

/

18:29

87
10
17°C / 61.9°F
8°C / 46.4°F

05:43

/

18:30

67
11
17.2°C / 62.6°F
8.2°C / 46.7°F

05:42

/

18:31

54
12
17.4°C / 63.1°F
8.4°C / 47.1°F

05:41

/

18:31

51
13
17.6°C / 63.3°F
8.6°C / 47.4°F

05:40

/

18:32

48
14
17.9°C / 64.2°F
8.8°C / 47.8°F

05:38

/

18:33

39
15
18.1°C / 64.5°F
9°C / 48.2°F

05:37

/

18:34

47
16
18.4°C / 65.1°F
9.2°C / 48.5°F

05:36

/

18:34

47
17
18.6°C / 65.4°F
9.5°C / 49.1°F

05:35

/

18:35

47
18
18.9°C / 66°F
9.7°C / 49.4°F

05:34

/

18:36

41
19
19.1°C / 66.3°F
9.7°C / 49.4°F

05:33

/

18:36

69
20
19.4°C / 66.9°F
10.1°C / 50.1°F

05:32

/

18:37

73
21
19.7°C / 67.4°F
10.3°C / 50.5°F

05:30

/

18:38

91
22
19.9°C / 67.8°F
10.5°C / 50.9°F

05:29

/

18:38

81
23
20.2°C / 68.3°F
10.7°C / 51.2°F

05:28

/

18:39

72
24
20.5°C / 68.9°F
10.9°C / 51.6°F

05:27

/

18:40

62
25
20.8°C / 69.4°F
11.1°C / 51.9°F

05:26

/

18:41

65
26
21°C / 69.8°F
11.3°C / 52.3°F

05:25

/

18:41

55
27
21.3°C / 70.3°F
11.5°C / 52.7°F

05:24

/

18:42

46
28
21.5°C / 70.7°F
11.7°C / 53°F

05:23

/

18:43

74
29
21.8°C / 70.2°F
11.9°C / 53.4°F

05:22

/

18:43

80
30
22.1°C / 71.7°F
12.1°C / 53.7°F

05:21

/

18:44

66
- Last modified on May. 06, 2020 -