Nanjing Weather in January
January witnesses the coldest weather in Nanjing throughout a year with average high temperature of 7°C (45°F) and average low temperature of –1°C (30°F). It rains a little so the weather is rather cold and dry. Sometimes it may snow, but not very heavy.
Generally, January is also the twelfth month of Chinese lunar year when Chinese people will prepare for the
Chinese New Year
. On the eighth day of this month called
Laba Festival
, people usually eat Laba porridge, which is made with nuts and dried fruit, to pray for peace and happiness for the next year. Every year, temples in Nanjing such as Pilu Temple and Jiming Temple offer free porridge to all on that day.
Averages for Nanjing Weather in January
Temperature: 2°C / 36°F
High Temperature: 7°C / 45°F
Low Temperature: -1°C / 30°F
Humidity: 76%
Rainfall: 37 mm
Rainy Days: 8 days
Sunrise: 07:00 ~ 07:06
Sunset: 17:11 ~ 17:38
Air Quality in January
Average AQI: 81

What to Wear in Nanjing in January
Warm clothes such as windbreaker, overcoat, sweater and winter pants are recommended. While during the night, cotton-padded clothes, leather jacket, chunky sweater, and other thick warm clothes would help you avoid catching cold. Besides, leather cap and leather gloves are nice accessories in such cold climate.


Where to Go in Nanjing in January
Whenever you go to Nanjing, the Confucius Temple (Fuzimiao) is a must-see attraction. The surrounding areas are the most bustling district in Nanjing with all kinds of stalls and
Qinhuai River
nearby.
When it snows, it's an impressive experience if you visit the
Chaotian Palace
, a Ming Dynasty (1368 - 1644) palace complex. Covered by snow, the palace seems more serene and magnificent. The holy whiteness, the golden roofs and the red walls create a fabulous visual effect, which is suitable for photographing.
In cold winter, taking a hot spring bath is a great idea. The Tangshan Hot Springs are worth a try to make you fully relaxed.
Other Tips
There might be some hazy days in January in Nanjing, so you should prepare a mask beforehand. There is no public heating system in Nanjing. When choosing hotels, please make sure they are air-conditioned.
What is the temperature in Nanjing in January?
High/Low Temperatures of Nanjing in January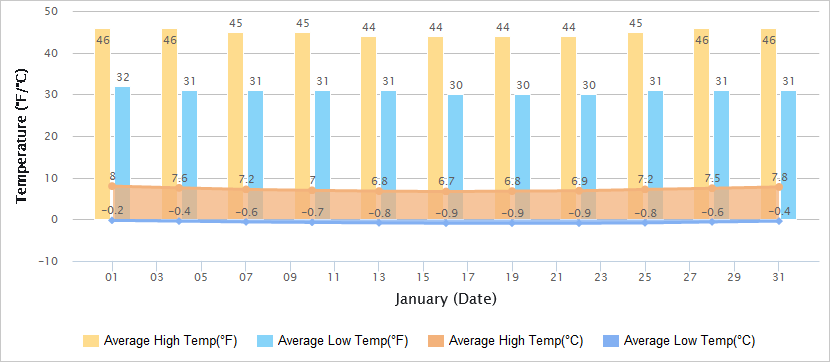 Air Quality of Nanjing in January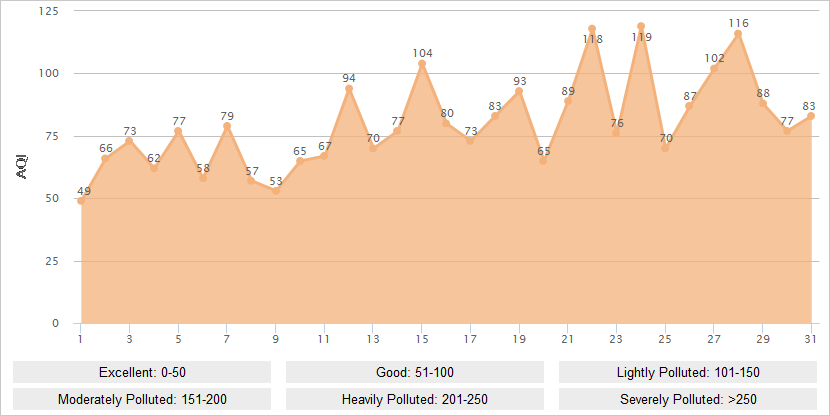 Historical Nanjing Weather in January
Jan
Temperature
Sunrise / Sunset
Humi-
dity
(%)
High
Low
1
8°C / 46.4°F
-0.2°C / 31.6°F

07:06

/

17:11

54
2
7.8°C / 46°F
-0.3°C / 31.4°F

07:06

/

17:12

54
3
7.7°C / 45.8°F
-0.3°C / 31.4°F

07:06

/

17:13

68
4
7.6°C / 45.6°F
-0.4°C / 31.2°F

07:06

/

17:13

86
5
7.5°C / 45.5°F
-0.5°C / 31.1°F

07:06

/

17:14

79
6
7.3°C / 45.1°F
-0.5°C / 31.1°F

07:06

/

17:15

78
7
7.2°C / 44.9°F
-0.6°C / 30.9°F

07:07

/

17:16

81
8
7.1°C / 44.7°F
-0.6°C / 30.9°F

07:07

/

17:17

59
9
7°C / 44.6°F
-0.7°C / 30.7°F

07:07

/

17:18

73
10
7°C / 44.6°F
-0.7°C / 30.7°F

07:07

/

17:18

86
11
6.9°C / 44.4°F
-0.8°C / 30.5°F

07:07

/

17:19

83
12
6.8°C / 44.2°F
-0.8°C / 30.5°F

07:06

/

17:20

65
13
6.8°C / 44.2°F
-0.8°C / 30.5°F

07:06

/

17:21

56
14
6.8°C / 44.2°F
-0.9°C / 30.3°F

07:06

/

17:22

61
15
6.7°C / 44°F
-0.9°C / 30.3°F

07:06

/

17:23

55
16
6.7°C / 44°F
-0.9°C / 30.3°F

07:06

/

17:24

45
17
6.7°C / 44°F
-0.9°C / 30.3°F

07:06

/

17:25

37
18
6.7°C / 44°F
-0.9°C / 30.3°F

07:05

/

17:25

50
19
6.8°C / 44.2°F
-0.9°C / 30.3°F

07:05

/

17:26

56
20
6.8°C / 44.2°F
-0.9°C / 30.3°F

07:05

/

17:27

51
21
6.9°C / 44.4°F
-0.9°C / 30.3°F

07:05

/

17:28

37
22
6.9°C / 44.4°F
-0.9°C / 30.3°F

07:04

/

17:29

34
23
7°C / 44.6°F
-0.9°C / 30.3°F

07:04

/

17:30

42
24
7.1°C / 44.7°F
-0.8°C / 30.5°F

07:03

/

17:31

46
25
7.2°C / 44.9°F
-0.8°C / 30.5°F

07:03

/

17:32

56
26
7.3°C / 45.1°F
-0.7°C / 30.7°F

07:02

/

17:33

43
27
7.4°C / 45.3°F
-0.7°C / 30.7°F

07:02

/

17:34

49
28
7.5°C / 45.5°F
-0.6°C / 30.9°F

07:01

/

17:35

42
29
7.6°C / 45.6°F
-0.6°C / 30.9°F

07:01

/

17:36

61
30
7.7°C / 45.8°F
-0.5°C / 31.1°F

07:00

/

17:37

87
31
7.8°C / 46°F
-0.4°C / 31.2°F

07:00

/

17:38

72
- Last modified on May. 07, 2020 -