Nanjing Weather in September
Nanjing steps into autumn in September. The temperature is still a little high in early September because of the after-heat of summer. It becomes cooler and cooler in mid and late September. The average temperature of Nanjing weather in September is 23°C (73°F). There are also rainy days and the temperature decreases with every rainfall.
The
Mid-Autumn Festival
in the Chinese lunar calendar is celebrated in late September. The festival atmosphere in Nanjing is very strong. You can enjoy a unique experience of Chinese traditional festivals.
Averages for Nanjing Weather in September
Temperature: 23°C / 73°F
High Temperature: 27°C / 81°F
Low Temperature: 19°C / 66°F
Humidity: 79%
Rainfall: 72 mm
Rainy Days: 9 days
Sunrise: 05:40 ~ 05:58
Sunset: 17:52 ~ 18:30
Air Quality in September
Average AQI:48

What to Wear in Nanjing in September
Short-sleeved T-shirts and skirts or shorts are recommended for the pleasant and cool climate. But long trousers, thin coats or long-sleeved shirts are necessary in case it rains or drops in temperature at night.


Things to Do in Nanjing in September
The sky in September of Nanjing is especially clear and bright. Autumn is a beautiful season in the city when parks and gardens will be charmingly decorated with many colorful leaves gradually. Maples on
Qixia Mountain
are amazing. Besides, many natural scenic, such as
Purple Mountain
(Zhongshan Mountain National Park),
Qinhuai River
and
Xuanwu Lake
are pretty attracting and worth your visit. In addition, an art and cultural festival is held in Yuhuatai (Rain Flower Terrace) Scenic Area in September every year. Many precious agate stones will be presented, among which Yuhuashi, a kind of rain-flower pattern agate, is a very popular tourist souvenir.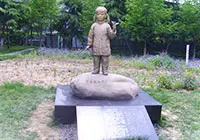 Memorial Hall to Nanjing Massacre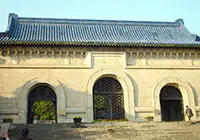 Dr. Sun Yat-sen's Mausoleum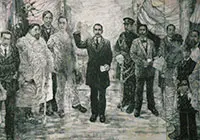 Presidential Palace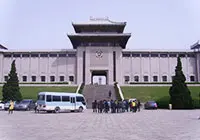 Yuhuatai Scenic Area
Other Tips
Pay attention to the weather forecast during the trip. Remember to take an umbrella and pack raincoat before your departure, for fear that it rains unexpectedly. The weather is changeable and it's easy to catch a cold, so cold medicine is needed. Besides, some common drugs are also necessary during your trip.
What is the temperature in Nanjing in September?
High/Low Temperatures of Nanjing in September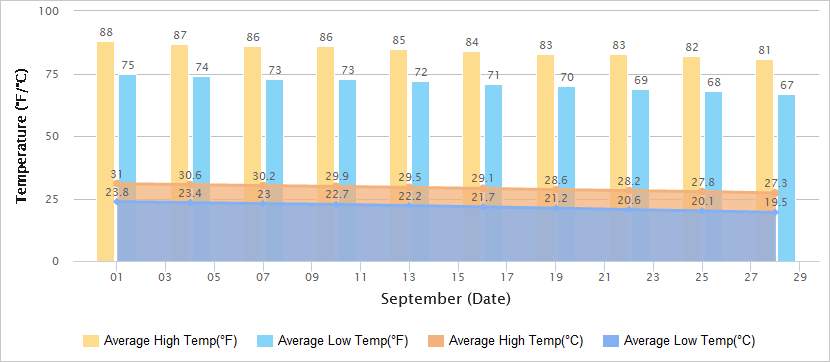 Air Quality of Nanjing in September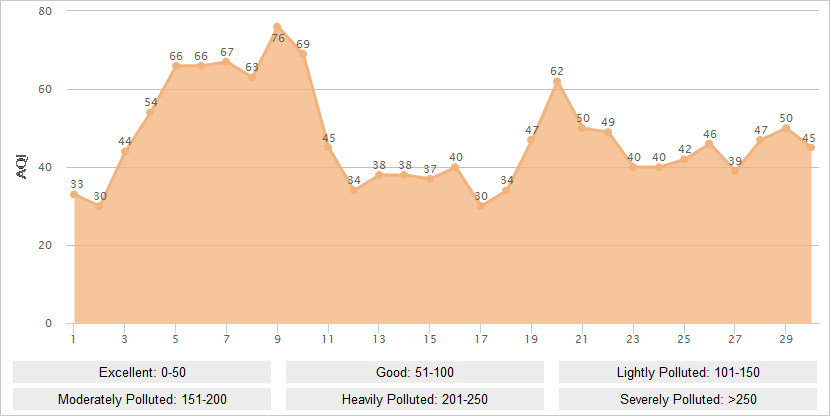 Historical Nanjing Weather in September
Sep
Temperature
Sunrise / Sunset
Humi-
dity
(%)
High
Low
1
31°C / 87.8°F
23.8°C / 74.8°F

05:40

/

18:30

86
2
30.8°C / 87.4°F
23.7°C / 74.6°F

05:41

/

18:29

94
3
30.7°C / 87.2°F
23.6°C / 74.4°F

05:41

/

18:27

86
4
30.6°C / 87°F
23.4°C / 74.1°F

05:42

/

18:26

77
5
30.5°C / 86.9°F
23.3°C / 73.9°F

05:43

/

18:25

82
6
30.3°C / 86.5°F
23.1°C / 73.5°F

05:43

/

18:23

74
7
30.2°C / 86.3°F
23°C / 73.4°F

05:44

/

18:22

61
8
30.1°C / 86.1°F
22.8°C / 73°F

05:44

/

18:21

58
9
30.1°C / 86.1°F
22.8°C / 73°F

05:45

/

18:20

68
10
29.9°C / 85.8°F
22.7°C / 72.8°F

05:46

/

18:18

64
11
29.8°C / 85.6°F
22.5°C / 72.5°F

05:46

/

18:17

66
12
29.7°C / 85.4°F
22.4°C / 72.3°F

05:47

/

18:16

74
13
29.5°C / 85.1°F
22.2°C / 71.9°F

05:47

/

18:14

64
14
29.4°C / 84.9°F
22°C / 71.6°F

05:48

/

18:13

69
15
29.2°C / 84.5°F
21.9°C / 71.4°F

05:49

/

18:12

60
16
29.1°C / 84.3°F
21.7°C / 71°F

05:49

/

18:10

58
17
28.9°C / 84°F
21.5°C / 70.7°F

05:50

/

18:09

56
18
28.8°C / 83.8°F
21.3°C / 70.3°F

05:50

/

18:08

54
19
28.6°C / 83.4°F
21.2°C / 70.1°F

05:51

/

18:06

54
20
28.5°C / 83.3°F
21°C / 69.8°F

05:52

/

18:05

52
21
28.3°C / 82.9°F
20.8°C / 69.4°F

05:52

/

18:04

75
22
28.2°C / 82.7°F
20.6°C / 69°F

05:53

/

18:03

74
23
28.1°C / 82.5°F
20.4°C / 68.7°F

05:53

/

18:01

58
24
27.9°C / 82.2°F
20.2°C / 68.3°F

05:54

/

18:00

45
25
27.8°C / 82°F
20.1°C / 68.1°F

05:55

/

17:59

39
26
27.6°C / 81.6°F
19.9°C / 67.8°F

05:55

/

17:57

54
27
27.5°C / 81.5°F
19.7°C / 67.4°F

05:56

/

17:56

56
28
27.3°C / 81.1°F
19.5°C / 67.1°F

05:57

/

17:55

52
29
27.2°C / 80.9°F
19.3°C / 66.7°F

05:57

/

17:54

52
30
27°C / 80.6°F
19.1°C / 66.3°F

05:58

/

17:52

54
- Last modified on May. 06, 2020 -