Cultural Palace of Nationalities
Located to the west of Chang'an Avenue and on the north side of Fuxingmen Inner Street of Beijing, the Cultural Palace of Nationalities was built in 1959. There are 56 nationalities in China, and each of them possesses its own cultural features. The traditions, clothes and folk activities of different nationalities are quite diverse. The Cultural Palace of Nationalities has a museum, demonstrating these differences with more than 50,000 items, including clothes, musical instruments and craftworks.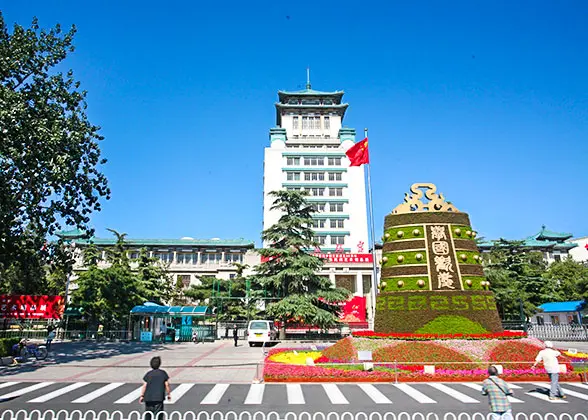 Cultural Palace of Nationalities, Beijing
The architectural style of the palace is very unique and magnificent. It is a tower block with one main building in the middle and two wings on both sides. On the top of the white building is the beautiful peacock-blue glass roof. The main building stretches to the sky, and is higher than the west wing and east wing. There are 13 floors in the main building with the height of 220 feet (67 meters). There are also some spring pools in the yard.

The whole area of the Cultural Palace of Nationalities is 11 acres (45, 058.8 square meters). In the museum, there are five showrooms, covering 3,588 square yards (3,000 square meters). The exhibition demonstrates the traditional culture of different nationalities through three main aspects, namely national dress, musical instruments and craftworks.

The clothes culture of ethnic groups is an important part of Chinese clothes culture. Every minority has its own unique clothing style. You can distinguish them according to the clothes. The palace has collected over 10,000 pieces of clothes, including the wedding dress of Mongol women, Tujia women's clothes, formal dress of Miao women, and clothes of Yi children. The collection basically reflects the overall clothing style of every nationality.

The kinds of national musical instruments are also abundant. In China, there are presently more than 500 kinds. Generally, people living in the northern part often play string instruments, while the percussion instruments and wind instruments are more likely to be seen in the southern area. People usually play musical instruments while they are working and entertaining. Weddings, festivals and sacrifices also demand music. There are more than 100 kinds of instruments displayed in the museum, totaling over 1,000 pieces.

The craftworks of minorities are very delicate. Most of the craftworks are made by farmers, fishermen, hunters and craftsmen. The items all have a strong connection with people's life and work. The craftworks are mainly of practical arts. The items exhibited in the Cultural Palace of Nationalities can be divided into seven categories: ceramics; knitting technique; sculpture craft; metal technique; spinning, dyeing and embroidering; lacquer arts; folk painting and paper-cutting.

Idols, ritual implements and scriptures are also exhibited in the museum. Religion brings a profound influence on minorities' life in many different aspects, such as social activities, production, culture, art and customs. The museum collects the representative items to give visitors a better understanding on ethnic groups.

The Cultural Palace of Nationalities also has an exhibition hall, an ethnic library, a theater, and a painting academy to help visitors have a comprehensive idea of Chinese nationalities.
How to Get to Cultural Palace of Nationalities
1. Take
Subway Line 1
or
Line 4
and get off at Xidan Station. Get out from Exit F2 and walk west for about five minutes.
2. Take bus 7, 10, 15, 52, 88 or Fast Transit Line 17 or 31, and get off at Minzu Wenhuagong (Cultural Palace of Nationalities) Station.
| | |
| --- | --- |
| Admission Fee | Free |
| Opening Hours | 9:00 – 16:00 |
- Last updated on Apr. 08, 2021 -