Badachu Park
Badachu Park, located on the northwest outskirts of Beijing, is a famous destination with a long history, ancient temples and delightful scenery. It is also known as Eight Great Sites Park because of its eight Buddhist temples and nunneries scattered across Cuiwei, Pingpo and Lushi Hills in the park. Visitors can stroll from one temple to another, enjoying the beautiful scenery and admiring pavilions and rare ancient trees.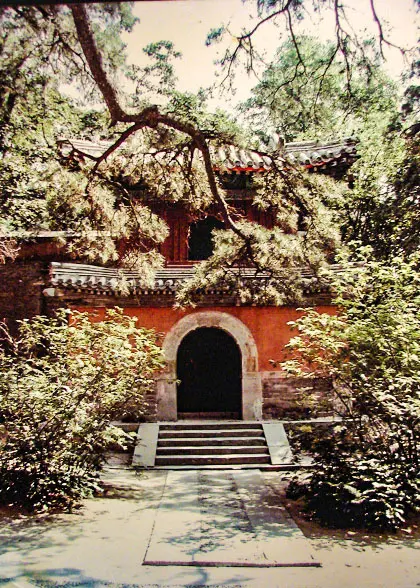 Bell Tower of Xiangjie Temple
Eight Temples
The eight Buddhist temples are the precious antiques of the park. They are Chang'an Temple, Lingguang Temple, Sanshan Nunnery, Dabei Temple, Longquan Nunnery, Xiangjie Temple, Baozhu Temple, and Zhengguo Temple. Apart from Zhengguo Temple, they all sit on Cuiwei Hill. Zhengguo Temple is the oldest and is situated on Lushi Hill, far from other temples.
Follow the route below, you will visit all temples:
Lingguang Temple - Sanshan Nunnery - China's Largest Inkstone - Dabei Temple - Longquan Nunnery - glacial erratic boulder - Xiangjie Temple - Baozhu Temple - Chinese Seal Valley - Red Leaves Admiration Zone – stone sculptures at Moya Valley - Zhengguo Temple

1. Chang'an Temple, literally 'Temple of Eternal Peace', stands about 0.6 miles (1km) to the south of the ticket center. It used to be a famous temple with five hundred Arhat statues, but it was badly damaged in the 1960s. Thus, it is not open to visitors.

2. Lingguang Temple was initially erected in the Tang Dynasty (618 - 907). There are three courtyards. It houses a statue of Sakyamuni, the founder of Buddhism, weighing 3.3 tons. Lingguang Temple is famous for its majestic seven-storey stupa, a golden fish pond where beautiful brocade carp swim delightedly, as well as the heart sutra wall and arhats wall presenting a splendid sight. Tooth relics of Sakyamuni are preserved in the temple, making it a holy temple for Buddhists.

3. Sanshan Nunnery sits between the three hills, thus giving it this name, which literally means 'three hills'. A spot you cannot miss in Sanshan Nunnery is China's Largest Inkstone. It measures 38 feet (11.8m) long, 10 feet (3.18m) wide and weighs about 45 tons. Fifty-six lifelike dragons, nine longevity turtles, the pattern of China's territory, the sun and the moon are ingeniously inscribed with great proportion.

4. Dabei Temple, meaning the temple of great mercy, is noted for the eighteen lifelike arhats in the Hall of Mahavira which were molded by the famous sculptor Liu Yuan in the Yuan Dynasty (1271-1368). These statues are made of fine sandalwood powder, giving off a waft of faint scent. Also to be found here are two towering gingkoes, which have a history of over eight hundred years. The inscription on the stone tablet over the gate was written by Emperor Kangxi in the Qing Dynasty (1644-1911).

5. Longquan Nunnery, located to the west of Dabei Temple, is widely known for the clear spring that never dries up.

6. Xiangjie Temple is the largest in the Badachu Park, housing five courtyards. It used to be one of the temporary residences for the Emperor Kangxi and Qianlong in the Qing Dynasty. On the way to Xiangjie Temple, you will encounter a glacial erratic boulder, which was formed one or two million years ago.

7. Baozhu Temple, whose name Baozhu suggests 'precious pearl', has a cave behind its Guanyin Hall, with pebbles on the wall like shining pearls. Standing on the peak of Pingpo Hill, the temple was initially built in 1780 during the reign of Emperor Qianlong. One can find many inscriptions left by this emperor. A cable car is available to take visitors from Longquan Temple to the temple within 15 minutes.

8. Zhengguo Temple, on Lushi Hill far from other seven temples, is the oldest with a history of over 1,200 years. It is said that Lushi once studied as a monk in the temple.
Chinese Seal Valley and Moya Valley
The valley between the three hills is home to two attraction spots. One is Chinese Seal Valley between the fourth and the seventh temple. It is themed with China's seal culture. Hundreds of seals are divided into eight sections chronically. Another one is the Ming Dynasty (1368-1644) stone Buddha sculptures in Moya Valley, which were discovered in 2000. The sculptures are considered to be the ninth great site, attracting lots of stone carving aficionados and Buddhists. The middle of the valley also serves as the Red Leaves Admiration Zone. Cable cars to the zone are available at the southeast of Longquan Nunnery.
Twelve Natural Sights
Apart from three hills and eight ancient temples, twelve natural sights can be discovered in Badachu Park. The natural sights are: panoramic view from the summit, apricot blossom in spring, mist floating over the hills, sunset at Lushi Hill, chirping of cuckoos, torrents after summer rain, peaceful valleys with streams, morning sun over woods, five bridges under moonlight, flaming autumn leaves, summer green on Hufeng Peak, and snowscape in winter.
With so much to enjoy, Badachu Park is an attractive place to visit all year round, but September and October when leaves are particularly popular when leaves turn red.
How to get to Badachu Park
By Bus:
Take bus no. 347, 389, 598, 958, or 972 and get off at Badachu Station.
By Subway:
Take
Subway Line 1
to Pingguoyuan Station and get out from the northeast exit D. Then take bus 972 heading for Badachu Station at the Pingguoyuan Ditie Beimen Bus Stop.
Or you can get off at Bajiao Amusement Park Subway Station, walk east to Jingyuan Lukou East Station to take bus 598; or walk west to Jingyuan Lukou West Stationat to take bus 958.
Beijing Bus / Subway Search
Fees
Entrance: CNY 10
Children between 3.9 - 4.6 feet (1.2-1.4m) enjoy half price while those below 3.9 feet (1.2m) can enter for free.
CNY 3 for visiting China's Largest Inkstone.
Cable car and Slideway
Cable Car: CNY 50
Slideway: CNY 60
Combined Ticket for Cable Car and Slideway: CNY 100
Children below 3.9 feet can enjoy half price.
Opening Hours
Mar. 16 to Aug. 31: 6:00 to 19:30 (ticket selling stops at 18:30.)
Sep. 1 to Nov. 15: 6:00 to 19:00 ( ticket selling stops at 18:00)
Nov. 16 to the next Mar. 15: 6:00 to 18:30 ( ticket selling stops at 17:30)
Recommended Time for a Visit
Half a day
Print
Nearby Attractions:

Western Hills National Forest Park

Fragrant Hills Park

Temple of Azure Clouds

Beijing Botanical Garden