Beijing Transportation Smart Card
Beijing Transportation Smart Card, aka Yikatong Card, is valid for nearly all means of transportation in the city, including
city buses
,
subway
, the
Airport Express Train
, S2 trains,
taxis
, and
public bicycles
. This ordinary transportation card is available to anyone and a passport is not needed. Payments in some supermarkets, convenience stores, pharmacies and some 20 parks can also be made using the transportation card.
How much does a Transportation Card Cost?
Each card requires a CNY20 refundable deposit. Generally, it is suggested to store CNY50 for 2-3 days' stay and CNY100 for one-week's cost when buying the transportation card.
Succeeding top-up amounts must be in multiples of CNY10, and the maximum is CNY1,000. One can buy and use the card without registration. Once lost, it is hard to get it back. Therefore, storing a large sum on the card should be avoided.
Where to Buy & Top Up Yikatong Card
1. Customer Service Center of all subway stations
2. Ticket windows of the Airport Express Train: T3: 06:20 - 22:50; T2: 06:35 - 23:10 (also for card-return service)
3. Transportation Smart Card Service Centers:
Xidan branch: east of Cultural Palace of Nationalities, No. 45-21, Fuxingmen Inner Street, Xicheng District; 08:30 – 19:00
Dongzhimen branch: west of Dongzhimen Transportation Hub, Dongcheng District; 08:30 – 19:00
South Railway Station branch: city bus exchange hall, B1 Floor, South Railway Station; 08:30 – 19:30
4. The following branches of Agricultural Bank of China in Beijing, 09:00 – 16:00:
| | |
| --- | --- |
| Xicheng | No. 16, Fuxingmen Outer Street; No. 92, Xuanwumen Outer Street; No. Jia 15, West Chang'an Street; No. 12-16, Jinrong Street; No. 15, Maliandao Road |
| Dongcheng | No. 15, Dongzhimen Inner Street; No. 10, Jiaodaokou East Street; No. 13, Chaoyangmen North Street |
| Chaoyang | No. 11, West Beitucheng Road; No. 826, Jinsong Baqu; No. Jia 1, Anwai Ganshuiqiao; No. 1, East Dingfuzhuang; Kangyun Hotel, No. 78, Maizidian Street |
| Haidian | No. 15, Baishiqiao Road; No. 95, East Zhongguancun Road; 1F, Jingmen Mansion, Yangfangdian Road, Fuwai Street; Cuiwei Mansion, No. 33, Fuxing Road |
| Fengtai | No. 9, East Street; No. 2, Huayuan Sili; No. 109, West Xiaotun Road |
| Tongzhou | No. 1, Baliqiao South Street |
| Daxing | No. 27, Middle Section of Xinghua Street; No. 99-101, West Fuqiang Road |
| Fangshan | No. 8, West Street, Chengguan Street; No. 28, West Liangxiang Road |
| Shunyi | South of Fuqian Street, Xiaoying Town; No. 1, Zhangzhen Street |
| Huairou | No. Jia 54, Qingchun Road, Huguang Community; 1-2F, No. 25, Fule Community Beili |
| Pinggu | 1F, No. 20, Xinggu Road, Xinggu Industrial Development Zone; 1-3F, Block no. 5, No. 29, Yuyang Road, Yuyang Town |
| Miyun | No. 37, East Gulou Street; No. 5, Block no. 697, Yangguang Street |
| Yanqing | No. 101, Dongwai Street; No. 17, South Weishui Street |
5. Beijing Yikatong Transportation Card Self-service Machines – to buy, top up or return a card
A. Indicated subway stations: Yong'anli on line 1, Qingnian Road on line 6, Guangqumennei on line 7, Fengtai Science Park on line 9, Guomao & Shoujingmao on line 10, Beishantan & Wangjing East on line 15
B. West Railway Station: south square; next to telephone booth on north square; next to escalator on north square
C. Transportation Smart Card Service Centers at Xidan, Dongzhimen and South Railway Station
D. Transportation junction at Sihui, Songjiazhuang, Xiyuan and Libafang
Where & How to Use Beijing Transportation Card
1. Bus: 50% discount on the normal fare is offered. Swipe the card when boarding the bus. If the door for disembarking has a card reader, it is necessary to swipe again when exiting the bus.
2. Subway: Use as a metro card without discount. Swipe it when entering and exiting the subway station.
3. Taxi: swipe on the card reader near the taximeter
4. S2 Train to
Badaling Great Wall
: swipe when entering and exiting the railway station
5. Public Bicycle: activate the bike rental function → find a public bike docking station → swipe the transportation card to unlock the bike → ride away → lock the bike → swipe the card to finish the return
| | |
| --- | --- |
| Subway Check-in Counter | Exit of Subway |
---

Other functions of Beijing Transportation Smart Card for foreigners who work or live in Beijing for a long time:

Payment at dedicated gas stations, supermarkets, convenience stores, department stores, pharmacies & all public telephones……

Parks' annual ticket in Beijing:
Beijing Transportation Smart Card should be activated for the park entry function first at the ticket offices of the following parks/attractions; meanwhile, CNY200 will be deducted from the card. Then it is allowed to enter these parks for unlimited times in a year:
Summer Palace, Temple of Heaven, Zhongshan Park, Beihai Park, Jingshan Park, Taoranting Park, Beijing Zoo, Fragrant Hills Park, Botanical Garden, Yuyuantan Park, Grand View Garden, Lianhuachi Park, Temple of the Moon, Temple of Earth, Water Cube, Fengtai Park, Wanfangting Park, International Sculpture Park and Shuangxiu Park.
How & Where to Return Beijing Transportation Smart Card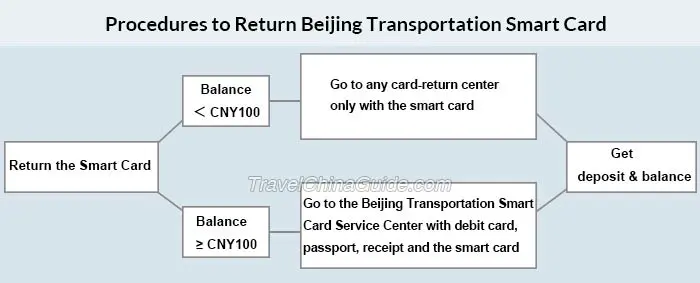 Procedures to Return Beijing Transportation Smart Card
Places to return Yikatong Card
1. Customer Service Center of designated subway stations:
| | |
| --- | --- |
| Line 1 | Wangfujing, Sihui, Gucheng |
| Line 2 | Xizhimen, Beijing Railway Station, Jianguomen |
| Line 4 | Lingjing Hutong, Haidian Huangzhuang, Jiaomenxi |
| Line 5 | Dongdan, Yonghe Lamasery, Lishuiqiao |
| Line 6 | Ping'anli, Chegongzhuang West, Shilipu, Huangqu, Dongxiayuan |
| Line 7 | Guang'anmennei |
| Line 8 | Guloudajie, Huoying |
| Line 9 | Qilizhuang, West Railway Station |
| Line 10 | Shilihe, Shaoyaoju, Cishousi, Zhichunlu, Fengtai, Songjiazhuang |
| Line 13 | Dongzhimen, Dazhongsi |
| Line 14 | Jingtai, Songfeng Beiqiao, Jiulongshan, Wangjing, Dajing, Dawayao |
| Line 15 | Wangjing West, Liudaokou, Nanfaxin, Hualikan |
| Line 16 | Yongfeng South |
| Yizhuang Line | Wanyuanjie, Rongchang Dongjie |
| Daxing Line | Yihezhuang, Zaoyuan |
| Changping Line | Shahe Univesity Park, Life Science Park |
2. Transportation Smart Card Service Center at Dongzhimen, Xidan and Beijing South Railway Station
3. Long-distance Bus Stations: Muxiyuan, Zhaogongkou, Liuliqiao, Bawangfen, Xinfadi
4. The following branches of Post Offices in Beijing, 09:00 – 16:00:
| | |
| --- | --- |
| Xicheng | No. 12, Qianmen West Street; No. 4, Ox Street; No. 18, Baiwanzhuang Street; No. 16, South Street; No. 109, West Xidan Street; No. 19, North Fuchengmen Street |
| Dongcheng | No. 553, North Dongsi Street; Building no. 7, Fuguiyuan Community, Donghuashi Nanli; No. 181, Anwai Street |
| Chaoyang | Building no. 11, Anhui Beili; Building no. 102, Nongguangli Community; No. 9, Guangdongdian Street; No. 3, Balizhuang Dongli; No. 6, North Jintai Street; No. 1, Huajiadi Beili |
| Haidian | No. 7, Wanshou Road; Building no. 1, Yanshuyuan, Shijicheng Community; No. 9, Zhongguancun Street; No. 1, North Fengwo Road; No. 35, Middle Beisanhuan Road; No. 37, Shuangyushu Dongli; No. 17, Chengfu Road; No. Jia 88-1, Yongding Road; No. 17, Zhongguancun South Street |
| Fengtai | No. 94, South Xisihuan Road; No. 10, West Railway Station South Road; No. 22, Pufang Road; No. 8, West Muxiyuan; No. 4, Dijing Road |
| Shijingshan | No. 52, Shijingshan Road |
| Mentougou | Dongwangping Village |
| Changping | No. 20, Xinxing Road, Nankou Town |
| Huairou | No. 88, Yujiayuan Community Area no. 1 |
| Miyun | No. 18-1, Xinzhong Street |

Further Reading:
Beijing-Tianjin-Hebei Transportation Card – Jingjinji Card
-
- Last modified on Sep. 24, 2019 -