Tibet Travel Permit FAQs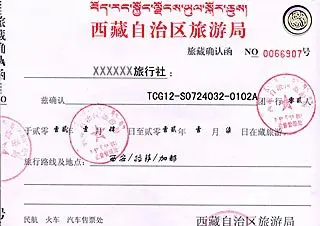 Tibet Entry Permit (click to enlarge)

Question: Can you arrange a Tibet travel permit for us before the tour begins?

Answer: Yes. For those who book tours with TraveChinaGuide.com, we will arrange for the travel permit. The permit is checked and issued by the Tibet Tourism Bureau (TTB) for free and is usually issued two weeks prior to your entry to the region.
---

Question: Do I need to bring photos when applying for a Tibet Travel Permit? If yes, in what size?

Answer: Your photos are not necessary when applying for a travel permit. However, you must provide us some of your pertinent information and documents prior to your applications. You must give us your name (as appears on your passport), nationality, age, sex, occupation passport number as well as the photocopies of your passport and visa.
---

Question: Can we fly freely to Lhasa without a Tibet Permit?

Answer: No, you cannot. You may purchase your air ticket in advance. However, you are not allowed to board the plane without the permit.
---

Question: Can I have my permit arranged by your agency? But, I will arrange my own visit in Tibet.

Answer: We do not offer a permit-only service. Foreign visitors must be on an organized tour, either a private or a group tour with five or more members to visit the region. Independent visit is prohibited in that area.
---

Question: Do I need to apply other documents besides the Tibet Travel Permit?



Answer: Yes. Foreign visitors also need to apply an Aliens' Travel Permit issued by the Public Security Bureau (PSB) if they are going to visit the restricted areas in Tibet.

For foreign visitors, the Aliens' Travel Permit (PSB Permit) can be obtained through their travel agency after they arrive in Lhasa. To get the permit, your passport and Tibet Travel Permit are required, and it takes just a few hours and costs CNY 50 per person. However, an agency is not able to apply the PSB Permit for diplomats, journalists, and government officials who should travel under the arrangement of the Foreign Affairs Office of Tibetan Government.

Restricted areas usually refer to the region closing to the national boundaries. You should apply the permit when your trip includes the following regions:
Shigatse: Sakya Monastery, Mt. Everest, Rongbuk Monastery
Tsetang: Samye Monastery, Tomb of Tibetan King, Changdruk Temple, Yumbulakhang
Gyangtse: Pelkor Chode Monastery & Kubum Stupa
Nqari Region
Nyingchi: Basumtso Lake
Chamdo Region

Note: Lhasa and Nagqu regions are not restricted areas and are open to visitors with Tibet Travel Permit.
---

Question: I'm a resident of Hong Kong and I have a Chinese Passport. Do I need Tibet Permit to visit the region?

Answer: No. Chinese Passport Holders do not need the permit to go/travel there. According to the rules and regulations of the China National Tourism Administration (CNTA), foreign passport holders (including the Taiwanese and Non-Chinese ID card holders need to have the travel permit for visiting. People who hold Hong Kong SAR passports and Macau SAR passports do not need the permit.
---
- Last updated on May. 03, 2023 by Catherine He -
Questions & Answers on Tibet Travel Permit
Asked by Nicky from USA | Apr. 28, 2023 10:11

Reply
Foreigners with a Chinese green card
If a foreigner got Chinese permanent residence ID card, does that person still need a Tibet Travel Permit to enter Tibet?
Answers (1)
Answered by Andy | May. 03, 2023 20:28

0

0

Reply
Yes, he or she still has to apply for a travel permit in advance.
Asked by anon from UNITED STATES | Feb. 19, 2020 22:40

Reply
former tibetan w a us passport
Can a former Tibetan with a foreign passport get a Tibet pass?

Answers (1)
Answered by Mary from DENMARK | Feb. 23, 2020 15:57

0

0

Reply
Yes, you can. You can join in a travel agency and get that pass.
Asked by David Tan from MALAYSIA | Mar. 22, 2019 08:27

Reply
I am a single traveler. I understand that you need to be in a group tour to visit Tibet.
Do you have Tibet tours where I can join another traveler. Can you let me know what tours are available and the cost per person. What's the best to go. I plan to depart from Lanzhou.
Answers (1)
Answered by Ben from UK | Mar. 24, 2019 18:51

0

0

Reply
Hi, you can contact travel

travelchinaguide.com for more information.
Asked by Benjamin from HONG KONG | Jan. 30, 2019 17:18

Reply
I am a hong kong permanent resident but have a british passport. Do i need Tibet travel permit?
Answers (1)
Answered by Emma from NEW ZEALAND | Jan. 31, 2019 16:54

0

0

Reply
Yes, you need it.
Asked by Torsten from GERMANY | Jul. 20, 2018 01:40

Reply
a foreigner permanently residing in China and holding a Chinese Greencard. Do i need a Tibet permit
Answers (1)
Answered by Rena from USA | Jul. 22, 2018 19:57

0

0

Reply
No, you needn't.