Money & Shopping in Tibet
Money
As in the rest of China, Renminbi (RMB) is the legal currency in
Tibet
. Only the Bank of China offers foreign exchange services and facilities there and certain up market hotels (Lhasa Hotel, the former Holiday Inn, and Tibet Hotel). The Bank of China has a main office (0891-6835078) and several sub-branches in Lhasa, which all cash travelers' checks while only the main office offers cash advances on major credit cards (MasterCard, Visa, Diners Club and Amex). Its main office is located on Lingkhor Bei Lu 28, north of the Yak Statue and its hours of operation are 9:30 am -1pm and 3:30 - 6:00pm, Monday to Friday. Another convenient sub-branch lies on Beijing Dong Lu, between the Kirey Hotel and the Banak Shol Hotel. Its hours of operation are 9:30am-6:00pm, Monday to Friday, and 11am-3pm, Saturday and Sunday. The Bank of China Shigatse office, near the Shigatse Hotel, can provide travelers' checks exchange services also. Cash advances on credit cards are not available here. Zhangmu has two sub-branches also. Due to a lack of conversion outlets, visitors may have to change their extra RMB on the black market before their exit.
Shopping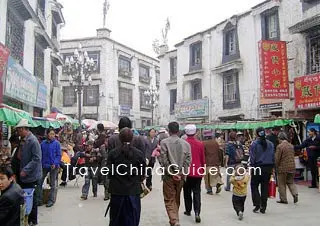 Barkhor Street, Lhasa
Be sure to buy whatever practical items you need in
Lhasa
, before you leave for more remote towns. There are department stores, mostly on Yuthok Lu that will supply your everyday needs. Lhasa Department Store, a general department store, is located on the west end of Yuthok Lu. It is the largest and best known department store in Lhasa. It sells such practical items as cotton clothing, mugs, canned food, towels, and toothpaste, plus local handicrafts. There are also supermarkets in Lhasa.
Barkhor is a more traditional Tibetan shopping market. It is a market where shopkeepers with small shops and stalls on the street sell many unusual and fascinating items, for both religious and secular uses. Shopkeepers sell items such as prayer flags, Buddha figures, conch-shell trumpets, rosaries, amulets, fur hats, horse bells, bridles, copper teapots, wooden bowls, inlaid knives, and jewelry inlaid with turquoise and other gems.
Visitors should carefully examine jewelry for quality. While much jewelry of excellent quality is available, some is coarsely done and is of poor quality.Visitors can easily find items that are uniquely Tibetan and that will appeal to them. Exotic Tibetan opera masks and costumes are interesting items. Brightly colored, beautifully homespun rugs and khaddar are also popular souvenirs. Tibetan carpet can be bought at the Lhasa Carpet Factory. Tibetan tents can be bought at the Lhasa Tent and Banner Factory.
As in traditional markets throughout much of the world, you can bargain with the local people and buy nice things at lower prices. Just cut their asking prices by 50 percent! Not everyone in Barkhor will be shopping. You may be accompanied by hundreds of prostrating pilgrims. This is a thrilling experience that will certainly remind you that you are in Lhasa.
| | |
| --- | --- |
| Jewelry inlaid with turquoise and other gems | Copper pots |
There are three Xinhua bookstores in Lhasa. One is on Yuthok Lu. Another is on east Barkhor. The third is on Beijing Zhong Lu. They sell maps of Lhasa, Tibetan primers, Tibetan-Chinese dictionaries, and Tibetan and Chinese books. There is also a bookshop that carries Tibetan literature on north Barkhor.

Top 10 Things to Do in Tibet
- Last updated on Apr. 14, 2021 -
Questions & Answers on Money & Shopping in Tibet
Asked by Ms.MIMIROCKS from UNITED STATES | Dec. 07, 2010 15:25

Reply
can someone help me with a inquiry. When visiting Tibet on holiday next year, I want to purchase many pieces of locally made items and ship to United States. Are there couriers such as UPS/FedEx in Lhasa that will pack & ship items to my home?

I understand that the need to convert US dollars to RMB, which is not ideal for traveling and carrying large sums of cash,but I don't see how I can get around that unless I can cash American Express travel checks at Lhasa Hotel selected by my tour company? Is this possible?
Answers (1)
Answered by Ms.Ashley | Dec. 09, 2010 02:10

1

0

Reply
There are shipping companies in Lhasa(https://www.travelchinaguide.com/cityguides/tibet/lhasa/), please don't worry. However, I don't think American check works in Lhasa.