Tibet Travel FAQs
1. General Information


When is the best time to visit Tibet?


What should I bring when traveling to Tibet?


I'm planning to visit Lhasa, could you give me some information on flights that operate in and out of Lhasa?


Can you tell me how frequent are your tours in Tibet?


What is the best way? Join a pre-packaged tour or do-it-yourself?


What currencies can be used? Can I use credit card and ATM cards?
2. Enter Tibet from Other Countries


Can I fly into Lhasa from Kathmandu?


How do I get to Lhasa from Bangkok or other international cities?
3. Safety and Mountain Sickness


Is it safe to travel in winter time, especially from Tibet to Kathmandu (my port of exit)?


Is it advisable for me to bring a sleeping bag because the sheets/blankets in the hotels may not be clean?


Are the streets safe?


What medicines should I bring?


I have a cold, but my visit to Lhasa starts tomorrow. Can I join it as scheduled?


What could I do to avoid mountain sickness?


Since we are traveling with kids (around 2-3 years old) and we have been hearing a lot about the high altitude adjustment problems for visitors to Lhasa, do you think we would have any difficulty? If so, is there any thing we could do to prepare for it.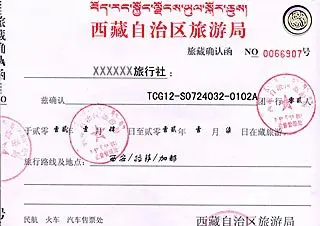 Tibet Entry Permit (click to enlarge)

Can you arrange a Tibet permit for us before the tour begins?


Do I need to bring photos when applying for a Tibet Travel Permit? If yes, in what size?


Can we fly freely to Lhasa without a Permit?


Can I have my permit arranged by your agency? But, I will arrange my own tour in Tibet.


I'm a resident of Hong Kong and I have a Chinese Passport. Do I need Tibet Permit to travel to Tibet?


Do guides speak English? What is their experience/education attainment? Are they Tibetan or Chinese?


Do you provide vegetarian meals?


Should I tip?


What are the do's and don'ts when visiting religious sites in Tibet?


Can I wear my contact lens in Tibet?