Tibet Travel FAQs -- When Traveling in Tibet

Question: Do guides speak English? What is their experience/education attainment? Are they Tibetan or Chinese?

Answer: Yes, our guides are all English speaking. Though Tibetan guides know more about their culture, they are less proficient in English than their Chinese peers. Most of them are well-educated professionals. The China National Tourism Administration (CNTA) conducts annual tests to maintain the quality of their services.
---

Question: Do you provide vegetarian meals?

Answer: Yes. The meals can be arranged as per our clients' requests.
---

Question: Should I tip?

Answer: Tipping is not customary in China. However as the tourism develops, tour guides, drivers, and the hotel staff do expect tips. If the service is satisfactory, a few dollars to the guide and the driver will be appreciated. However, in restaurants and on taxis, tips are not necessary.
---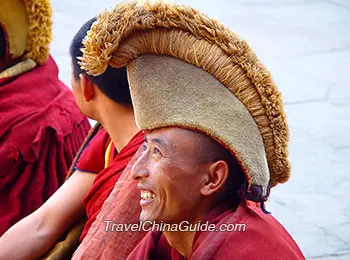 Question: What are the do's and don'ts when visiting religious sites in Tibet?

Answer: All Tibetan are religious Buddhists, and respect for their beliefs is very important. Here are some tips for your reference. Your guide will give you more information:
1) You need to walk clockwise in or outside of religious facilities, like temples, monasteries, pagodas, and mani stones.
2) You are not allowed to touch Buddhist statues, sutras or take pictures of them inside temples or monasteries. Smoking is strictly prohibited.
3) Prayer wheel can not be rotated contrarily.
4) You cannot step on the threshold of any tent, house, temple or monastery.
5) Do not touch the head of anyone.
6) Eating horse's, dog's or donkey's meat is strictly prohibited.
---

Question: Can I wear my contact lens in Tibet?

Answer: Wearing contact lens might make you very uncomfortable because climate there is usually dry and sandy.
---

Question: What could I do to avoid mountain sickness?

Answer: Some visitors will get mountain sickness when on the Tibetan plateau. We have some tips for you:
Rest right after your arrival. You should not do anything strenuous on the first day. Brisk walking and running are not advised. We suggest that you do not smoke nor drink alcohol too. Do not eat too much for dinner.
It quite often happens that people feel short of breath. If it is not serious, please do not rely on oxygen equipment all the time so that you can acclimate yourself to the high altitude as early as possible.
Do not take showers or bathes too frequently especially on your first night in Tibet. This will help you avoid catching severe colds.
If you feel chilly or feel very uncomfortable, you need to tell your guide about this. Your guide could send you to the best hospital available in the area.
---
More FAQs:


Before Travel to Tibet


Tibet Travel Permit
- Last updated on Apr. 19, 2021 -
Questions & Answers on Travel Tibet FAQs
Asked by Marcos Zalder from BRAZIL | Jan. 29, 2015 14:16

Reply
Leaving Lhasa to Yangoon
I´m planning to visit Tibet using a group visa arriving from Katmandu. But instead of comming back to Katmandu, I´m going to Yangoon with a conexion in Kumming. It´s possible to do it using this group visa? Thanks
Answers (1)
Answered by Mike from JORDAN | Jan. 30, 2015 21:35

0

1

Reply
I am afraid not. You need to go to Katmandu because you hold a group visa.
Asked by Nilmini Lekamge from AUSTRALIA | Mar. 25, 2014 01:47

Reply
Paper work required to travel to Lhasa
Hi, I am planning on travelling to Lhasa (Tibet) from Australia. What paperwork do I need, and can they be organised prior to my leaving Australia?
Answers (1)
Answered by Carl from GERMANY | Mar. 26, 2014 03:36

0

1

Reply
Sorry, I am afraid that you can't visit Lhasa alone. Foreign individuals are forbidden to to to Tibet. They should acquire the Tibet Travel Permits and join group tours for their Tibet Trip.