Tibet Transportation
Transportation condition in Tibet has changed greatly since the liberation in 1951 when pack animals were the main mode of transportation in the region. Now highways and airlines are connecting it to other regions of China.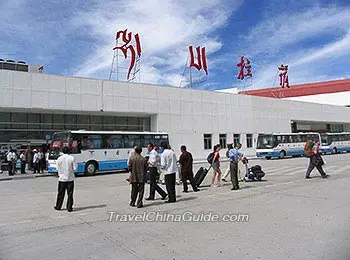 Lhasa Gonggar Airport
Planes are by far the fastest means to move to the Roof of the World. There are two airports in Tibet while Gonggar airport connects Lhasa with Chengdu, Xi'an, Beijing, Chongqing, and even Katmandu and Hong Kong. There is no air route within the region at present. Traveling by air into Tibet will surely brings visitors unique and thrilling experience. Just imagine that you are above the world highest snow and cloud clad peaks! However, since planes travel fast and there is little time for acclimatization.

There are five highways stretching into Tibet. Sichuan-Tibet Highway is the longest, 2,413 kilometers (1,496 miles) long, built in 1950 and opened for traffic in 1954. The roads ply the uneven terrain over 14 mountains which average 4,000-5,000 meters (13,120-16,400 feet) high, and over a dozen of famous rivers such as Lantsang River (Mekong). The climate along the road presents beautiful scenery ranging from spring to winter. However, the road condition is not good.

Qinghai-Tibet Highway starts from Golmud of Qinghai, the only road providing bus service among the five highways and the main road to Tibet. 1,160 kilometers (720 miles) long and averaging 4,000 meters (13,120 feet) high, along Kunlun Mountains and vast grassland, which amaze people living in modern civilization, the bituminous road is the best road leading to Tibet.

Xinjiang-Tibet Highway starts from Yecheng in Xinjiang. It runs 1,455 kilometers (902 miles), winding its way among fives mountains soaring more than 5,000 meters (16,400 feet) high above the sea level. A spectacular view of Mt. Kailash and Lake Manasarova overwhelm passengers while traveling along the road.
| | |
| --- | --- |
| Liuwu Long-Distance Bus Station in Lhasa | Jeeps on the rugged road in Tibet |
Yunnan-Tibet Highway spans 800 kilometers (492 miles) to reach Markham, a less beaten track by passengers.

Chinese-Nepalese Highway is another main road. It stretches 900 kilometers (558 miles) from Kathmandu to reach Shigatse and Lhasa.

Among the five highways, only Qinghai-Tibet Highway and Chinese-Nepalese Highway are open to foreigners at present. Inside Tibet, there are now regular buses shuttling between major towns.
How to Travel from Nepal to Tibet

The conditions of minor roads are only passable by jeeps. In Lhasa city, public buses are available, charging CNY 1 per person. There are also minibuses in the city which will stop if you wave your hand; the bus fare is CNY 2 per person. It is easy to hire a taxi which is painted verdurous and silver. The flag-down fare is CNY 10 and CNY 2 per kilometer after the first 5 kilometers (3.1 miles). Pedicabs are unique vehicles to look around the city, and it charges CNY 3 - 5 for a short-distance journey within the city. Bikes can be easily rented at Lhasa at most hostels. The double-decker sightseeing bus is also a good choice to travel around the city.

Tibet Railway has already been open to traffic since July 1, 2006. Now passengers can make convenient access to Tibet by direct trains from Beijing, Shanghai, Guangzhou, Nanjing, Xi'an, Chongqing, Taiyuan, Zhengzhou, Xining, and Lanzhou.
| | |
| --- | --- |
| Lhasa Railway Station | Train from West Beijing to Lhasa |
- Last updated on Aug. 29, 2022 -
Questions & Answers on Tibet Transportation
Asked by Isaac Woodsen from MALAYSIA | Dec. 09, 2015 13:45

Reply
We were wondering if there any buses from lhasa to kathmandu(or border atleast).
Me and my friend are travelling to lhasa oct 2016. We are looking at the cheapest way to get there. One way trip. Because we gonna continue our journey after visiting kathmandu and not going back to tibet.. =)
Answers (3)
Answered by Ivan from THAILAND | Dec. 10, 2015 01:03

2

0

Reply
Isaac, I am afraid that there is no direct bus from Lhasa to Kathmandu. However, you can take bus from Lhasa to Zhangmu first. Bus fare is around CNY 296. Then you cross the border and take Nepalese bus to Kathmandu.
Answered by Isaac woodsen from MALAYSIA | Dec. 10, 2015 09:15

1

0

Reply
Hi ivan, thanks for the information.. Really appreciate it. And just another question.. I thought foreigners are not allowed to take a public transport or buses.. Or it only allow to zhangmu =)
Answered by Ivan | Dec. 11, 2015 21:15

0

0

Reply
Isaac, actually foreigners are not allowed to travel there individually. They need to join group tours. Meanwhile, they should have special travel permit. Many Chinese travel agencies can apply the permits for their clients. However, they usually don't help those who don't join their tours acquire the permits.

Group tours ensure that foreigners travel on fixed itineraries. So I think you might consult with some agents on this issue.