Photograph in Tibet
Tibet is not only a holy land for professional photographers, but also a magical and beautiful place for common visitors to press their shutter all the time. Below are some tips on photography in Tibet for common visitors to follow:
1. The best time for photography in Tibet is September and October.
2. Bring as many memory cards (more than you expect) as possible.
3. Avoiding your camera overexposure to the sun is perhaps the most important thing. Keep your photographic apparatus away from the unclean envioronment especially in the dusty and windy weather.
4. Bring more emergency battery to avoid the decrease of battery life due to the lower temperature on plateau.
5. If you require high quality photos, do bring the tripod and flashing light, especially when you taking pictures of the natural scene.
6. Do not forget to bring dust cover, lens hood, lens tissue, a brush, detergent, repair outfits and so on.
7. Your photographic apparatus should be as light as possible, or it is inconvenient for you to afford the burden on the plateau.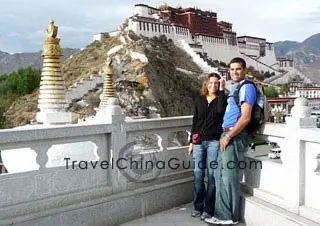 Take a photo at Potala Palace
8. Due to the strong ultraviolet rays, an ultraviolet filter should be installed before your camera lens, which can make the distant view much clearer.
9. You should be polite when taking photos of the Tibetan or lamas. Do ask for their permission before you start.
10. Respect the persons who you will take a shot at and try not to disturb them. Give some gifts to them as the repay with thanks.
11. No photos in the temple especially during the sacrificed cult or its image. In some Buddha palaces, you'll be asked to pay before taking photos.
12. According to the local customs in some areas of Tibet, people think that it is inauspicious to be photographed. Try not to insist on taking pictures of them, or you will lash them into a fury.

Top 10 Things to Do in Tibet

China Photo Tours:


Essence of China: 11 Days Luxury Tour of Beijing - Xi'an - Guilin - Yangshuo - Guilin - Shanghai


Tibet Odyssey Tour & Highlight Cities: 17 Days Luxury & Standard of Beijing - Lhasa - Gyangtse - Shigatse - Dingri - Everest Base Camp - Shigatse - Lhasa - Xi'an - Shanghai
- Last updated on Apr. 28, 2023 by Catherine He -