China Delights
L-102: 11 Days Private Tour of Beijing - Xi'an - Guilin - Yangshuo - Guilin - Shanghai - Suzhou - Shanghai
Tour Type:
Private Tour, any part of the itinerary can be customized
Guide & Driver:
English-speaking guide, experienced driver with an air-conditioned vehicle
Highlights:
Must-see sights in China - Mutianyu Great Wall, Forbidden City, Terracotta Army Museum
Have a leisurely walk or an exciting bicycle ride on the time-honored City Wall of Xi'an
Fantastic cruise tour on the Li River from Guilin to rural Yangshuo
Experience the Bund, classical garden, modern and old in contrast in Shanghai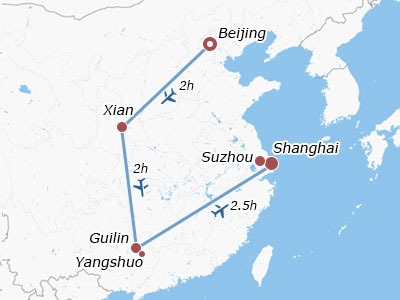 Our guide will meet you outside Customs of the airport after you retrieve your luggage and clear Customs, and then transfer you to the hotel by a private car. The rest of the day is free for you to have a good rest and get prepared for your 11 days China tour package.

Temple of Heaven
In the morning, your 11 days China tour will start with a visit to
Tiananmen Square
and the
Forbidden City
. As the largest city square in the world, Tiananmen Square has seen the country's development in the past 500 years and become an important venue for most of the national ceremonies. Walking through the square, you will come to the largest and best-preserved imperial palace complex - the Forbidden City. With 590 years of history, the Forbidden City will bring you back to the prosperous Ming and Qing dynasties by giving glimpses of imperial architecture and thousands of precious cultural relics.
To avoid the cheap touristy restaurants as most are doing now, we will serve you an
a la carte lunch
(valued at CNY150.00 per person and included in our price) at a famous local Cantonese restaurant where you will taste authentic Chinese food.
After lunch, you will visit the
Temple of Heaven
, which is the imperial altar for the emperors of the Ming and Qing dynasties to worship the God of Heaven. Then, you will have a
Hutong
tour to experience the original Beijing culture by taking a special rickshaw ride through the various Hutong alleys and to know about the old capital's manners and customs.
Meals: Western buffet breakfast, A la carte lunch
Our clients on the Great Wall
Today your private visit will begin from the splendid
Mutianyu Great Wall
. As one of the most popular sections of the China Great Wall, Mutianyu, like a soaring dragon, stretches along the mountain ranges. You will be deeply impressed by the wandering walls, spectacular passes and towers, and splendid mountain scenery. We will arrange a round-trip cable car for you. You can also tell the guide to change it to the chairlift up and toboggan down if you like. Make your own arrangements for lunch today. Our guide will help you find a proper restaurant upon your request.
Returning downtown, we will drive by the
Bird's Nest
(National Stadium), the venue of the 2008 Olympic Games. You will see the full view of the huge 'nest' at a distance. Take this chance to add one memorable photo in your album. Afterwards, we will head to a local market and leave you some free time there to wander around.
Meals: Western buffet breakfast
Day 4
Beijing to Xi'an by Flight
Our consultant Emily with her guests
This morning, you will firstly visit the
Summer Palace
, which is an outstanding combination of Chinese classical landscape design and natural beauty. After that, you will visit the
Yonghe Temple
, the best preserved lamasery in Beijing. It has a unique architectural style, integrating Han, Manchu, Mongolian and Tibetan cultures.
In the afternoon, you will take a flight to Xi'an and our local guide will be waiting for you outside the baggage claim area of the airport and transfer you to your downtown hotel.
Meals: Western buffet breakfast
Terracotta Army Museum
In the morning, visit the Eighth Wonder of the World, the
Terracotta Army Museum
. You will not only be attracted by the life-sized warrior figures and horses, each of which has distinct facial expressions and positions, but also be astonished by various kinds of ancient weapons which reflect the highly advanced technology in weapon-making 2,200 years ago.
Afterwards, you will have a local family visit and an a la carte lunch (valued at CNY120.00 per person and included in our price) will be arranged in the home of the family that you visit, to taste authentic home cooked dishes. We also offer
Chinese food cooking class
to our valued guests for free in the family visit. If feel interested, you may learn to cook Chinese dishes from the hostess.
After lunch, you will go to visit the
Small Wild Goose Pagoda
, which is one of the most important structures in ancient Chang'an during the Tang Dynasty (618 - 907) and now a famous landmark of the city. After that, visit the
Great Mosque
, which was built in the year of 742 AD with a similar architectural style as Chinese temples. On your way to the mosque, you will walk across the famous snack street - the
Muslim Street
, where you may find many delicious local foods as well as interesting souvenirs.
Meals: Western buffet breakfast, Home-cooked a la carte lunch
Day 6
Xi'an to Guilin by Flight
A local free market
After breakfast, you will go to visit the
City Wall Park
, where you could see many old people doing exercise and various recreational activities. Here you will have a chance to join in the locals and learn Tai Chi from a professional. It can edify your temperament as well as build your body, so you can continue to practice after returning home. Then you will visit the
City Wall
, one of the best-preserved city walls in China. Stroll around on the wall, and you will have a bird's eye view of the old city. Cycling on the wall is also available. If you can ride, you're suggested to rent a bike and ride around on the wall, which will be a pleasant and unforgettable experience.
In the afternoon, visit the
Hanyangling Museum
on the way to the airport. One highlight of the visit was the underground museum, where the relics and ruins remain in their original condition without any movement. You can note the ancient burial customs very closely. Take a flight to Guilin and we will transfer you to the hotel. Your luxury series hotel is located on the bank of the Li River, and you can stroll along the bank and enjoy the picturesque city on your own this evening.
Meals: Western buffet breakfast
Day 7
Guilin - Yangshuo - Guilin
Li River cruise
Enduring memories are created today as you cruise down the
Li River
to Yangshuo. The length of the Li River is about 50 miles, and you can see picturesque scenery all the way during your cruise journey.
Upon arrival in Yangshuo, we will take you to the countryside to enjoy the rural beauty. In addition, you will also visit a local villager's home to experience the farmer's lifestyle there. How do they fetch water from the well? How do they process grain through the stone mill? How do they work in the farmland? All can be seen here. After a whole day's excursion in Yangshuo, we will transfer you back to Guilin in the late afternoon.
Meals: Western buffet breakfast, Lunch

Friendly Tips
The cruise lasts around 4 hours and reaches terminal Yangshuo at about 14:00. Lunch is available on board, but the basic Chinese box lunch may fail to meet with your approval. So we recommend you prepare for the cruise with a generous breakfast at the hotel.
Day 8
Guilin to Shanghai by Flight
Today's China itinerary 11 days starts from one of the most famous attractions in the city,
Reed Flute Cave
, which is renowned for the varieties of stalactites, stalagmites, columns and lime-flowers which came into being about 700,000 years ago. Walking in the cave, you will also be impressed by the interesting names of the stalactites and stalagmites, such as Palace of Crystal, Dragon Pagoda and Flower & Fruit Mountain. Your next stop will be the
Seven Stars Park
. Your city visit will end with the
Elephant Trunk Hill
. You must wonder how such a huge rock resembles an elephant drinking water on the riverside, and your guide will give you appropriate information on arrival.
When finishing all the attractions in the city, you will take a flight to Shanghai and our local guide will greet you at the airport and transfer you to the hotel in downtown area.
Meals: Western buffet breakfast
The Bund
After breakfast, you will visit
Shanghai Museum
and the
Yu Garden
. As one of the four largest museums in China, Shanghai Museum is famous for its vast storage of 120,000 art relics, especially for the exhibition of bronze wares, porcelain wares, calligraphy and paintings. After learning about history, you will learn about ancient Chinese gardening - visiting one of the most famous gardens south of the Yangtze River, Yu Garden. We will serve you an
a la carte lunch
(valued at CNY150.00 per person and included in our price) at a fancy and famous local restaurant, which offers tasty Shanghai and Cantonese cuisines.
In the afternoon, we will transfer you to the Bund area, where you will take a one-hour
cruise on the Huangpu River
. On the banks of the river as you go, you will find almost all the major attractions of Shanghai, symbolizing the past, present and future of the city. After the cruise, you will visit
the Bund
area and then explore Tianzifang old street.
Meals: Western buffet breakfast, A la carte lunch
Day 10
Shanghai - Suzhou - Shanghai
Our clients at the Yu Garden of Shanghai
You will take a side trip to the beautiful Suzhou and traditional water town today. After a 2-hour transfer by our comfortable air-conditioned car, you will arrive at the
Humble Administrator's Garden
. The garden is centered on water, surrounded by hills and rivers, beautifully decorated halls, luxuriant flowers and trees. Walking in the garden, you can enjoy the scenery along the way while listening to the guide to explain the exquisite design of the garden. Next, you will visit
Suzhou Museum
before we drive you to
Tongli
Water Town.
You might have heard of many water towns in the southeast region of China, and you will not be disappointed by Tongli if you can see only one of them. Tongli water town is famed for its various bridges, lots of buildings from the Ming and Qing dynasties, and associated with many celebrities and scholars. The cultural sites, relics, legacies of more than 400 years are still well maintained there. You can see ancient houses, courtyards and gardens everywhere while walking in the town. After that, we will drive you back to your hotel in Shanghai.
Meals: Western buffet breakfast
Day 11
Departure from Shanghai
Your private guide and driver will pick you up from the hotel and drive you to the airport so that you can board the flight back home loaded with pleasant memories of this 11 days guided tour of China.

Meals: Western buffet breakfast
B-- Breakfast
L-- Lunch
D-- Dinner
Christmas & 2023 Special Deal
Enjoy
12% off
if you book before Dec 25, 2022
Tour Prices with Luxury Hotels
2-3 travelers
4-5 travelers
6-9 travelers

$2879

$2533

$2599

$2287

$2289

$2014
Tour Prices with Standard Hotels
2-3 travelers
4-5 travelers
6-9 travelers

$2549

$2243

$2269

$1996

$1959

$1723
Prices are per person in US Dollars based on double occupancy.
The prices in red reflect 12% discount.
Any part of the itinerary e.g. tour length, activities & hotels can be tailored to your individual interests.
Price Includes
Domestic airfares
Hotel accommodation with breakfasts
A la carte lunches as itinerary specifies
Private English-speaking guides
Private drivers & air-conditioned vehicles
Entrance fees to tourist sites
Price Excludes
International airfares
Entry Visa fees
Personal expenses
Tips or gratuities for guides and drivers
Comparison with Our Competitors
How Do We Reach Lowest Price?
Based in China, we have been committed to cultivating inbound tours, aiming to directly purchase airline tickets, hotel bookings and cruises etc. Unlike other agencies who seek profits of 50%, our profits are as low as 6%. So many of our competitors' itinerary quotations are twice as high when compared with ours, and many of their 4-star hotels itinerary prices exceed ours with 5-star international brand hotels. You will be shocked and we are shocked as well.
No Annoying Shopping Stops
Shopping tours will not only take your time from sightseeing, but also waste your money on overpriced items. Our no shopping promise will enable you to thoroughly enjoy the trip without facing aggressive selling. All our guides are well-paid so they will concentrate on delivering the holiday experience you expect.
Some companies claim they have "No Obligatory Shopping", please be cautious as they just give their shopping tours a happy gloss. Some do not mention any shopping in itineraries, which doesn't mean they are shopping-free tours. You are advised to ask the operators directly before booking.
People to People Connected
We will make your trip more than just sightseeing. In addition to the popular attractions that every agency will arrange, you will be deeply involved in the lives of local residents in our tours.
•
Take a rickshaw through the Hutongs and visit a quadrangle courtyard for an up-close look at the old Beijing house and the people's life there. Several generations of a family may live together in such a courtyard. What is the layout of the house? And how do they live together? Your guide will take you to find the answer.
•
Pay a visit to a local villager's home in Yangshuo and learn about the most primitive way of life in the Chinese countryside. In the yard, you will see the pumping well, millstone and sometimes bacon hanging from a clothes line. You will have a special experience to pump water from the well and turn the millstone to grind grains. In the house, you will learn the layout of the rooms and see a very old kitchen, which will give you an idea of how they live and cook. We believe these scenes you may not have seen before will definitely bring you different feelings and interesting experiences. In the whole process, you can ask the host any questions you are curious about.
Pumping water from the well
A villager's home
Eat Like a Local Traveling with Us
Why are the Chinese so proud of their food? You will get to know that during this trip. Unlike some travel agencies who provide set-menu food in tourist restaurants, we will offer you a la carte menus at local restaurants where you will order what you like and taste the most authentic Chinese cuisines.
What's more, each city also has their own local specialties, like Rougamo, the best Chinese burger, and Hot Oil Noodles in Xi'an, the Steamed Buns and Chinese Wontons in Shanghai. You will not only have a chance to try these, but also see them freshly made through a glass window.
Optional Tours Are Tourist Traps
Optional tours mean you will spend much more than you originally booked. Some agencies advertise low-cost tours, but you then find you have to pay high pieces for optional tours of the must-see sites. Our tours are all-inclusive with transparent itineraries.
Tailor-make Your Itinerary for Free
Our guests enjoy the freedom to choose a different travel style. 99% of our valued guests enjoy tailor-making their travel itineraries. We will make a quick reply within 24 hours.
No Change Fee
Should any changes made prior to the start of the tour or even during the trip, there will be no extra charge for our services. You only need to be responsible for the cost of variations incurred with airlines and hotels.
Other levels available for this itinerary:
Customer Reviews

Questions & Answers
Our trip was amazing and we couldn't be more happier with our experience and booking with TravelChinaGuide.com. When we arrived in Beijing, we were then greeted by our guide and driver. Our guide was amazing and very knowledgeable. He provided us with a cell phone in case of emergency and was very good with our young children. The transportation and driver was excellent. The van was big, clean, and

the a/c was nice especially with the cold weather. In Xian we were greeted by a new driver and guide. She was friendly but her English was so so. Due to the language bearer a lot of our questions during the excursions could not be answered but it was still an amazing trip. The transportation was smaller in Beijing so all 4 of us were cramped in the backseat but we made it work. Once arrive in Guilin we were greeted by another new guide. The boat cruise on Li River was an amazing experience. We enjoyed the gorgeous mountains very much. Huangpu River cruise is also a fantastic experience. We saw many magnificent building on the banks. In any case, we spent 11 great days in China with our professional guides and experienced drivers and saw many amazing architectures that we can't see in USA. It was truly an amazing experience. Highly praise to Travel China's service.

...

More

Generally, we were very satisfied with the tour arrangements, with the guide Tracy in Xian was superb! li in Guilin was also very good, as was Kitty in Beijing and Fan Fan in Shanghai. We were duly impressed with their command of the English language and knowledge of the Chinese culture and history. With respect to the meals, on the whole most of the meals were average. We were impressed with the first

meal in Beijing and the first lunch in Shanghai; the dumpling dinner in Xian on our first night stay was excellent, as was our meal (on our own) in shanghai at lu bo lang in the old town which Fan Fan recommended. The hotel accommodations were satisfactory, with the exception of the ShangriLa in Guilin which although rated a 5-star, should have been rated more as 3-4 star. We particularly enjoyed the hotels in Xian and Shanghai. We were very pleased with the touring arrangements; what really impressed us the most and what we truly enjoyed were the guides in the cities - they were excellent. We particularly enjoyed Tracy and Li, in their improvising and sharing with us sites off the beaten path as time permitted, and their desire to show us what we were interested in.

...

More

Posted on January 16, 2020

We would recommend TravelChina to others. Having you take care of all the planning details allowed us to focus on just having fun and enjoy China's beauty.

All of our worries disappeared the moment Kitty, our Beijing guide, greeted us at the airport. For the following three days, she and our driver showed us the many fascinating sites around Beijing including the Forbidden City, the Great Wall, the

Temple of Heaven, and the Summer Palace.
We then flew to Xian, and at the last day in Xian, we choose to travel to Huashan. The rock formations and canyons were incredible. The views were somewhat similar to Yosemite National Park in the United States. It's hard to describe in words the true beauty of the Mountain. The trails and bridges were also amazing. We must have climbed 10,000 stairs. All of the trails were made of stone. The individuals who built the trails were artist making them look like logs to match the natural environment. Unfortunately, there was a slight mix up at Guilin airport, when our guide, Jenny, accidentally picked up another couple instead of us. However another guide helped us out and we got to our hotel that evening safely. The following morning everything was cleared up and we were on our way. Jenny was very knowledgeable and her English was excellent. We enjoyed her company very much. The hotel was less desirable than the other hotels that we stayed at but, the incredible scenery definitely made up for it. Thank you so much for all of your help. We had an unforgettable holiday.

...

More