Lhasa Travel Tips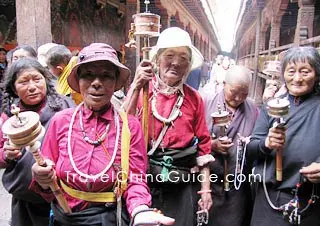 Jokhang Temple
Dialing Code 0891
Zip code 850000
Emergency


Fire: 119


Police: 110


Ambulance: 120

Useful Number
Airport Inquiry: 6833446
Internet Cafe
Dozens of internet cafes can be found in Lhasa. The internet cafes in Makye Ame Restaurant and Barkhor Cafe are the most popular ones. Generally speaking it costs RMB 2.5 per hour.

Money
Since foreign exchange service is not offered in the more remote areas of Tibet, you are advised to get prepared with money in Lhasa. The Bank of China Tibet branch provides cash advances and cheque exchange services. Its location is No.28 Lingkhor Xi Lu, Lhasa. The opening hours are from 9:30 to 18:00, Monday to Friday; and 11:00 to 15:00, Saturday and Sunday.

Post Office
The biggest post office in Lhasa is located on the West Beijing Road, at the east side of the Potala Palace. The office not only offers full postal services but also sells various kinds of postcards. The opening hours are from 9:00 to 18:00.

Travel Permit
A visa and Tibet Travel Permit are essential.

A word of warning before your visit: your Tibet Travel Permit is only issued via Chinese Tour Operators. To facilitate the complicated application process, you are advised to work with a Chinese travel agency. A service fee of RMB 200 is usually required.
For more information, please refer to Tibet Travel Essential and Tibet FAQs .

Notes for those who are entering the high land for the first time
1. Don't run or move rapidly, allow time to adjust to the altitude.
2. It's useful to carry sunglasses, after-sun cream, a sunhat and lip balm as well as common medicines for colds and anodyne.
3. Eat vegetables and fruits.
4. Most people are going to suffer from Mountain Sickness . Don't worry, just follow the tips we offer and you will have no difficulties.
5. Show respect to the local people and their customs.
6. Leave no rubbish while visiting the land.

Communication
China Mobile coverage is available in some areas of the region, but there is no coverage in villages. Therefore don't rely on cell phones as a method of communication. Telephones can be found not only in the post office, but in many street booths and shops in Lhasa.



Festivals
If you are lucky enough to catch a Tibetan festival during your visit, it will surely make your visit more interesting and memorable.
Buddha Unfolding Festival

Tibetan New Year

Tibetan New Year is the grandest festival in Tibet. The celebrations last for ten days from January 1st to 10th of the Tibetan calendar. The main activities are held in the Jokhang Temple. Generally it coincides with the low season for visit.

Saka Dawa Festival

Saka Dawa Festival is a unique and popular festival in spring. It is held on April 15th of the Tibetan calendar. On this day, the whole of Lhasa is immersed in incense smoke. The people of Lhasa walk around the wall of Jokhang Temple and the Potala Palace as a pilgrimage.

For more traditional festivals, please click the

Tibet Festivals

.

Getting to know more tips for visit in China, please visit

China Travel Tips

.

You may like:
Top 10 Things to Do in Lhasa
- Last updated on Jul. 18, 2022 -
Questions & Answers on Lhasa Travel Tips
Asked by Ibrahim from TANZANIA | Apr. 04, 2019 05:48

Reply
Do I need a permit to enter Lhasa?
I am foreigner who is in Guangzhou and entered China with a Chinese visa. I want to visit Lhasa. Traveling by train from Guangzhou. Do I need another permit to enter that place?
Answers (1)
Answered by Alice from USA | Apr. 11, 2019 02:03

0

0

Reply
Yes, you need to apply for a permit and foreigners can only travel in Tibet with travel agencies. You cannot get there on your own.
Asked by mirco from ITALY | Jun. 12, 2015 02:10

Reply
Can i ask you a question about the border road that continues from Kodari to China when it reopens?

Thank you very much
Answers (3)
Answered by Alex from ITALY | Jun. 12, 2015 03:54

2

0

Reply
Well, as I know, the road is under repair now.
The official doesn't declare the exact reopen date of the road.
You can keep close attention on the news. :-)
Answered by mirco from ITALY | Jun. 13, 2015 11:11

1

0

Reply
thanks so much
I have already booked a tour in Tibet, but I find it hard to get info about it
I know that the road is open only to emergency vehicles, because I called the embassy of Nepal in Italy.
It is expected to open on July? a prediction ...
Answered by Nathalie | Jun. 14, 2015 03:44

0

1

Reply
There is no info showing its reopening date yet. My suggestion is that you dial the embassy of Nepal in Italy to confirm the update around July.
Asked by Ms.CHERTASHA from UNITED KINGDOM | Aug. 28, 2013 15:58

Reply
Hi I am thinking of joining a tour of Tibet for 8 days, preferably where i will be picked up from the Lhasa airport.
Prior to LS I really wanted to spend a few days in North Gansu to visit the Dunhuang caves etc. I would like to travel from the UK and fit the esiest way to Dunhuang Airport stay and then get a flight from Dunhuang airport to LS. I wonder if you could tell me if this would be the best route or would there be an alternative better route to take, I don't particularly wish to spend hours and hours travelling by road or plan. Thankyou any advise would be very much apprecaited.
Answers (1)
Answered by Romanda from USA | Aug. 28, 2013 21:47

1

1

Reply
As I know, there is no direct flight between Dunhuang and Ls and you have to transfer in certain place. Would you tell me which city you will fly out of China? Then I can tell whether it is a best route to travel.