Tibetan Shoton Festival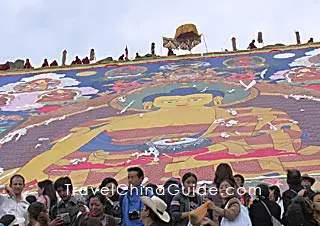 Buddha Unfolding Ceremony
in Drepung Monastery on Shoton Festival
Shoton Festival is one of the grandest transitional festivals in Tibet. In local language, Xue refers to yogurt and Dun means banquet and eating. Therefore, Shoton Festival is namely a feast day to have yogurt.
In truth, this 'yogurt festival' was originally an utterly religious event, starting in mid-11th century. At that time, people sacrifice yogurt to monasteries. Since late 17th century, it had become an important festival with Tibetan opera and thangka unfolding ceremony, backed up by entertainment and religion activities. Since it was hosted by Lhasa government, it has changed into a famous celebration combining tradition and modernization.
Although Shoton Festival is held in every late June or early July of Tibetan calendar, appointed Tibetan opera parties from different parts has get ready for the big day early one month ago. Around 15th June, they gather in Lhasa, riding or walking day and night, and then subject to inspection. The opening ceremony is going to be put on during 29th June to 1st July. Norbulingka in west outskirt of Lhasa is the central venue for the celebration, which used to be the summer palace of Dalai Lama. In these most energetic days, Lhasa's hustle and bustle are wholly moved the green forest around Norbulingka.
As the beginning of the festival, Buddha painting (thangka) unveiling ceremony in Drepung Monastery is the most remarkable. The 500-square-meter (598-square-yard) painting of Sakyamuni is gradually open on the hillside back of the monastery as the light in the very first morning strike on the large thangka at eight o'clock. The ceremony is called 'Buddha basking in the sun'.
Tibetan Opera
Tibetan Opera is another big draw which is to be carried on since the second day of the festival from eleven o'clock in the morning until dark. Shows can be admired in Norbulingka and Longwangtan (Dragon King Pond) Park opposite the Potala Palace. The locals sit on mat with families and friends, drink butter tea and chang, taste dessert and watch the opera while waving the prayer wheel or finger the rosary in hand. During the period, different schools of Tibet opera will compete with each other, and teams from Qinghai, Gansu, Sichuan and Yunnan will come to the holy Lhasa to improve their skills by exchanges.
During the 8th to 15th day of Tibetan July, those opera parties will perform in every corner of Lhasa city area. That is called Lhasa Shoton. After the 16th day, some opera teams can go outside of Lhasa downtown to perform. The last event is conducted in Sera Monastery, called Sera Shaton. In addition to the Sera Qiaxiu Festival of its own, Tibetan opera performance will last several days here. Yak racing, equitation, local songs and dances are performed alternately.
For 200 years, Drepung Shoton, Potala Shoton and Norbulingka Shoton successively appear and co-exist in Lhasa, and Lhasa Shoton has become a grand gathering for local people, a continuation of Tibetan culture.
Date of Shoton in recent years: (universal date converted from Tibetan calendar)
August 10 - 16, 2010
August 29 - September 4, 2011
August 17 - 23, 2012
August 6 - 12, 2013
August 25 - 29, 2014
August 14 - 20, 2015
Sep. 1 - 7, 2016
Aug. 21 - 27, 2017
Aug. 11 - 17, 2018