Kunming Attractions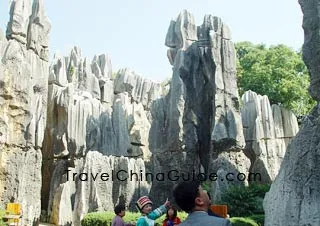 Stone Forest

Yunnan Stone Forest

Dianchi Lake

Golden Temple

Western Hills
&
Dragon Gate

Bamboo Temple
(Qiongzhu Temple)

Bamei Village

Black Dragon Pool

Chengjiang Fossil Site

Dongchuan Red Land

Flowers and Birds Market

Fuxian Lake

Grand View Park
(Daguan Park)

Green Lake Park
(Cuihu Park)

Jiaozi Snow Mountain

Jiuxiang Scenic Area

Nuohei Village

World Horticultural Expo Garden

Yuantong Temple

Yunnan Nationalities Village

Yunnan Provincial Museum
Kunming serves not only as the provincial center of Yunnan but also as the destination for its snowballing tourism with so many places of interest spread all around the city.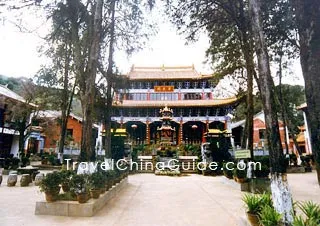 Huayan Pavilion, Bamboo Temple

Like Guilin, Kunming is also well known for its beautiful and peculiar, breathtaking and unique natural landscape. Among these dramatic sites, Yunnan Stone Forest , which is about 120 kilometers (75 miles) from the city proper and requires only a three-hour drive, is known best by visitors. These magnificent stone masterpieces, various strange and steep intricate formations, and countless labyrinthine vistas make Stone Forest (Shi Lin in Chinese) worthy of the fame as the 'First Wonder of the World'. And there goes a local saying: 'It is a waste of time without being in the Stone Forest while visiting Kunming'.

Dianchi Lake, the largest lake of Kunming, enchants people with its cyan water and peaceful environment. It is a favorite with those who want to escape from the hustle and bustle of the city life.

A visit to the Golden Temple is strongly recommended. It is the largest copper temple in China. Here you can see something of the origins of Taoism as the temple is located on Fengming Hill, the home of the Taoist Taihe Palace (Hall of Supreme Harmony).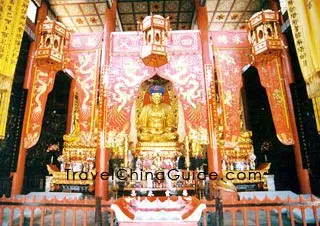 Big Golden Buddha in Huating Temple
The famous Buddhist Bamboo Temple (Qiongzhu Temple) with its most outstanding artistic features and surrounding bamboo forest should be included in your itinerary.
The famous '99 International Horticultural Exposition enhanced the city's reputation world-wide. In the Expo Garden, you can appreciate the perfect harmony of man and nature.
The spectacular view across Dianchi Lake from the vantage point of Western Hills is another enjoyable experience for visitors to the city.
In addition to these sites, there are more other attractions such as the Grand View Park, Black Dragon Pool, Yuantong Temple , and Flowers and Birds Market. Also you can go to visit Bamei Village around the downtown. It is like a Peach Blossom Valley isolated from the hustle and bustle of the ordinary world.

You may like: Top 10 Things to Do in Kunming
- Last updated on Jul. 18, 2022 -
Questions & Answers on Kunming Attractions
Asked by voraluck lertanuntrakul from ไทย | Feb. 09, 2019 04:01

Reply
If i have a haft day in Kunming, Please recommend the perfect place to visit.
and our hotel at Tuodong Road. Please recommend the place and how we can go? Thank you very much
Answers (1)
Answered by Jayce from GERMANY | Feb. 13, 2019 01:22

0

0

Reply
According to your limited sightseeing time, you are suggested to go to Jinma Biji Archway. It is itself an attraction in Jinbi Road. Here many stores offer handcrafts of various nationalities.
From your hotel, just walk west along Shulin Street around 750 meters.
Asked by Yin Wah Leong from MALAYSIA | Sep. 05, 2018 17:43

Reply
Visit in may. Can I cover Kunming, Dali, lijiang and shangrila in 11 days on land ?
Arrive in KM day 1. Day 2 till day 12 cover below:-
Stone forest
Dongchuan
Dali changshan
Dali erhai Lake and old town
Lijiang jade dragon mountain n blue valley
Lijiang old town
Yangtze first bend
Leaping tiger gorge
Shangrila National Park
Shangrila monastery
Back to KM and fly out on day 13
Answers (1)
Answered by Lisa from POLAND | Sep. 06, 2018 01:10

0

0

Reply
Yes, there is no problem of your schedule.
Asked by Aniruddha Ray from INDIA | Apr. 20, 2018 00:34

Reply
Any restriction on Carrying Luggage in Kunming Subway ?
I want to go my hotel from airport by Subway . As usual check in and cabin luggage will be with me Is there any restriction to carry such luggage ? If so please inform in details
Answers (1)
Answered by Tiana from SWEDEN | Apr. 23, 2018 01:45

1

1

Reply
It should be no heavier than 20kg, no longer then 1.8m.
Asked by Marlyn from INDONESIA | Mar. 08, 2017 21:28

Reply
Hi, I will go to Kunming Airport on 16th (night arrived) until 18th evening.
So I will have only 1 full day on 17th and half day on 18th.
The place that I really like to visits are Stone forest and Jiuxiang cave, and if its possible I would like to go to Dianchi lake and Yunnan nationalities village.

Do you think its possible to do? and I would like you to recommend me in which hotel I should stay so that the transport to those attractions place is easier?
Thanks a lot!
Answers (1)
Answered by Mindy from CANADA | Mar. 11, 2017 00:19

1

0

Reply
It's challenging to visit all the mentioned sites. I advise you to save the Jiuxiang Cave for next trip. For the full 17th day, you can make the trip to Stone Forest. For the next half-day, it shoudl be enough for Dianchi lake and the ethnic nationalities village. Jiuxiang cave is a little far from downtown, and it usually requires 3/4 day. If you return to downtown early in the first day, you can pay a quick visit to the Western Hills.
About accommodation, you may stay around the Haigeng Park along the Dianchi Lake. Dianchi Garden Hotel & Spa is a nice one with beautiful scenery. In addition, it's within the walking distance with Dianchi and the nationalities village, and close to the Western Hills. From there, you can take bus 24 to Railway Station, then change to bus C73 to East Long-distance Bus Station, where buses to stone forest depart.