Kunming Travel Tips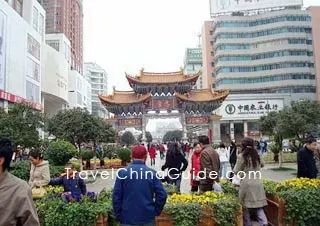 In the city center

Population:
about 5.78 million

Nationalities:
mainly
Yi
,
Hui
,
Bai
and
Miao
nationalities

Area:
about 21,000 square kilometers (about 8,108 square miles) and the area of downtown is about 180 square kilometers (about 69 square miles)

Zip code:
650000

Area code:
0871

Kunming offers 144-Hour Visa-Free Transit Policy to facilitate passport holders of 53 countries and regions to enjoy a visa-free stay of up to 144 hours when making an international transfer via Changshui Airport.
Read details about
144-Hour Visa-Free Transit in Kunming
.

Emergency:
Fire: 119
Police: 110
Ambulance: 120

Useful Numbers:
Weather forecast of the scenic spots: 16800122
Zip code inquiry: 3139491
Consumption Complaint: 12315
Tourism Complaint: 3164961

Banks:
You can use your credit card, traveler's check or cash to exchange for Chinese Yuan in almost every branch of Bank of China in this city.
Yunnan Branch of Bank of China
Address: 515, Beijing Road
Kunming Branch of Bank of China
Address: 288, Huguo Road, Panlong District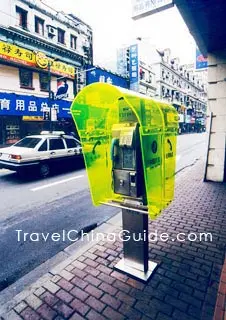 Public telephone

Telephones:
While public phones are easily found in small shops along streets in the city, we suggest visitors make low-cost IDD or DDD calls in post offices or telecom buildings.

Mobile Phones: Genuine famous-brand mobile phones are available for less than 800 yuan in large shopping malls or monopoly shops.
If your cell phone is viable, you can use it in Kunming, except in areas blocked by mountains.

Internet Bars: If you ask native where to find an Internet bar, they will tell you to find a university first because most Internet bars are located near colleges or schools. There are many Internet bars near Yunnan University with good speed and environment charging 2 to 3 yuan per hour.
Tip: do take care of your personal articles when in an Internet bar.

Toilet Facilities: most toilets in the city charge no more than 0.5 yuan. Visitors can find free sanitary toilets in some large department stores or fast food restaurants.

Post Office:
Kunming Post Office
Address: 225, Beijing Road
Yunnan Post Office
Address: 136, Beijing Road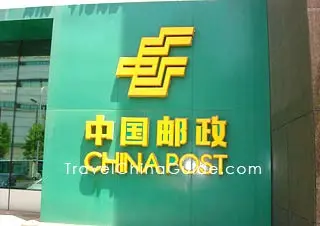 China Post Office

Book Stores:
Xinhua Book Store
Address: 308, Dongfeng Road
Yunnan Foreign Language Book Store
Address: Science Building, Nantai Qiao

Hospital:
The First People's Hospital of Kunming
Tel: (0871) 63188200
Address: No. 504, Qingnian Road
First People's Hospital of Yunnan Province
Address: No. 157, Jinbi Road, Xishan District

Famous Universities:
Yunnan University
Address: 2, North Cuihu Road



Nightlife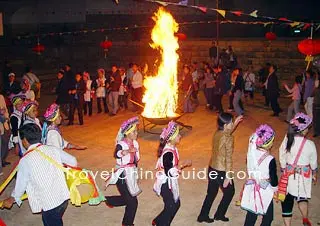 Participate in the dance of ethnic people
As well as offering a wide variety of places to visit during the day, Kunming has a vibrant night life. As darkness falls a whole new range of interests await you.
For those people resident in this city who is enthusiastic about nightlife, Kundu night market will be the most familiar to them. It is a place that concentrates on dinning, tourism, shopping as well as culture. Here you can find Teahouse, coffee house, Internet bar, local snacks and so on, aiming at different kinds of people. Its location is right beside the Yunnan University. See the below carefully chosen activities:
Hump Pub: The most famous in the city, supplying all sorts of wine, beer, also internet service, and performance by an energetic band on weekends. Here is a gathering place for the visitors to exchange experience. If you are lucky enough, you may even encounter some expert.
Address: Luyou Shangsha, Jinbi Lu
Watch Authentic Dai Group dance
Face to Face Coffee House:
It is run by a famous local painter, thus be full of cultural atmosphere. Tasting a cup of coffee here, you'll also have the chance to communicate with some artists, view and admire the
host's works. On every Friday, the bar will hold art performance and intercourse.
Address: No. 47, Wen Lin Lu
For those who'd like to relax in a cinema, New Kunming Cinema in the middle part of Nanping Lu is the very one can meet your high requirements. 10 movie halls, family balcony, song and dance performance hall, drink house, snack bars take care any of your desire.
Besides, Xijie Bar in Wenlin Jie and Yihuchun Tea House in Cuihu Nan Lu are also recommended.
Getting to know more tips for visit in China, please visit China Travel Tips.



Further Reading: Top 10 Things to Do in Kunming
- Last modified on Dec. 29, 2020 -
Questions & Answers on Kunming Travel Tips
Asked by Atiqahsya from MALAYSIA | Aug. 25, 2019 03:47

Reply
Is it possible to do a day trip to Dongchuan by private car / van?
Where can i hire a private car / van? How much does it cost?
Answers (1)
Answered by Ingrid from USA | Aug. 28, 2019 19:25

0

0

Reply
One day trip is possible. You can ask your hotel staff to recommend some good and professional drivers for you.
Asked by Ninin from THAILAND | Aug. 07, 2019 23:54

Reply
Can foreigner buy sim card at kunming airport?What time their counter open?
I will arrive at 1am and Will wait till train open, by then have they opened yet?
Answers (1)
Answered by Xavier from POLAND | Aug. 11, 2019 18:49

0

0

Reply
Yes, foreigners can buy SIM card at the airport. But I am afraid that the service counter will be closed at that time. Thus you are suggested to purchase it in downtown area.
Asked by Sonita from CAMBODIA | Aug. 02, 2019 09:53

Reply
Where can i find bowling alleg in kunming?
Answers (1)
Answered by Dodson from USA | Aug. 05, 2019 19:27

0

0

Reply
Well, you can go to Hongta Sport Center, which is located at No.15, West Hongta Road, Xishan District.
Asked by scott from USA | Mar. 19, 2018 22:16

Reply
Is it easy for a foreigner to rent a car in Kunming and how much does it usually cost.
Will an international license work for someone with US drivers license? Thanks
Answers (4)
Answered by Yoyo from CHINA | Mar. 20, 2018 01:35

2

0

Reply
Um, it may be a little complicated, but you can rent one. The cost per day is CNY300-500 for only a car and the price may range according to the car type and brand.

As for driving license, the internatinal one may not work. You are suggested to go to the Vehicle Administation Office to get a Chinese driving license after passing a simple test.
Answered by scott from USA | Mar. 21, 2018 14:09

0

0

Reply
Would you have to speak Chinese in order to pass the simple test?
Answered by Nicole from USA | Mar. 21, 2018 20:30

1

0

Reply
Yes, it's easy to get a Chinese license with your license and the test means to examine your driving skills. Besids, the paper involved has the English version!
Answered by Scott from USA | Mar. 22, 2018 08:07

0

0

Reply
Thank you Nicole
Asked by RIETEPETIT | Feb. 03, 2017 21:43

Reply
Are the branches of Bank of China in Kunming open on sathurday to exchange euro notes,opening hours
We arrive on friday at 1pm.
We don't want to exchange money in the international airport, bad rate. Have sufficient Yuan left to pay taxi to our hotel.
What are the opening hours of the bank of China on friday and sathurday in Kunming in march 2017?
Our hotel is Blossom play design hotel , Baoliliuhe, West of Remnin Road, Wuhua
Answers (4)
Answered by Angela | Feb. 04, 2017 02:12

0

0

Reply
You'd better do it on Friday and it won't be closed until 17:00. Many branches of that bank do not open on weekends nowadays.
Answered by RIETEPETIT | Feb. 04, 2017 05:39

0

0

Reply
We won't be able to reach the bank on friday before 5 pm
Answered by Herman from FRANCE | Feb. 05, 2017 20:13

0

0

Reply
Hi, I heard the bank branches are still open on Saturdays and Sundays, but they are often closed at 16:00 during weekends.
Answered by RIETEPETIT | Feb. 06, 2017 02:09

0

0

Reply
That would be great but are you sure they also have foreignnexchange open thise days? I heard it's only for deposits that's why I made this post to get info.