Kunming Festivals & Events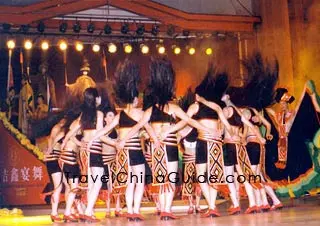 Hair-swaying dance of Wa Ethinic Group

Kunming International Cultural Tourism Festival
Annually held in May Day lasting five days in total, it is also celebrated with Kunming Carnival (lasting three days). Activities are held in squares, parks, pedestrian streets and scenic spots all round the city. Fancy car parade, dancing and singing performances, water splashing carnival, snack banquet and local long street banquet are all excited contents of the grand celebration. The whole city is full of joy at that moment.

Temple Fairs
The Old Street is the 'forbidden city' of Kunming, showcasing the essence of the city's politics, culture and history. Old streets and lanes have almost vanished during the urban renewal in the past couple of years. Kunming Old Street luckily remains and the temple fair held annually from the 5th to 15th day of lunar January is becoming a bright name card. It attracts millions of visitors. Old Kunming flavor re-appear to people.
Traditional Gold Temple Fair is held from every 8th to 10th day of lunar January. Pilgrims all over the Mingfeng Mountain, local special products and snacks can be found from the mountain foot to the top. In the park, there are various entertainment activities and folk performance.



Horticulture Expo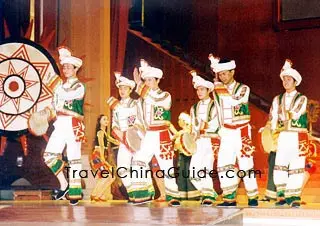 Dance is a vital part of Yunnan culture

1999 World Horti-Expo brought great fame to Kuming, this flora spring city. The government plan to held gardening and horticulture expo every year since 2009. The first expo will last one month in May, and then it will be help in every October since 2010. Two new gardens will be added and this city will be definitely a garden city due to the development of the expo.

Ethnic Festivals
Ethnic minorities are great parts of Yunnan culture. There are nearly thirty ethnic minority groups living in Kunming, a time-honored city which is regarded as one of the most important headstreams of Yunnan ethnic culture. Here is a gathering of many attractive traditional festivals worth admiring.
Torch Festival – In this traditional and grandest event of Yi ethnic minority, local Yi people will celebrate it on the 24th day of lunar June in Shilin Country. They gather and collected torch together into an burning tower, then sing and dance around the torch tower.
Hunting God Festival – Lieshen (Hunting God) festival of Yi ethnic group is held at Jiuxiang during the 1st to 3rd day of lunar January. Antiphonal singing, bullfight, dance and many other folk activities will be conducted.
Sanyuesan – It is a day for the locals to have spring outing for a walk and feast their eye on flowers. Different activities are held in gardens and scenic areas. It was especially busy in the West Hill and Gold Temple.

Festivals in Yunnan Nationalities Village
For most of visitors, it must be a perfect choice to admire the pomp of so many ethnic minorities in one place. That is Yunnan Nationalities Village in Kunming. Here is the detailed information about some festivals in the village:
Munao Zongge Festival of Jingpo (ethnic group)
Time: Late Feburary
Activities: tasting Jingpo rice wine, Munao Zongge dances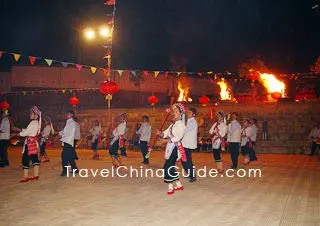 There are dance styles of many ethnic groups
Sanduo Festival of Naxi
Time: Late Feburary
Activities: sacrificial activities to worship Sanduo (reportedly the god of Jade Dragon Snow Mountain), Naxi ancient music show, folk songs
Water-Splashing Festival of Dai
Time: mid-April
Activities: New Year of Dao ethnic group, splashing water to each other showing best wishes and many other celebrations
Shankang Festival of Blang
Time: 16th to 19th day of Aprl
Activities: making sacrifice to the God of Mountain for good harvest, folk song and dance performances, eating the reunion dinner
Dengba Festival of Tibetan
Time: 5th to 6th of May
Activities: Tibetan Guozhuang Dance
Kuzhazha Festival of Hani
Time: Early August
Activities: riding a seesaw, pushing a swing, folk dances and songs
Xinmi Festival of Wa
Time: mid-October
Activities: beating the wooden drums, slaughtering cattle, folk performances, hosting a reunion of all Wa people
- Last modified on Apr. 28, 2019 -
Questions & Answers on Festivals and Events in Kunming
Asked by Limsweesim from MALAYSIA | Apr. 27, 2019 07:24

Reply
What best time to visit kumming? Any suggestion place to go?
Answers (1)
Answered by Mark from CANADA | Apr. 28, 2019 00:39

0

0

Reply
From March to October is the best time. The Stone Forest, Dianchi Lake and Western Hills are recommended. If you have more time, you can also visit Lugu Lake and Lijiang city.
Asked by Gosia from POLAND | Dec. 15, 2017 06:23

Reply
Blue Dragon Festival in Yunnan - when & where?
Hi, are you able to give me some details about Blue Dragon Festival? Is it 18th March 2018? I'm going to travel in South Yunnan in February/March next year, is it worth to look for this event? If yes - where to go for see it? Thank you.
Answers (1)
Answered by Lisa from SINGAPORE | Dec. 18, 2017 00:20

1

0

Reply
As I know, it's around Mar. 18th next year. I think it's worth to take part in it and it will be held in Yunqiu Hill.
Asked by IRIS LEE from SINGAPORE | Jul. 08, 2015 22:37

Reply
city to stay for easy access to attractions in Kunming. We plan to travel in Sep 2015.
Which area should we stay so that it is near attractions and public transport eg. trains and buses
Answers (1)
Answered by Mint from USA | Jul. 08, 2015 22:49

0

0

Reply
I suggest you live around the KM railway station. There are a lot of accommodations in different standards; you can easily find the one you want.

There, you can have easy access to subway line 1 and train services to other cities.
Asked by vicky from MALAYSIAGUEST | Aug. 19, 2013 09:08

Reply
main attractions in Kunming for December
Answers (1)
Answered by Abbey from SINGAPORE | Aug. 20, 2013 00:49

0

0

Reply
The Dianchi Lake, the West Hill, the Stone Forest and the Golden Temple are suggested to go.
Asked by Denise from CHINA | Jul. 18, 2013 20:17

Reply
Kunming Anime Festival?Do you know when it is?
Answers (3)
Answered by Parker from BAHAMAS | Jul. 18, 2013 21:46

0

0

Reply
The festival of 2013 will happen during Aug. 9th to Aug. 14th.
Answered by Denise from CHINA | Jul. 18, 2013 23:26

0

0

Reply
Great, do you know where it will be held? Is there a website?
Answered by Parker | Jul. 19, 2013 01:29

0

0

Reply
I just know there is a community about that, but in Chinese.
Anyway, it will be held at Hall No. 3, International Convention and Exhibition Center.