Kunming Shopping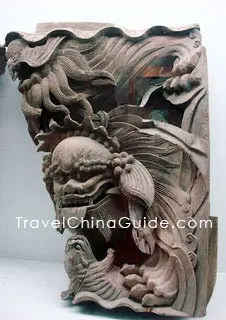 Wood carving
Kunming offers many local products. The interaction of different cultures, religions and colorful lifestyles offers visitors so much to see and buy! It is an ideal place to find local products and souvenirs of your trip to Yunnan!
Kunming is famous for local handiwork including ivory and woodcarving, Dai Jin (brocade made by Dai artisans), and Dai Zhu Bian (Dai bamboo basketry).
Ivory carving with a more than 40-year history is an exquisite handiwork offering plane and three-dimensional carving. Carved ivory birds, flowers and images are valuable and popular as collections and precious souvenirs.
Note: As a rule, ivory and ivory articles are forbidden to be taken out of China. In China, bring out ivory articles or ivory carving needs strict checkup. The testimonial issued by relative governmental department is required.
Wood carving in Kunming is exhibited mainly in wood furniture including chairs, benches and tea tables. Furniture with enchased marble is classical and elegant.
Dai people are also clever at making articles of bamboo. Dai families live in bamboo houses in which everything is made of bamboo including cabinets and hats.
Most Dai women can weave Dai Jin, a kind of drapery with colorful and unique designs used to make bags, curtains, bedclothes, cushions, etc., making excellent gifts for relatives and friends.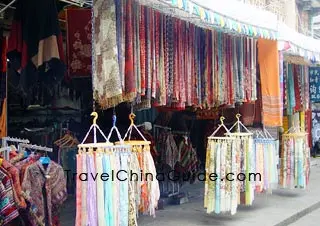 Dai Jin (Brocade of Dai Ethnic Group)
Also available are excellent local products such as dried mushrooms, tropical fruits and batik. We suggest you go to a Wal Mart supermarket to avoid false special products; prices are reasonable.
Da Guan Branch of Wal Mart
Address: E1 and E2, Daguan Shangye Cheng
Guomao Zhongxin Branch of Wal Mart
Address: 289, Chuncheng Lu
Ji Da Branch of Wal Mart
Address: 188, Huan Cheng Dong Lu
Nan Yao Market, the largest open market dealing primarily with local specialties and handicrafts, ideally located beside the railway station and long-distance bus station, is closest to downtown.
The four-story traditional Yunnan Curio Building located in Nanping Lu houses old Yunnan artwork. The Jinma Biji Archway is itself an attraction in Jinbi Lu. Here many stores offer handcrafts of various nationalities. Both are ideal souvenir venues.
Tip: you can bargain with the storekeeper in the above markets.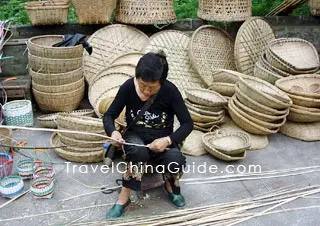 handmade bamboo baskets
Kunming Department Store
is conveniently located in Dongfeng Xi Lu, the center area of the city. You can buy all kinds of daily commodities there.
Qian Cun Department Store
, located in Renmin Zhong Lu, is a new and modern store popular with tourists.
If it is not convenient to find an Internet bar to contact friends and relatives, posting a letter or card is still the usual way. Yuanan General Post Office (Address: 229, Beijing Lu) is the largest post office in Kunming. Here you can find various kinds of postcards as well as stamps.
Situated in Jing Xing Jie, the Bird and Flower Market is a glimpse into local life. The market has become a must-visit destination offering pets, curios, artwork, handcraft, etc.
- Last modified on Apr. 06, 2021 -
Questions & Answers on Shopping in Kunming
Asked by Renee from UNITED STATES | Mar. 06, 2019 08:59

Reply
What is open at night in Kunming?
We are arriving at 1am and have an 8 hour layover. Are there shops open in the airport at that time? Is there anything we can do outside of the airport during that time? One adult and one teen.
Thank you.
Answers (1)
Answered by Tricia from UKRAINE | Mar. 07, 2019 23:16

0

0

Reply
You are suggested to stay at the airport because most of downtown restaurants would be closed at that time. You can find KFC and other 24 hours fast food restaurants at the airport. Don't worry.
Asked by A K Hazarika from INDIA | May. 17, 2018 23:31

Reply
Can someone tell me where I can find good GREEN TEA retailers & wholesalers in Kunming
Answers (1)
Answered by John from USA | May. 18, 2018 02:06

0

0

Reply
I happen to know a Yunnan Tea Wholesale Market in 2 Jinshi Rd, Pan Long Dis. You can have a look!
As for the retailers, you may go to some tea shops or supermarkets. BTW, I bought some tea from Muming Tea Shop in Chunrong St. Chenggong Dis. It's great!
Asked by Vish from SRILANKA | Jan. 28, 2018 01:09

Reply
Hi. Can some one please tell me from where can I buy computer parts in kunming
Answers (1)
Answered by Lina from CANADA | Jan. 28, 2018 21:07

0

0

Reply
I recommend the Baiteng Digital Plaza to you. It is located at no. 127, North Yuantong Road, Wuhua District. Another good choice is 121 Digital Plaza, located on No. 121 Street.
Asked by Deborah from CHINA | Jul. 04, 2017 19:29

Reply
Where is the Tianrui Clothes Wholesale Market in Kunming?
What are the opening hours? Also where is the Nan Yao market? We are in the city this week and I'd like to get some clothes. Thank you!
Answers (2)
Answered by Alice from AUSTRALIA | Jul. 04, 2017 22:01

0

0

Reply
Tianrui Clothes Wholesale Market is in Xinying Road 134 of Panlong District, Kunming. Generally speaking, you should go there in morning, or not later than 14:00. Naoyao Market is in Yongping Road 12. You could take bus 47 at Xinying Road Station and get off at Yongping Road, then go 200 yards east to Nanyao Market.
Answered by Deborah from CHINA | Jul. 05, 2017 05:58

0

0

Reply
Thanks Alice!
Asked by Hadir Ahmed from EGYPT | Feb. 01, 2017 16:47

Reply
Where i can find wholesale malls for electronics, toys, bags, shoes, clothes in Kunming?
Answers (3)
Answered by Andrew from DENMARK | Feb. 02, 2017 01:14

1

0

Reply
1. There are several Gome Electrical Appliances in the city where you can purchase some electronic products. One branch is located at 1F, No.156, South Ring Road.
2. For toys & bags, you can go to Luoshiwan International Commercial City. It is located at No.5151, North Caiyun Road, Hongren District.
3. Tianrui Clothes Wholesale Market is a good place to buy clothes and bags. Most products have nice quality and acceptable.
Hope helpful!
Answered by Hadir from EGYPT | Feb. 02, 2017 03:02

0

0

Reply
Are these places with cheap prices?
Answered by Andrew | Feb. 02, 2017 03:50

0

0

Reply
Yes, most things in these places have cheaper prices than other places. :)