Bijie Travel Guide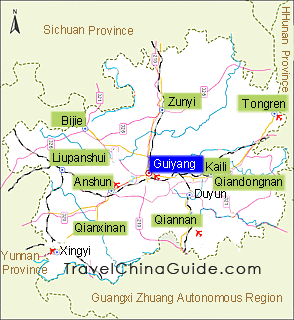 Bijie Facts
Chinese Name: 毕节 (bì jié)
Population: 9,302,800
Area: 26,900 square kilometers (10,386 square miles)
Location: in the northwest of Guizhou Province, southwestern China
Administrative Division: 1 district (Qixinguan); 6 counties (Dafang, Qianxi, Jinsha, Zhijin, Nayong, Hezhang); 1 autonomous county (Weining Yi Hui and Miao)
Area Code: 0857
Zip Code: 551700
GDP (2019): CNY 190.136 billion (USD 27.560 billion)
Nationalities: Han, Yi, Miao, Hui
Natural Summer Resort to Escape Scorching Heat
Bijie is located in the northwest of Guizhou Province and neighbors Anshun and Guiyang to the south, Yunnan Province to the east and Sichuan Province to the north. Bijie is definitely an ideal tourist destination all year round. It has a pleasant climate with an annual average temperature of 13.4 ℃ (56.1 ℉). Even in summer, the average temperature is 22 ℃ (71.6 ℉). And the whole city is full of Yi and Miao customs. Bijie possesses 61 kinds of rich mineral resources. The coal reserves reach 28.1 million tons, accounting for 51% of Guizhou's reserves. This city also produces many famous green organic specialties, including Nayong mountain ecological organic tea, Dafang gastrodia, Zhijin bamboo fungus and Hezhang walnut.

Zhijin Cave Scenic Area
: Consisting of the Zhijin Old Town, Zhijin Cave, Jiehe Gorge and Hongjia Ferry, this scenic area features one of the most spectacular and noted karst caves in China. Zhijin Cave is regarded as the 'karst museum'.

Caohai Lake
: It is the largest plateau freshwater lake in Guizhou and an ideal habitat for birds, such as the black-necked crane, red-crowned crane, white stork and the white-tailed sea-eagle. The lake is definitely a kingdom of birds.

One-Hundred-Li Azalea Belt
: It is the largest primeval azalea forest in China where some festivals of Yi and Miao ethnic minorities are held.
Other Scenic Spot:
Jiudongtian Scenic Area
How to get to Bijie
About three hours are needed to get from Bijie to Guiyang. There are no trains operating in this region, so visitors should get to Guiyang, Liupanshui and other cities in Guizhou Province, then take buses to here and scenic spots in the region.
Weather
-
Most parts of Bijie belong to the subtropical zone, enjoying a humid monsoon climate. The weather is moderate without bitter chilliness in the winter and intense heat in summer. Its rainfall mainly concentrates in the period from May to September.

When to Go
: Bijie is an ideal summer resort. If visitors come to see the flaming azaleas, March and April are the months when the land is aflame with red color. If visitors come for bird-watching, November to April is the best time to visit. Keeping warm should be given the first priority at this time!
Bijie Travel Tips

History: Before the Ming Dynasty (1368-1644) established an administrative unit in this area, Bijie was governed by several kingdoms of ethnic minorities.



Physical Features: Bijie has a typical karst land formation. It is located on the versant from the plateau in southern Yunnan to the hilly area in the central part of the province. The terrain is mountainous and descends from the west to the east.



Local Highlights: Bijie is inhabited by many ethnic minorities, so the customs of these ethnic minorities make up the main characteristics of this region. Apart from the Torch Festival of the Yi nationality and the reed panpipe dances of the Miao nationality, visitors can also admire the song-tying, horse racing and folk dances of other ethnic minorities.



Special Local Products: Lacquer of Dafang County, dictyophora indusiata (Chinese mushroom) of Zhijin County, wine of the Yi ethnic minority
- Last updated on Jun. 07, 2022 -
Questions & Answers on Bijie Travel
Asked by Boon from THAILAND | Dec. 20, 2018 01:29

Reply
Please tell how far from Qianxi to Bijie for seeing azalea?
What is more convenient to stay in Bijie or Qianxi?
Thanks for all reply.
Answers (1)
Answered by Winifred from FINLAND | Dec. 20, 2018 23:44

0

0

Reply
You can take a coach from Qianxi Bus Station. The bus schedules are from 09:40 to 17:20 with the frequency of 40min. The ticket fare is CNY47. You can stay in Bijie.
Asked by chav from THAILAND | Oct. 06, 2018 06:54

Reply
Can i go to Chishui From Bijie ?
Answers (2)
Answered by Carter from UNITED KINGDOM | Oct. 07, 2018 23:47

0

0

Reply
As I know, there is no direct coach or train that operates between these two places.
Thus you are suggested to take a coach to Luzhou first. Then transfer to the bus to Bijie.
Answered by Chav from THAILAND | Oct. 08, 2018 02:19

0

0

Reply
Thank you so much
Asked by Ms.FRANCINE | Dec. 26, 2013 10:43

Reply
Hi can you please advise on 3 star accommodation that is close-by the One-Hundred-Li Azalea Belt please?
Answers (2)
Answered by Peter from USA | Dec. 27, 2013 01:08

2

0

Reply
I just know there are many farmer's house or hostels within walking distance from the scenic area. If U wanna find 3 star hotel, you may have to go to BJ city.
Answered by Ms.FRANCINE | Dec. 27, 2013 02:31

2

0

Reply
Thanks so much!!