Tongren Travel Guide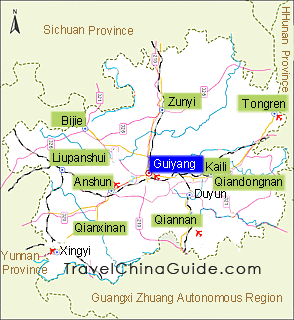 The Tongren Region lies in the northeast part of Guizhou Province, neighboring Chongqing Municipality to the north and Hunan Province to the east. It is a vital nexus between Central China and the southwest frontier, and accordingly is known as the 'Gateway of the Guizhou Eastern Area'. Tongren City is the political, economic and cultural center of the Tongren Region and enjoys a level of the capital City.

There are no historical records about this area before the Warring States Period (476BC-221BC). Legend has it that during the Yuan Dynasty (1271-1368) a man found three bronze figures underwater, hence the name Tongren (bronze figure). The region's governance covers 1 city (Tongren City), 4 counties (Jiangkou, Shiqian, Sinan, Dejiang), 4 autonomous counties (Yuping Dong Autonomous County, Yinjiang Tujia and Miao Autonomous County, Yanhe Tujia Autonomous County, Songtao Miao Autonomous County) and 1 special district (Wanshan Special District).

Tongren has a complex topology, including features of the outstanding Karst topology. On the whole, the terrain of the central area is lower than that of the surrounding areas, even though most of the land of the this region is mountainous.
There are well-known tourist destinations in Tongren Region including: the Nine-dragon Cave Scenic Spot (famous for Karst caves), Fanjing Mountain National Nature Reserve, and the beautiful Jinjiang River. There are also many well-known cultural destinations including: Dongshan Temple, China Nuo Opera and Nuo Mask Museum.
The transportation system is well developed in this region. Tongren Daxing Airport services flights to Guiyang, Chongqing, Guangzhou, Shenzhen and is the transportation hub of Hunan, Chongqing, Hubei and Guizhou. Several highways converge in this region and provide convenient transportation for tourists.
Weather
-