Tongren Travel Guide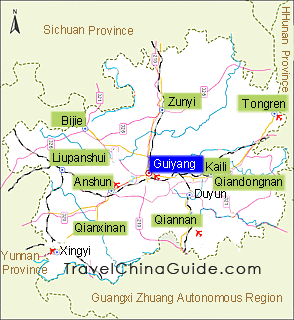 Tongren Facts
Chinese Name: 铜仁 (tóng rén)
Population: 4,270,000
Area: 18,000 square kilometers (6,950 square miles)
Location: in the northeast of Guizhou Province, southwestern China
Administrative Division: 2 districts (Bijiang, Wanshan); 4 counties (Jiangkou, Shiqian, Sinan, Dejiang); 4 autonomous counties (Yuping Dong, Songtao Miao, Yanhe Tujia, Yinjiang Tu and Miao)
Area Code: 0854
Zip Code: 558000
GDP (2019): CNY 124.916 billion (USD 18.002 billion)
Nationalities: Han, Buyi, Miao, Shui, Maonan, Yao
Famous for Fanjing Mountain
Tongren lies in the northeast part of Guizhou Province, neighboring Chongqing Municipality to the north and Hunan Province to the east. It is a vital nexus between Central China and the southwest frontier, and accordingly is known as the 'Gateway of the Guizhou Eastern Area'. Legend has it that during the Yuan Dynasty (1271-1368) a man found three bronze figures underwater, hence the name Tongren (bronze figure). Yongren is widely known for Fanjing Mountain, one of five famous Buddhist mountains in China. The mountain has been functioned as the place where the Buddhist rites are performed since ancient China, along with Huguo Temple and Chengen Temple. What is more magic is that people can see the huge halo of seven colors on the clouds opposite to the sun before 9 a.m. and after 4 pm. Visitors can also watch the Nuo Drama, called the "living fossil" in drama. It is a kind of religious sacrificial drama with masks.
There are well-known tourist destinations in Tongren Region including: the Nine-dragon Cave Scenic Spot (famous for Karst caves), Fanjing Mountain National Nature Reserve, and the beautiful Jinjiang River. There are also many well-known cultural destinations including: Dongshan Temple, China Nuo Opera and Nuo Mask Museum.
The transportation system is well developed in this region. Tongren Fenghuang Airport services flights to Guiyang, Chongqing, Guangzhou, Shenzhen and is the transportation hub of Hunan, Chongqing, Hubei and Guizhou. Several highways converge in this region and provide convenient transportation for tourists.
Weather
-
- Last updated on Dec. 09, 2020 -
Questions & Answers on Tongren Travel
Asked by Michael from UNITED KINGDOM | May. 15, 2019 14:14

Reply
I have read there is a bus between Tongren station and Fenghuang
But I'm struggling to understand if there is a bus service service between South Railway Station (where I arrive) and Fenghuang? If anyone can advise me on how to travel between the two it would be most appreciated.
Answers (1)
Answered by Jeremy from USA | May. 15, 2019 22:53

0

0

Reply
Hi, the bus station is near the Main Railway Station. You need to take bullet train from South Railway Station to Main Railway Station and it takes about 30mins and costs about CNY30.
Asked by Joy from THAILAND | Feb. 28, 2019 20:51

Reply
Have a bus or train from Guiyang North Railway Station to Tongren?
Answers (3)
Answered by Dominic from UNITED KINGDOM | Mar. 04, 2019 19:09

0

0

Reply
You can take direct bullet train from Guiyang North Railway Station to Tongren Railway Station. It takes around 2 hours on the way. The ticket fare of 1st Class Seat is CNY247, 2nd Class Seat is CNY147 and Business Cls. Seat is CNY462.5.
Answered by Joy from THAILAND | Mar. 05, 2019 03:42

0

0

Reply
Do you recommend the hotel nearest or convenience for travel to Fanjingshan mountain?
Answered by Dominic | Mar. 05, 2019 17:40

0

0

Reply
You are suggested to find a hotel nearby the railway station. The North Coach Station is close to the railway station. And there are several direct coaches to Fanjingshan.
Asked by Mike from CHINA | Mar. 15, 2018 00:08

Reply
Whats the best way to get to and from Yinjiang from Tongren?
and where does the bus leave from in TR?
Answers (1)
Answered by Colla from USA | Mar. 15, 2018 01:45

1

0

Reply
Direct buses are recommended. There are many schedules between 08:00 - 16:00 every an hour & 17:30 at TR Bus Station. It costs CNY54 and takes 2-3h.
Asked by daniela from CHILE | Feb. 27, 2018 18:16

Reply
north bus station to tongren railway station
hi! ive read that the railway station, the one that departs trains to chongqing, is located north of tongren and so does the bus station, in wich ill arrive from fenghuang.

are they near each other ? should i take public transport between them ? is walkable?

thank u for info :)
Answers (1)
Answered by Tent from BELGIUM | Feb. 27, 2018 21:01

1

0

Reply
I just know tge Tourist Bus Station is about 300m west to the train station, you may have a look. And it is said that the new north bus station is under construction and I am not sure whether it is open.
Asked by Catherine from SINGAPORE | Nov. 13, 2017 07:33

Reply
Solo trip- flight arrives at Tongren Airport at abt 9pm.
I am not sure if can catch S G Train to Huaihua (it is abt 45 mins journey.
1) what is the faster way from airport to South speed Train station ?
2) How far from Airport to Town ? Express bus or cab? Thanks!
Answers (3)
Answered by Joe from SINGAPORE | Nov. 13, 2017 20:47

0

0

Reply
As I know, you can only take a taxi to the South Station from the airport, and it may cost CNY200-250.
As for Q2, the town is Phoenix Town?
No shuttle bus is available at that time, so you also need to take a taxi, which costs CNY140-150.
Answered by Catherine from SINGAPORE | Nov. 20, 2017 04:50

0

0

Reply
Thanks Joe for the reply.
Q1 how long is the journey from FengHuang Airport to TR South Station?
As for Q2 I mean TR city. Will airport shuttle still operates at 10pm? I could not find Shuttle bus schedule on internet (even airport website).
Do you mind one more question? There is no SPEED train from the city to Guangzhou? Cheers!
Answered by Joe | Nov. 20, 2017 19:39

1

0

Reply
It takes about 70 minutes.
As for the bus to TR at 10:00pm, you can take Bus 20 and transfer to Bus 15 at Minzu Fengqingyuan. After that, gets off at Renmin Yinhang, you will be in downtown area.
Then Q3, sorry but no bullet train to Guangzhou, and you can only take a normal train. It takes 15h 30 minutes- 23hours and CNY288.5/254.5 for a hard sleeper, CNY450.5/463.5 for a soft one.