Qianxinan Travel Guide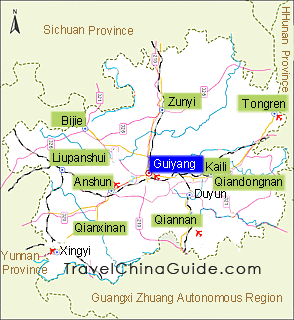 Qianxinan Facts
Full Name: Qianxinan Buyi and Miao Autonomous Prefecture
Chinese Name: 黔西南布依族苗族自治州 (qián xī nán bù yī zú miáo zú zì zhì zhōu)
Population: 3,140,000
Area: 16,804 square kilometers (6,488 square miles)
Nationalities: Han, Buyi, Miao

Location: Qianxinan Buyi and Miao Autonomous Prefecture is located in the southeast of Guizhou Province, in neighborhood of Yunnan Province and Guangxi Zhuang Autonomous Region. The capital of Qianxinan is seating in Xingyi City, which is over 300 kilometers (186 miles) from Guiyang and Kunming.

Administrative Division: 7 counties (Xingren, Pu'an, Qinglong, Zhenfeng, Wangmo, Ceheng, Anlong); 1 county-level city (Xingyi)
Seat of the city government: No.22, Shajing Street, Xingyi City

Useful Telephone Numbers:
Tourist Complaints: 0859-3116518
Weather Forecast: 121
Zip Code Inquiry: 184

Bank of China Branch: No.1, Hehuatang Lane, Xingyi City
China Post Branch: No.10, Panjiang Road, Xingyi City

Maling River Canyon
It is a natural museum of karst featuring with multiple stratifications and categories. Here the must-see is a deep rift and miles of calcium sediments. Additionally, floating down the Maling River in a rubber dinghy is quite popular. The river has numerous shoals and turbulent torrents, which make the voyage full of excitement.

Situated on the middle lower reaches of Maling River, Forest of Ten Thousand Peaks is a scenic area built on karst formations. It comprises east and west peak forests. Countless peaks stand together like a great troop. The beautiful Nahui River flows into the peak forest, sets off the continuous strange mountains, crosses the villages of Buyi People and finally reaches the Wanfeng Lake. The lake adjoins Maling River at the mouth of the canyon. It's the fifth largest fresh lake in China. The name comes from the surrounding thousands of peaks which embrace the lake. In addition, the lake is known as the fishing paradise due to its abundance of fish.

Other Attractions in Qianxinan: Zhaodi Dyke, Fangmaping Medow, 24-Bend Road
How to get to/around Qianxinan
As the capital of Qianxinan, Xingyi City is usually the first stop for visitors.

1. Xingyi Airport is situated 8 kilometers (5 miles) east of Xingyi City proper and only 7 kilometers (4.3 miles) from the Malinghe Valley. Flights to Guiyang and Shenzhen are available at present.

2. There are two main bus stations in Xingyi City. The east station is located in Hunan Street, and the west station (the new station) lies in Pingdong Dadao. Buses from Xingyi to Guiyang leaves frequently, but the journey is long. It usually costs five hours.
Weather
-
Qianxinan enjoys a subtropical monsoon climate. Weather in this area is temperate and humid all the year round. Xingyi City is reputed as the 'Lesser Spring City'. As to the whole prefecture, the annual average temperature of January falls between 4.4 and 9.7 degree centigrade (40-49.5 degree Fahrenheit), and that of July remains between 21 and 26 degrees centigrade (69.8-78.8 degrees Fahrenheit). The rainy season usually lasts from May to September.

When to Go
: in spring, summer and autumn
Qianxinan Travel Tips

History: According to history records, Qianxinan was inhabited by several ethnic groups in southwestern China or governed by kingdoms they established in remote ages. The Qin Dynasty (221BC-206BC) put it under the administration of Xiang Shire, and it returned to the Yelang State, an ancient ethnic regime in old Guizhou. It is partly belonged to the central government and Yelang in the following hundreds of years. After that, overlapping reigns on this area were changed between the central Chinese government and kingdoms set up by local ethnic groups.



Physical Features: Qianxinan stands in the slop area in southeast of the Yunnan-Guizhou Plateau. Its overall terrain slops downward from northwest to south east. Most part of the prefecture belonged to karst plateau, and Karst terrain occupies over seventy percent of its territory. Hilly area is in the second place, occupying a coverage of twenty percent.



Local Highlights: Ethnic minorities occupy over forty percent of the prefecture's total population. Among these multitude of ethnic groups, Bouyei and Miao are the largest. Strong flavor of the ethnic minorities should be the most charming factor of Qianxinan.
Miao Folk-Custom Festival (around the eighth day of the eighth lunar month in Xingren County)
Buyi Folk-Custom Festival (around the sixth day of the sixth lunar month in Zhenfeng County)



Special Local Products: ornamental stone, garment accessories of Buyi ethnic minority
- Last modified on Sep. 28, 2018 -
Questions & Answers on Qianxinan Travel
Asked by Henry from THAILAND | Sep. 04, 2017 10:42

Reply
Is there any bus from Xingyi to Guilin or Yangshuo ?
Please advise is there any direct bus from Xingyi to Guilin or Yangshuo ? Can anyone advise the timetable ?
Answers (1)
Answered by Helen from CANADA | Sep. 04, 2017 21:27

0

0

Reply
Sorry to tell you no bus is available, but you can take a normal train to Guilin North, and the train leaves at 2:30. It takes about 13 hours and CNY214 for a hard sleeper, CNY325 for a soft one.

Or you may take a train to Baise within 4h, then change to a high speed train to Guilin within 5h.