Anshun Shopping & Nightlife
Shopping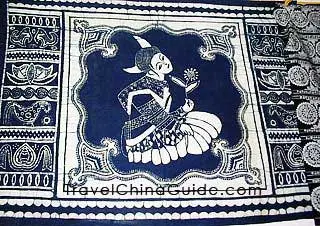 Wax Printing
Once you have enjoyed the beautiful waterfall scenery in Anshun, do not forget to check out souvenirs for your family and friends. In Anshun you will find many locally produced handicrafts that are well known both in China and abroad.
Wax Printing (batik art) is one of the most famous traditional crafts in the Guizhou Province, and originates in Anshun. The designs used on the cloth reflect the beautiful mountain and river landscape; ladies-in-waiting, birds and animals, as well as traditional cultural relics. The veins are fine and beautiful and mostly are dyed red, yellow or brown. The Buyi Carpet is another handicraft that is popular among tourists and reflects the culture of Buyi Minority in Anshun. Designs are novel and delicate, retaining an elegant simplicity. Wood-carvings are also very popular, often coming in the form of masks, sculpted with rough lines and exaggerated expressions.
Zhenning Bobo Candy is produced in the Zhenning Buyi & Miao Minority Autonomous Counties and is very tasty. It contains aminophenol and vitamins. Beef jerky is another popular area food, which makes a portable snack that can supply energy immediately and taste good.
For those who like drinking alcohol, Anshun offers a variety of good drink options. The most famous brand is An Alcohol. The Pingba Alcohol series include Ping'an Alcohol, Pingbajiao Alcohol, Jinhuchun Alcohol, all of which are well-known in China and abroad.

Department Stores:
Jiahui Shopping Center
Address: in the downtown area of Xixiu District

Anshun City Department Store
Address: No.136, Shixi Road, Xixiu District
Getting there: Take buses No.5, 6, 8 to arrive.

Jinmate Storage Shopping Center
Address: No.5, Minzhu Road, Xixiu District



Supermarkets:
Wangkelong Supermarket
Address: Tushu Road

Dashijie Supermarket
Address: No.136 Xihang Road, Dashijie Hotel
Getting there: Take buses No.8, 9, 10, or 15

Dachanghong Supermarket
Address: No.1 Tashan Road, Chengguan Town, Pingba County

Nightlife
When in Anshun, one must visit the night market to try out local snacks. The local main night market can be found at the crossing of East Street and Guofu Street. Vendors also sell snacks along the east side of Tashan Road. The food is varied and delicious, offering snacks such as Bean curd Bolus, Crystal Iced Jelly, and Glutinous Rice with Pickled Cabbage. On average, a meal should cost approximately CNY20 per person.

Additional night markets are located at the mall square between Nanhua Road and the Anshun Department Store (here options include everything from Buckwheat Bean Jelly to Chongchong Cake), and on Minzhu Road (where you can try Fish in Sour Soup, Pig Stomach Hot-Pot, Barbecue, Rice Noodle, etc.).

For those who would like to wave bars or chat in a coffee house or tea house, the following provide some address for you:



Bars
Night Shanghai Bar (Guanling County)
Location: No.162, Huancheng Road, Guanling County

New York Bar
Location: No.17, Rulin Road, Xixiu District



Clubs
Lizhidu Club
Location: No.7 Ruofei Road (South)

520 Donggan Club
Location: Jianjun Road

Oriental Bright Pearl Entertainment Palace
Feature: KTV, disco, singing & dancing performances
Location: Nanbei Street

Kelly Leisure & Entertainment Club
Location: No.176, Minzhu Road, Xixiu District



Cafés
Old Cinema Cafe
Location: Shifu Road
- Last updated on Jun. 07, 2022 -