Nanning Travel Guide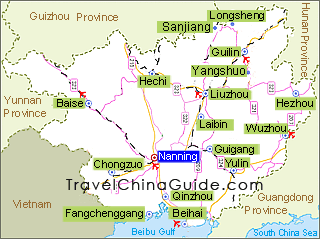 Nanning, the capital city of Guangxi Zhuang Autonomous Region, is the political, economic and cultural center of the region. It has the most prosperous economy in Southwest China, supplying an abundance of agricultural products to the whole Guangxi. Bordering Vietnam, this city is neighbor to Guangzhou, close to Hong Kong and Macau, and faces Southeast Asia. This advantageous location makes the city a commercial and communication center, opening China to Southeast Asia.

Pleasant climate endows Nanning with evergreen trees and fragrant flowers all year round, hence the name 'Green City.' In such a beautiful land, more than 30 ethnic minority groups have been living harmoniously for 1,680 years. Zhuang is the largest minority group of China. Over 90% of them live in Guangxi. Their history and ethnic culture add charm to the city.

Nanning welcomes visitors from all over the world. Its beautiful subtropical scenery and exotic ethnic minority culture have been attracting millions of tourists for years.
As the linking point of the tour route from Guilin to Beihai, Nanning has a lot of attractions to offer: grand Detian Waterfall, beautiful Mt. Qingxiu and Mt. Daming, quiet Yangmei Ancient Town, mysterious Huashan Mural as well as scattered parks and gardens. Visitors will be enchanted and may want to spend more time in the city. Delicious local foods such as various porridges and rice noodles as well as Suanye (fermented fruits and vegetables) cannot be enjoyed anywhere else in China.
Convenient transportation systems make the city easily accessible. Nanning Wuxu Airport (NNG), Nanning Railway Station and East Railway Station serve as hubs for other cities in China. Five main bus stations take people to other provincial counties and cities. Public buses, rail transit and taxies are plentiful and inexpensive.
- Last modified on Feb. 06, 2019 -
Questions & Answers on Nanning Travel
Asked by Lily from UNITED KINGDOM | Feb. 06, 2019 21:16

Reply
Please give details on a trip to Yangmei Ancient Town from Nanning?
Asked by Yoli from CHINA | Jan. 24, 2019 20:33

Reply
Im looking at traveling fron Nanning to Vietnam via train or bus.Is this possible?
Answers (3)
Answered by Matthew from UNITED KINGDOM | Jan. 29, 2019 17:31

0

0

Reply
Yes, you can take the direct train to Vietnam Hanoi. Or take the coach to Vietnam Lang Son and Hanoi.
Answered by John from SINGAPORE | Feb. 03, 2019 11:42

0

0

Reply
1. Is how long the time for bus from nanning to hanoi 2. Can we buy on the same day as travel? 3. How much
Thank u
Answered by John from SINGAPORE | Feb. 03, 2019 11:43

0

0

Reply
Hi yoli, can u email me at lennard73

yahoo.com as i m also going but on mar 7
Asked by Chyan from SINGAPORE | Nov. 14, 2018 21:51

Reply
Round-trip to Nanning on 2 January 2019
Is it advisable to embark on a short round-trip to Nanning, arriving in and departing from the city on the same day for flight reviews without staying in a China hotel? Does China customs and immigration allow such form of travel?

Is the weather in the city in January chilly or rainy or snowy?
Answers (2)
Answered by David from USA | Nov. 15, 2018 17:57

0

0

Reply
The weather in this city in January is chilly and would rain sometimes. The China Customs and immigration allows this kind of trip only if you have Chinese visa. So don't worry about this.
Answered by Chyan from SINGAPORE | Nov. 15, 2018 23:26

0

0

Reply
I am Singaporean. No need entry visa to China for stay or transit less than 15 days.
Asked by Jonathan Phang from MALAYSIA | Nov. 06, 2018 18:14

Reply
I'm travelling to nanning on this November 21st ...
Which hotel should I stay ..? Is there any good place to recommend for foods and pubs...?
Answers (2)
Answered by Violet from GERMANY | Nov. 07, 2018 17:28

0

0

Reply
Nanning International Hotel is recommended to you, a five-star hotel and close to the Nanhu Lake and Qingxiu Mountain. It is located at No.88 Minzu Avenue. You can take a look the food and pubs at No.45 Gonghe Road.
Answered by Jonpcm | Nov. 08, 2018 00:09

0

0

Reply
Thanks for the information ..Really appreciate it ...
Asked by JAMILAMRI | Oct. 30, 2018 10:54

Reply
i am visiting Nanning in July2019 need informations plz
is this village (guangxi province) and what is nearest airport to Guangxi?
i will fly from Saudi Arabia
Answers (1)
Answered by Darnell from FRANCE | Oct. 31, 2018 03:01

0

0

Reply
This is a city of Guangxi Province and there is an airport in this city - Wuxu International Airport. There is not direct plane from your country to the Wuxu Airport and you can make a transfer at Guangzhou Baiyun Airport.