Nanning Travel Guide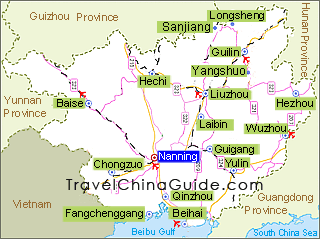 Nanning Facts
Chinese Name: 南宁 (nán níng)
Population: 7,254,100
Area: 22,112 square kilometers (8,537 square miles)
Location: in the south of Guangxi Zhuang Autonomous Region, southwestern China
Administrative Division: 7 districts (Qingxiu, Xingning, Jiangnan, Liangqing, Yongning, Xixiangtang, Wuming); 5 counties (Hengxian, Long'an, Mashan, Shanglin, Binyang); 4 functional zones (Nanning High-tech Industrial Development Zone, Nanning Economic and Technological Development Zone, Nanning ASEAN Economic Development Zone, Nanning Xianhu Economic Development Zone)
Area Code: 0771
Zip Code: 530000
GDP (2019): CNY 450.656 billion (USD 65.322 billion)
Nationalities: Zhuang, Han, Yao, Miao, Mulam, Dong, Hui
Green Capital City of Guangxi
Nanning, the capital city of Guangxi Zhuang Autonomous Region, is the political, economic and cultural center of the region. It has the most prosperous economy in Southwest China, supplying an abundance of agricultural products to the whole Guangxi. Bordering Vietnam, this city is neighbor to Guangzhou, close to Hong Kong and Macau, and faces Southeast Asia. This advantageous location makes the city a commercial and communication center, opening China to Southeast Asia.

Pleasant climate endows Nanning with evergreen trees and fragrant flowers all year round, hence the name 'Green City.' In such a beautiful land, more than 30 ethnic minority groups have been living harmoniously for 1,680 years. Zhuang is the largest minority group of China. Over 90% of them live in Guangxi. Their history and ethnic culture add charm to the city.

Nanning welcomes visitors from all over the world. Its beautiful subtropical scenery and exotic ethnic minority culture have been attracting millions of tourists for years.

As the linking point of the tour route from Guilin to Beihai, Nanning has a lot of attractions to offer: grand Detian Waterfall, beautiful Mt. Qingxiu and Mt. Daming, quiet Yangmei Ancient Town, mysterious Huashan Mural as well as scattered parks and gardens. Visitors will be enchanted and may want to spend more time in the city. Delicious local foods such as various porridges and rice noodles as well as Suanye (fermented fruits and vegetables) cannot be enjoyed anywhere else in China.

See also: Top 8 Things to Do in Nanning
Convenient transportation systems make the city easily accessible. Nanning Wuxu Airport (NNG), Nanning Railway Station and East Railway Station serve as hubs for other cities in China. Five main bus stations take people to other provincial counties and cities. Public buses, metro and taxies are plentiful and inexpensive.

You May Like:
Top 10 China Main Cities for Nature Lovers
- Last updated on Mar. 09, 2021 -
Questions & Answers on Nanning Travel
Asked by Mr.LUCIEN from BE | Sep. 21, 2020 17:57

Reply
I would like to take a look at snow landscapes during the Chinese New Year.
it is not the intention to go skiing.
can anyone give reliable information where snow should be seen.
I am leaving from Beihai -Guangxi
thanks in advance
Answers (3)
Answered by Henry | Sep. 23, 2020 18:25

0

0

Reply
You are suggested to tour around Harbin or other northern cities of China. Generally speaking, there would have several snowy days during winter season.
Answered by Sanm | Mar. 04, 2021 22:42

0

0

Reply
Dear best place for snow is harbin or northern parts of China, but unfortunately snowing session has been passed, you have wait till next winter session.
Answered by Lucien Van Drom | Mar. 09, 2021 23:17

0

0

Reply
thank you anyway for the respons
Asked by vernon PARSONS from UNITED STATES | Nov. 14, 2019 09:04

Reply
how far is nanning from hanoi?, how far from viet nam?
Answers (1)
Answered by Ada from CANADA | Nov. 17, 2019 22:34

0

0

Reply
The distance between Nanning and Hanoi is around 430km.
Asked by Charlie Chow from MALAYSIA | Oct. 28, 2019 06:25

Reply
How to travel fr Nanning to Yangshuo, Is there any high speed train service. Thank you
Answers (1)
Answered by Olivia from UNITED KINGDOM | Oct. 29, 2019 18:45

0

0

Reply
Yes, you can take high speed train from Nanning East Railway station to Yangshuo Railway station at 13:10.
Asked by Noel from AUSTRALIANE | Aug. 25, 2019 00:16

Reply
7 day tour of guangxi.
I was wondering if you have a 7 day tour of Guangzhou starting from Nanning.
Answers (2)
Answered by Goff from AUSTRALIA | Aug. 28, 2019 18:36

0

0

Reply
It is suggested to send e-mail to travel

travelchinaguide.com to consult your question.
Answered by Noel from AUSTRALIA | Aug. 29, 2019 08:26

0

0

Reply
Ok thanks mate.
Asked by Wannee from THAILAND | Jun. 12, 2019 09:08

Reply
Tongling grand canyon-Detian-mingshi
I plan the trip as follow:
Day 1 Nanning to Tongling Grand Canyon- Detian and stay overnight at Ming she
Day 2 from Mingshi back to the city
If I would take the public transportation,how could I go from Tongling to Detian, from Detian to Mimgshi and from Mingshi back to the city
Answers (4)
Answered by Lora from UNITED KINGDOM | Jun. 12, 2019 20:28

0

0

Reply
I haven't found any public transportation between Tongling and Detian. Maybe you can hire a private car and it takes about CNY150 per car.

From Detian to Mingshi, there are some buses back to Nanning or Shuolong Town will pass by Mingshi and it takes CNY15 if you drop off at Mingshi.

From Mingshi to Nanning, the bus from Detian to Nanning pass by Mingshi at 15:10 and 16:40. The bus fare is around CNY65 and it takes 3.5 hours back to the city.
Answered by Wannee from THAILAND | Jun. 13, 2019 06:45

0

0

Reply
Thank you so much. Is there any website that I can find more details of information.
Answered by Lora from UNITED KINGDOM | Jun. 13, 2019 18:17

0

0

Reply
There are only some websites in Chinese but the information is not very complete. Maybe you can consult the scenic area or local bus station for more information.
Answered by Wannee from THAILAND | Jun. 14, 2019 05:03

0

0

Reply
Thank you so much for your help.