Nanning Transportation
Air
Wuxu International Airport
(NNG) is located in Wuxu Town, about 19 miles (31 kilometers) southwest from the center of Nanning City, about 40-50 minutes' driving. As a large airport in southwest China, flights in this airport are bound for more than 40 major cities in China, such as Beijing, Shanghai, Nanjing, Chengdu and Shenzhen. In addition, there are 11 international air routes that can take passengers to Singapore, Kuala Lumpur, Bangkok, Djakarta, Ho Chi Minh, Phnom Penh, Rangoon, Vientiane, Seoul, Phuket and Cheju. Convenient transportation, such as airport shuttle bus, makes passengers get to the airport easily.
Besides, a new airport called
Nanning Lingli Airport
is under construction which lies near Lingli Port in Lingli Town and is about 45 killometers (28 miles) to downtown.
Train
Nanning Railway Station and East Railway Station are responsible for passenger transport in this city. The Main Railway Station mainly has normal speed trains, while East Railway Station mainly focuses on high speed trains' operation.



Major rail lines from this city to:

Nanning Railway Station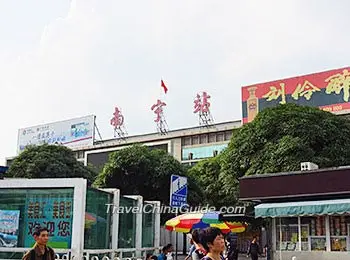 Railway Station
As the meeting point of Nanning-Kunming Railway, Hengyang-Pingxiang Railway and Nanning-Fangchenggang Railway, the station has direct trains to most large cities in China, including Beijing, Shanghai, Guangzhou, Xi'an, Chengdu, Kunming, Guilin, Changsha, and Zhangjiajie. Other railway lines extend to the cities in Hunan, Guizhou, Yunnan, Jiangxi Provinces.
Due to its special border location close to Vietnam, overnight trains (
T8701/T8702
) can take passengers to Hanoi in Vietnam directly. This route makes this city become the second one after Beijing that has International passenger railway service in China. This railway is an economical way that links China and Vietnam.
This station is located at no.28, Zhonghua Road in the central area of the city. You can take bus no. 5, 6, 7, 8, 9, 10, 19, 21, 24, 31, 32, 33, 41, 52, 59, 66, 69, 202, 203, 204, 208, 212, 501, 605, 801, 804, 805 or Special Xixiangtang Line to get here.

East Railway Station
The distance between these two railway station is about 6.5 miles (10.4km). As the all-around traffic hub in this city, East Railway Station has lots of high speed trains and a few normal speed ones that bring a lot of convenience for passengers. Nowadays, this station has become the largest and most important one in Guangxi. Notably, Nanning-Guangzhou High Speed Train are operated; this route shortens the travel time between the two cities from 13 hours to 4 hours.
This railway station is located at the north side of North Fengling Road, Qingxiu District. You can take public bus no. 7, 28, 29, 37, 82, 83, 94 or 209 to get to there.

Nanning Train Schedule
Nanning metro line 1
connects Shibu and
East Railway Station
, passing 25 stations.
Line 2
, linking Xijin and Tanze, passes Anji Bus Station,
Nanning Railway Station
, Chaoyang Square.
Line 3
transports between Keyuan Avenue and Pingliang Flyover.
Line 4
travels between Hongyun Road and Lengtangcun. Besides, line 5, which is under construction now, will form a convenient metro system in urban & suburban areas. This city plans to build 8 metro lines, covering totally 252 kilometers (157 miles).
See
metro maps
for reference.
City Bus
There are over 2,750 city buses shuttling around the city. Operating hours are mainly from 06:15 to 23:00. Ticket price is generally CNY1 for non-conditioned buses and CNY2 for air-conditioned ones. A few special bus lines charges CNY 3 or CNY 5. As most of the buses have no conductors, please prepare some changes before getting onboard.
A list of city buses to major scenic spots:
| Destination | Transportation |
| --- | --- |
| Mt. Qingxiu | Public bus no.10, 32, or 33 can get to this scenic area. Besides, Chaoyang Square has special tourist buses to the mountain area directly. |
| Xijiao Zoological Park | Visitors can take Xixiangtang Special Line (K1), buses no.4, 33, 53, 54, 58, 66, 76, 204, 207, 222, 604, 605 or 804 to the zoo station. |
| Guangxi Museum | Take bus no.6, 33, 34, 39, 79, 205, 211 or 706 and get off at the Minzu Gucheng Intersection. The museum is just at the opposite of the bus station. |
| Shimen Forest Park | Visitors can take Sightseeing Bus Line A. |
| Jiuquwan Hot Spring | Take bus no.20 or 803 to the spring resort directly. |
| | |
| --- | --- |
| City Bus | Taxi |
Sightseeing Bus
In the city, there are totally two sightseeing bus lines (line A and line B) operated at Tourist Distributing Center. The buses can take tourists to main attractions in this city. Tickets of these buses are valid for two days, with which passengers are allowed o get onboard four times.
Route
Operating Hours
Ticket Fare
(CNY)
Duration
(Hour)
Main Stops
Sightseeing Bus Line A
10:00 to 16:00 with the interval of around an hour
15
2
Guangxi Science and & Technology Museum, Nanhu Rare Tree Exposition Garden, Jinhu Square, Conference and Exhibition Center, Shimen Forecast park, Lining Sports Park, Southeast Asia Food Street, Guangxi Museum of Nationalities and Mt. Qingxiu.
Sightseeing Bus Line B
09:30, 14:30
20
2.5
Guangxi Science and & Technology Museum, Ethnic Square, Flower and Bird Market, Phoenix Valley, Jiuquwan Hot Spring Scenic Area

Notably: There are tourist buses departing from Xiaojinshan Square in middle section of Chaoyang Road at 09:00 straightforward to Mt. Daming Scenic Area. The whole ride takes three hours and cost CNY30. They come back from the gate of scenic area at 15:00 to 16:00.

Taxi
There are about 6,300 taxis that run in this city. In the day time, the fare is CNY 9 for the first 1.2 miles (2 kilometers) and then CNY 2 for each extra 0.6 miles (1kilometer). During the night, the first 1.2 miles is CNY 11 and each additional 0.6 miles is CNY 2. For reference, the cab fare from the city center (Chaoyang Square) to airport is about CNY 110, and CNY 10 from the railway station to city center.


See more about: How to Travel between Nanning and Guilin
- Last updated on Apr. 15, 2021 -
Questions & Answers on Nanning Transportation
Asked by Joe Su from SINGAPORE | Nov. 11, 2019 00:19

Reply
Hi, How to go from Nanning airport to Ueasy hotel?
Answers (1)
Answered by Ella from AUSTRALIA | Nov. 12, 2019 18:55

0

0

Reply
You can take shuttle bus line 1 to Railway station, then transfer to metro line 1 to The Mixc station (Exit A), and walk west around 400m to your hotel. It takes 1.5 hours with CNY23.
Asked by Sakumai from PAPUA NEW GUINEA | Aug. 05, 2019 00:10

Reply
How do I go to Nanning from Port Moresby?
Answers (1)
Answered by Eliza from USA | Aug. 07, 2019 19:04

0

0

Reply
I think maybe you only can take airplane to go there. Just a reference here: Port Moresby-Brisbane-Sydney-Guangzhou-Nanning.
Asked by Tereza from CZECH | Jul. 26, 2019 06:09

Reply
Is there any buses to Nanning from Yulin (Shanxiang)?
Which time does it go and how much is it?
Answers (1)
Answered by Meeks from USA | Jul. 30, 2019 20:12

0

0

Reply
Yes, of course. You can take bus from Yulin Coach Station. It departs from 6:50 to 21:30 with interval of 1 hour and CNY75.
Asked by Rachel Chabalala from VIETNAM | Jul. 05, 2019 04:12

Reply
HaiPhong to Nanning >>>>>>≥ Nanning to Bijing
1. I want to travel to Nanning,China from HaiPhong, Vietnam using the bus as its cheaper.

I have noticed that there is a bus company called Guangxi Yunde Transportation. Are they reliable and are they comfortable for such long trips? And how much luggage can one carry?
2. Which other way is cheaper to get to Bijing from NN, as it'll be my final destination.

Please do recommend the best ones that are affordable, so long as they don't mount up to a flight ticket. Also schedules with fares included

Thanks in advance.
Rachel Chabalala
Answers (1)
Answered by Nancy from NEW ZEALAND | Jul. 15, 2019 01:09

0

0

Reply
There is one long-distance bus from Haiphong to Nanning. It departs at 06:45. The duration is around 10 hours.
As for the second question, do you mean Beijing? You can take high speed train and it takes about CNY930 for a second class seat. The duration is about 12 hours.
Asked by Andee from VIETNAM | May. 24, 2019 06:06

Reply
I'm planning to go to FengHuang or Zhangjiajie from Nanning .
What is the fastest way to go to both places that I mentioned above ? How can I seeking online for a time schedule at the Main Railway Station .Thank you !
Answers (1)
Answered by Lily from UNITED KINGDOM | May. 27, 2019 02:43

0

0

Reply
The fastest way is to take flight, but there is no direct flight and you need to transfer in other cities. There are 2 trains departing from Nanning to Zhangjiajie at 17:18 and 20:00. It takes about 14 to 15 hours. You can search the time schedule on websites of TravelChinaGuide.