Nanning - Hanoi Trains: T8701/ T8702
Train No.: Nanning (T8701) → Hanoi (MR2); Hanoi (MR1) → Nanning (T8702)
Departures: 18:05 Nanning Railway Station; 21:20 Hanoi Gia Lam Railway Station
Arrivals: 05:30 in Hanoi; 10:07 in Nanning
Durations: 11 hours and 25 minutes (T8701/ MR2); 12 hours and 47 minutes (T8702 / MR1)
Via: China, Vietnam
Length: 246 miles (396 kilometres)
Operator: China Railway Corporation
| | |
| --- | --- |
| Train T8701/ T8702 | Getting Onboard at Nanning Railway Station |
Nanning to Hanoi Train Schedule: T8701
(Last update on Nov 6, 2018)
| Stations | Arrival | Departure |
| --- | --- | --- |
| Nanning | --- | 18:05 |
| Fusui | 19:01 | 19:04 |
| Chongzuo | 20:11 | 20:17 |
| Ningming | 21:19 | 21:22 |
| Pingxiang | 22:10 | 23:41 |
| Dong Dang | 00:22 | 02:55+1 |
| Bac Giang | 05:33 | 05:36 |
| Hanoi (Gia Lam) | 06:30 | --- |

Kind Reminder:
Please make sure your Vietnam visa is valid when passing through the China-Vietnam border.
Hanoi to Nanning Train Schedule: T8702
(Last update on Nov 6, 2018)
| Stations | Arrival | Departure |
| --- | --- | --- |
| Hanoi (Gia Lam) | --- | 22:20 |
| Bac Giang | 23:11 | 23:14 |
| Dong Dang | 01:55 | 03:50 |
| Pingxiang | 04:31 | 06:15 |
| Ningming | 07:01 | 07:04 |
| Chongzuo | 08:04+ | 08:10 |
| Nanning | 10:07 | --- |
Note:
1. "+1" indicates the second day;
2. All the time listed above is local time;
3. This timetable is for reference only. Passengers should confirm exact time at the railway stations.
Ticket
The train from Nanning to Hanoi has only soft sleepers, and the ticket price is CNY300 for each berth. Get it either from railway stations' ticket counters or commissioned agencies like TravelChinaGuide.com. Note the short time window of sales prior to departure: tickets for T8701 are available up to 18 days ahead of departure. Another thing to be noted is that one can only buy tickets for a date within the same month of the purchasing date, while tickets for the next month would not be available until the first day of the next month. The good news is that TravelChinaGuide.com accepts reservation any time no matter how far it is in advance.
Basic Information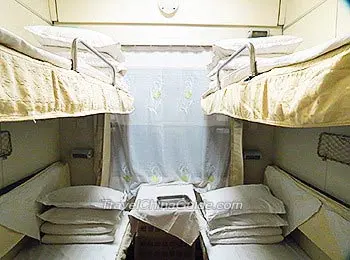 A Soft Sleeper Cabine
T8701/T8702 is the first border-crossing train departing from Nanning. It made its inaugural run on January 1st, 2009. By the year of 2011, it has carried over 13,000 passengers of 100 nationals/regions. The train hauls 8 international carriages: 6 softer sleeper coaches, 1 dormitory coach and 1 dining coach. It hauls 6 domestic hard seat coaches for reducing local travel congestion. By international convention, the dining and the domestic coaches are detached from the locomotive before leaving China in Pingxiang and re-attached when T8702 is on its return journey.
Tips
1. One needs a valid Vietnamese visa to buy the ticket;
2. T8701 arrives at Hanoi Gia Lam Railway Station, as distinct from Hanoi Railway Station and is 5 kilometers (3 miles) from the city center;
3. The border scrutiny in Pingxiang China and Dong Dang Vietnam may last 4 hours;
4. One can change currency at Dong Dang station, which is preferably "cheap";
5. Other than T8701/T8702, there is the
Z5/Z6
more or less along the same route. Z5 departs from Beijing West Railway to Nanning daily at 18:10. But on Thursdays and Sundays, 2 international soft sleeper coaches and 1 luggage cart are hooked on. When arriving in Nanning on Fridays and Mondays, the additional 3 coaches are lashed onto T8705 to Dong Dang in Vietnam, which is the final station of Z5 (T8705). Upon arrival in Dong Dang, passengers can transfer to M2 for Hanoi. For return trip, passengers can take M1 departing at 21:20 on Tuesdays and Saturdays from Hanoi to Dong Dang, and then transfer to T8706 back to China. Ticket of Z5 can be booked 40 days ahead of departure. But the cross month boundary ticket cannot be changed or refunded.

Vietnam Train
: Tickets Booking, Schedule, Railway Stations Introduction

Other International Trains between China and nearby Countries

International railways under construction/planning from China to:
- Last updated on Jul. 24, 2023 by Brenda Lian -