Beijing - Moscow Trains: K3/ K4
Train No.: Beijing → Moscow: K3 (In China), 003 (In Russia and Mongolia); Moscow → Beijing: K4 (In China), 004 (In Russia and Mongolia)
Departure: 07:27 every Wednesday at Beijing Railway Station; 23:45 every Tuesday at Moscow Yaroslavskiy Railway Station
Arrival: 13:58 every Monday at Moscow Yaroslavskiy Railway Station; 14:35 every Monday at Beijing Railway Station
Duration: 127 hours and 36 minutes for China to Russia train K3/003; 131 hours and 55 minutes for Russia to China train K4/004
Passing by: China, Mongolia and Russia via Trans-Siberian Railway
Length: 7,826 kilometers (4,863 miles)
Operator: China Beijing Railway Bureau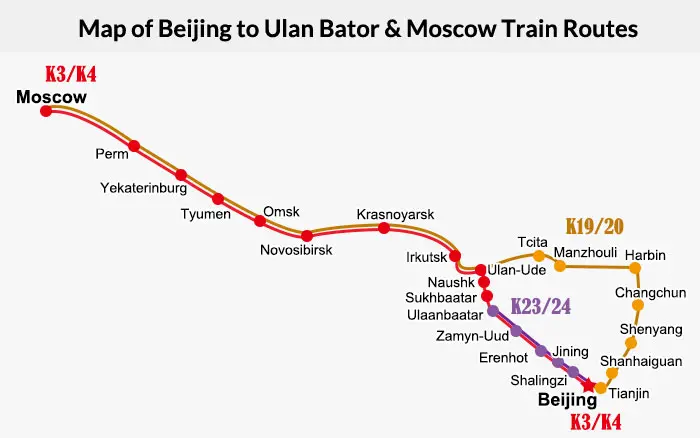 Map of Beijing - Moscow Trains K3/K4
Beijing to Moscow Train Schedule: K3
(Last update on Dec 25th, 2019)
Date

Stations

Arrival

Departure

Wednesday

Beijing

---

07:27

Jining South

15:27

15:43

Erlian

20:18

00:59

Thursday

Zamyn-Uud

01:25

02:40

Ulaanbaatar
(Ulan Bator)

14:35

15:22

Suha Bator

21:50

23:10

Naushki

18:55

20:45

Friday

Ulan-Ude

00:53

01:38

Irkutsk

09:37

10:22

Saturday

Krasnoyarsk

03:53

04:15

Novosibirsk

16:00

16:20

Omsk

23:20

23:36

Sunday

Tyumen

06:29

06:49

Ekaterinburg

11:28

11:58

Perm

17:20

17:40

Monday

Moscow

13:58

---

Kind Reminder:
Please make sure your visa for Russia is valid when passing through the China-Russia border.
Moscow to Beijing Train Schedule: K4
(Last update on Dec 25th, 2019)
Date

Stations

Arrival

Departure

Tuesday

Moscow

---

23:55

Wednesday

Perm

19:54

20:14

Thursday
Ekaterinburg

01:16

01:44

Tyumen

05:59

06:19

Omsk

13:36

13:52

Novosibirsk

21:03

21:23

Friday

Krasnoyarsk

08:39

09:01

Saturday

Irkutsk

02:13

03:08

Ulan-Ude

10:00

10:45

Naushki

14:57

16:47

Suha Bator

22:29

00:14

Sunday

Ulaanbaatar
(Ulan Bator)
06:45
07:30
Zamyn-Uud

18:40

20:35

Monday
Erlian

21:00

02:00

Jining South
06:37
06:55
Beijing

14:35

---
Note:
1. The above timetable is for reference only. The one at railway stations shall prevail.
2. This timetable is based on local time.
Ticket Fare to Major Stations
Beijing To

Deluxe Soft Sleeper

Hard Sleeper

Individual

Group

Individual

Group

Ulaanbaatar
CNY 2,071
CNY 1,646
CNY 1,330
CNY 1,041

Suha-Bator

CNY 2,420

CNY 1,920

CNY 1,526

CNY 1,192

Naushki

CNY 2,439

CNY 1,934

CNY 1,538

CNY 1,202

Ulan-Ude

CNY 2,903

CNY 2,300

CNY 1,829

CNY 1,426

Irkutsk

CNY 3,431

CNY 2,711

CNY 2,186

CNY 1,700

Krasnoyarsk

CNY 4,132

CNY 3,254

CNY 2,611

CNY 2,026

Novosibirsk

CNY 4,571

CNY 3,616

CNY 2,866

CNY 2,230

Omsk

CNY 4,880

CNY 3,860

CNY 3,058

CNY 2,378

Tyumen

CNY 5,196

CNY 4,111

CNY 3,252

CNY 2,529

Ekaterinburg

CNY 5,369

CNY 4,241

CNY 3,368

CNY 2,616

Perm

CNY 5,599

CNY 4,428

CNY 3,505

CNY 2,724

Moscow

CNY 6,228

CNY 4,928

CNY 3,891

CNY 3,025
Note:
1. To buy group tickets, the group must have 6 or more passengers.
2. The above ticket price is for reference only. It may be different on the spot due to exchange rate changes and other reasons.
How to Buy the Ticket
International railway tickets can be purchased from designated ticket counters at railway stations or from commissioned agencies like TCG. They are generally open for booking 30 days prior to departure for individual passengers and 60 days for group passengers. After booking, the tickets are released 10 days ahead of departure for individuals and 20 days ahead for groups.

See details of
Purchase an International Rail Ticket
Basic Information
This train started running on June 4th, 1959, along the branch of the well-known
Trans-Siberian Railway
. From then on, it has travelled over 26.1 million miles (42 million kilometers), equivalent to 1,000 circles of the earth, hence reputed as "No. 1 Train of China". In the early years, the passengers were mainly officials who went on business trips; in 1990s, with the development of border trade, businessmen became the major passengers. However, entering the 21st century, tourists prevail, whose aim is to appreciate scenery along the trail.
The facilities onboard offer no major differences from other regular trains of China, except that only deluxe soft sleeper carriages have air-conditioners while the other carriages are still heated by coal and cooled by fan. Also, two deluxe soft sleeper carriages share one toilets and shower facilities are not offered.
See details of China train facilities onboard
Tips
1. The train is not overcrowded, as with other China trains. It is not tiring and uncomfortable to take it. Besides, there are many magnificent views along the trail;
2. Regular passengers should apply for a Mongolian transit visa and a Russian visa before getting on board;
3. The hard sleepers are in separate lockable compartments which is not a big difference with
soft sleepers
on Chinese domestic routes.
4. Before leaving China at Erlian, the train's bogey will be changed to universal track width, (Chinese trains are narrower). Passengers can either stay on the train to watch the process or get off to have a rest in the waiting hall;
5. Compared with
K19
, which also heads for Moscow, K3 is suggested. There are several reasons: a) the deluxe soft sleepers of K3 are better-conditioned than K19; b) the duration of K3 is about one day less than K19; c) K19 enters Russia directly from Manzhouli, China and one cannot appreciate the scenery of Mongolia.

Other International Trains between China and nearby Countries

International railways under construction/planning from China to:
- Last updated on Jul. 18, 2023 by Brenda Lian -
Questions & Answers on Beijing - Moscow Trains: K3/ K4
Asked by J from CHINA | May. 31, 2020 02:44

Reply
travelling in June 2020
Are there trains running from Beijing to Moscow now (June 2020)? Is it possible to travel through Mongolia, Russia? My friend and I are Serbian and we are looking for a way to get home.
I read about buying meals on the train. Which currency is accepted?
Answers (1)
Answered by Cora from AUSTRALIA | Jun. 01, 2020 18:45

0

0

Reply
The Trans-Siberia trains are still not available, all trains are stopped due to the COVID-19. USD and local currency are acceptable on the train.
Asked by Lam Jye Haur from MALAYSIA | Apr. 11, 2019 03:45

Reply
from Beijing to Moscow K3 train, can take shower in the train
Answers (1)
Answered by Beacher from USA | Apr. 12, 2019 04:41

0

0

Reply
No shower
Asked by Susan Soh | Mar. 04, 2019 02:39

Reply
Which train to take If travel to mongolia from Beijing on 29th May 2019
Answers (1)
Answered by Elvis from FRANCE | Mar. 04, 2019 17:20

0

0

Reply
You need to take this K3 which runs on Wednesday.
Asked by Susan Soh from SINGAPORE | Mar. 03, 2019 03:53

Reply
About K3 and K 23 from Beijing to Mongolia
Hi I will be travelling to Mongolia on 19th June 2019. I would like to know more details on this trains to mongolia.

I will arrive beijing on 18th June around night time. So appreciate if you can assist on this?
Answers (1)
Answered by TravelChinaGuide | Mar. 04, 2019 01:37

0

0

Reply
Thank you for your inquiry.
K3 is in service on June 19, Wednesday. However, sometimes during summer time, the railway company only sale tickets to Moscow, its final stop. Therefore, it is hard to say if the tickets to Mongolia can be get or not on this K3. But you can still submit the booking online and we would like to have a try for that. If there is any news, we will inform you by email.