Trans-Siberian Railway
The Trans-Siberian Railway starts at Moscow, runs through Ryazan, Samara, Chelyabinsk, Omsk, Novosibirsk, Irkutsk, Chita, Khabarovsk, and ends at Vladivostok by the Pacific Ocean. It is the world's longest railway with a length of 5,771 miles (9,288 kilometers) (If counting in the section from Moscow to St. Petersburg, its total length reaches 6,175 miles). International trains K3/K4 and K19/K20 between Beijing and Moscow, K23/K24 between Beijing and Ulaanbaatar and those Erlian - Ulaanbaatar Trains are running on part of it. Its 1105-mile point is generally taken as the dividing point of Europe and Asia, where a monument was set at the foot of Ural Mountains.
Branches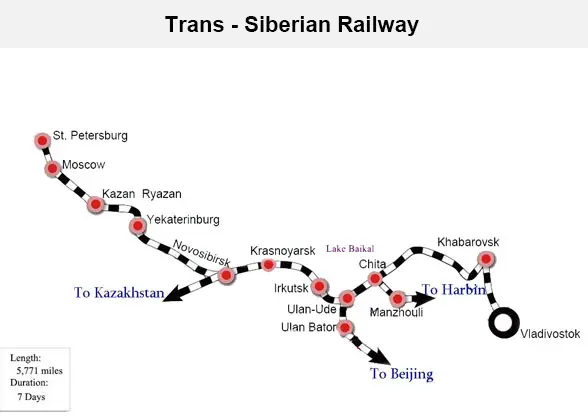 Trans-Siberian Railway Map
(Click to Enlarge)
The railway has three branches:
One branches off near Ulan-Ude, travels through Mongolia, and leads to Beijing in China. This is the route of the international train no. K3/K4 running betwwen Beijing and Moscow via Ulaanbaatar (Ulan Bator). The train no. K23/K24 between Beijing and Ulaanbaatar is also running on part of this branch;
One branches off near Chita, enters China at Manzhouli, runs by Harbin, and reaches Beijing. The international train no. K19/K20 (Beijing - Manzhouli - Moscow) runs along this route;
The third branch is the Baikal–Amur Mainline. This is the original route of Trans-Siberian Railway, starting at Taishet Station, going by Ust-Kut, Nizhneangarsk, Chara, Tynda, Urgal, and Komsomolsk, and ending at Sovetskaya Gavan. Its construction was declared to be completed in 1991. But the equipment of supporting facilities has not been finished till today, as well as the building of multiple track and electrification.

Note:
1. We offer booking service of:
K3 (Beijing→Ulaanbaatar→Moscow)

K19 (Beijing→Manzhouli→Moscow)

K23 (Beijing→Ulaanbaatar)

2. As China's track is narrower than those of Russia and Mongolia, the international trains will be fitted with different wheels before entering or leaving China, which may take a few hours.
Scenery along the Railway
Traveling along this railway may be time-consuming (It takes about 7 days to finish the whole journey) but not boring at all. Just think about starting from prosperous Moscow in inland Europe, traveling through wild and primitive Siberia and reaching coastal Vladivostok in Asia, isn't it exciting? One can enjoy natural scenery of various kinds along the way, including vast and clear Lake Baikal, dense pine forests, majestic Ural Mountains, boundless plain and grassland; one can also taste Russian flavors by appreciating cities and villages, meeting and talking with all kinds of passengers, and buying unique local souvenirs. When arriving at Vladivostok Station, do not miss the 9288 Monument set on the platform.
Difficulties and Significances
Construction of the railway began in 1891 and ended in 1916, during which it met many difficulties like wide water area and steep cliffs along Lake Baikal, permafrost in east Siberia, severe cold in winters and intense heat in summers. However, as the line connected Russia's wild but resourceful Siberia and Far East area with the populated European part, it brought great profits for Russia. With its opening, soldiers can be transported to the Far East area from Europe very quickly during the war, cities and towns sprang up along two sides of the railway; Siberian population grew rapidly as well as Russia's economic trade; those who were interested in primitive natural scenery and original Russian flavors of Siberia can finally reach the land, making it a new tourism zone…
Until today, Trans-Siberian Railway is considered as an important part of "Eurasia Land Bridge", making great contributions to the economy and safety of Russia, even Europe and Asia.



International railways under construction/planning from China to:
- Last modified on Oct. 12, 2019 -
Questions & Answers on Trans-Siberian Railway
Asked by Wee from SINGAPORE | Jun. 03, 2019 22:59

Reply
Can I hop on and off along the way?
I read that the K3 train has some 38 stops. If I want to spend a few nights at some of the towns/cities where the train stops can I get off the train and get on again a few days later to continue the journey on the train? If yes is there any price differential and how do I have to book my seat/cabin if I break my journey?
Answers (1)
Answered by Richie from UGANDA | Jun. 04, 2019 03:12

0

0

Reply
From what China railway company says, it seems not possible. If you stop the trip at halfway, you cannot back with same ticket. It would be better if you buy the ticket separately. I heard that this will be cheaper
Asked by Myriam from USA | Jan. 11, 2019 18:56

Reply
What is the train station's full name in Beijin and Moscow by taking train no.K3 via Ulaanbaatar ?
Answers (1)
Answered by Vierling | Jan. 11, 2019 22:20

0

0

Reply
In Beijing the full name is Beijing Railway Station. In Moscow, the station name is Yaroslavl Railway Station.
Asked by Geoff from UNITED KINGDOM | Mar. 09, 2018 09:13

Reply
Eligibility for 24h Visa Exemption
Hello, i am planning to fly in to Beijing and depart the following morning by train to Mongolia. In order to qualify for the visa exemption, I am required to show an onward departure ticket upon arrival at Beijing immigration. How does this work with train tickets, given they cannot he sent overseas? Do I show them the receipt or something like that?
Answers (1)
Answered by Alice | Mar. 11, 2018 21:32

0

0

Reply
Personally speaking, I think a receipt or ticket copy is very risky for this visa exemption application. I suppose they would ask for a real ticket, so this transit is hard to do by rail service to Mongolia.
Asked by Chua Hue Siew from SINGAPORE | Mar. 05, 2018 04:13

Reply
Do your agency sell the tickets?
Answers (1)
Answered by TCG | Mar. 05, 2018 19:51

0

0

Reply
Thank you for your inquiry.
We can offer the ticket booking service for rides depart from China. You can check the schedule details on our website and submit your booking inquiry online. We will then contact you by email for your booking details. Thank you
Asked by Chia Hue Siew from SINGAPORE | Mar. 04, 2018 23:34

Reply
How can I book Train tickets from Ulan Bator, Mongolia to Moscow on Trans Siberia ?
How can I book tickets from Ulan Bator, Mongolia to Moscow on Trans Siberia Express with stopovers in Ude Ude, Lake Baikal, Olkhon Island, Krasnoyarsk, Yekaterinburg? Can anyone help?
Answers (1)
Answered by Layne | Mar. 05, 2018 02:27

0

0

Reply
For this trip depart from Ulan Bator, you would need to buy the ticket from local stations or ticket booking agency.