Trans-Siberian Railway
Background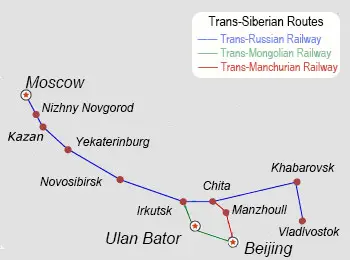 The Trans-Siberian Railway is considered as the longest train route in the world and it takes thirteen years to complete, passing through Ural Mountains, extends on the coniferous forest of Siberia. With a total length of 9259 kilometers (5753 miles), it departs from Moscow Yaroslavsky train station, running through Kazan, Yekaterinburg, Novosibirsk, Irkutsk, Chita, Khabarovsk (Boli) and finally reaches Vladivostok. The process of constructing Trans-Siberian Railway is extremely difficult, as many rivers, lakes, mountains and the severe climate can be the biggest challenge. The design speed of the railway is 80 kilometers per hour, which takes about seven days and six nights from Moscow to Vladivostok.
The Trans-Siberian Railway line refers to the whole train route from Moscow to Vladivostok, and there are two separate branches of Trans-Siberian Railway, one is the Trans-Mongolian Railway line and another is the Trans-Manchurian Railway line, both connecting Beijing and Moscow. Every single railway line has its own unique characteristics and charming sceneries alone their way.
Three Branches of Trans-Siberian Railway

Trans-Russia
As is known to all, the transportation in Russia is developed, including the domestic and international train routes. The whole Trans-Siberian Railway crosses eight time zones, three regions and countries, as well as an autonomous region of the Russian Federation. The Trans-Russian line departs from Moscow, the capital of Russia, passing by many important cities, such as Kazan, Yekaterinburg, Novosibirsk and Irkutsk, and arrives in Vladivostok at last. The harbor city Vladivostok is located in the far east of Russia, famous for its harbor location and it is also the last stop of Trans-Siberian Railway line. Travelling across the Siberian railway, you can view a variety of landscapes with different style and meet a variety of people with different cultures. It must be an interesting experience for each traveler. You can take the train 002/ 001, 100/099 for your trip according to your travel plan.
Trans-Mongolia ?
The Trans-Mongolian line is one of the branches of Trans-Siberian Railway, departing from Moscow as well, passing by Ulaanbaatar and finally reaching Beijing. Since this railway line mainly passes by Mongolia, you will appreciate the Mongolian yurts, the vast grasslands as well as the flocks and herds. Stopping halfway can be another excellent opportunity for travelers to enjoy the wind of Baikal Lake. No one can deny that the scenery along the way and the experience on the train will make this journey become more colorful, so a Siberian train travel must be a great way for people to see a real Russia. You can consider the train 004/003, 006/005 for this unforgettable trip.
Trans-Manchuria
The Trans-Manchuria line belongs to another branch of the Trans-Siberian Railway, which departs from Moscow, detouring past the area of Mongolia, then passing by the Northeast China and finally arrives in Beijing as well. This railway line also goes through the important cities and amazing sceneries which is the same with the Trans-Russia and Trans-Mongolia. The different point is that this railway line is splitting off from the Trans-Siberian Railway in Chita and passes through the area of Manzhouli, so people can appreciate the beautiful landscape of Manzhouli. If choosing this route from Beijing to Moscow directly, you do not need to apply for the visa to Mongolia, which will be more convenient for some travelers. You can take the train 020/019 for this train route.

Note:
1. K3, K19, K23 are operated by China Railway Bureau, and 003, 019, 023 are numbered in Russia and Mongolia.
2. We offer booking service of:
K3 (Beijing→Ulaanbaatar→Moscow)

K19 (Beijing→Manzhouli→Moscow)

K23 (Beijing→Ulaanbaatar)

3. As China's track is narrower than those of Russia and Mongolia, the international trains will be fitted with different wheels before entering or leaving China, which may take a few hours.
Scenery along the Railway
Traveling along this railway may be time-consuming (It takes about 7 days to finish the whole journey) but not boring at all. Just think about starting from prosperous Moscow in inland Europe, traveling through wild and primitive Siberia and reaching coastal Vladivostok in Asia, isn't it exciting? One can enjoy natural scenery of various kinds along the way, including vast and clear Lake Baikal, dense pine forests, majestic Ural Mountains, boundless plain and grassland; one can also taste Russian flavors by appreciating cities and villages, meeting and talking with all kinds of passengers, and buying unique local souvenirs. When arriving at Vladivostok Station, do not miss the 9288 Monument set on the platform.
Difficulties and Significances
Construction of the railway began in 1891 and ended in 1916, during which it met many difficulties like wide water area and steep cliffs along Lake Baikal, permafrost in east Siberia, severe cold in winters and intense heat in summers. However, as the line connected Russia's wild but resourceful Siberia and Far East area with the populated European part, it brought great profits for Russia. With its opening, soldiers can be transported to the Far East area from Europe very quickly during the war, cities and towns sprang up along two sides of the railway; Siberian population grew rapidly as well as Russia's economic trade; those who were interested in primitive natural scenery and original Russian flavors of Siberia can finally reach the land, making it a new tourism zone…
Until today, Trans-Siberian Railway is considered as an important part of "Eurasia Land Bridge", making great contributions to the economy and safety of Russia, even Europe and Asia.



International railways under construction/planning from China to:
- Last modified on Jul. 30, 2020 -