China - Myanmar Railway
Myanmar - China Railway Project, 1,193 miles (1,920 km) long, will link
Kunming
, capital city of China's
Yunnan
Province with Yangon, Myanmar's largest city. The top permitted speed will be 87 mph (140km/h). Up till now, the section in China with length of 423 miles (680 km) has been under construction since December, 2015 and it is expected to be completed by 2020, while the section in Myanmar is still under negotiation.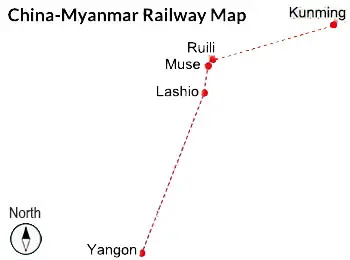 China-Myanmar Railway Map
China - Myanmar Train Running Route
Kunming to Yangon train will start from Kunming, run southwestward to Ruili at Chinese - Burma border, and then southward through Burma to Yangon. The Kunming - Yangon railway is scheduled to be constructed in two phases.

Kunming - Ruili Railway: It consists of
Kunming - Dali Railroad
and Dali - Ruili Railroad. The former section with length of 217 miles (350 km) has been in service for a long time and the highest running speed is 75 mph (120 km/h). Duration is 5 to 8 hours. The latter section, about 206 miles (330 km), has been in construction since 1st December 2015. The planned top speed is 87 mph (140km/h). After it's built, the travel time between Dali and Ruili will be reduced to 4.5 hours by rail from current 9 hours by road. The planned stations along the way include Yangbi, Yongping, Naoshan, Longling, Mangshi, and Dehong. The Dali - Ruili Railroad will become an important trunk line of the China - Myanmar railway once it is completed. After that, the train from Kunming to Ruili with distance of nearly 700 kilometers is expected to "overnight."

Ruili (Namhkam) - Yangon: Unfortunately the construction of this section inside Myanmar has not been decided and is still under negotiation.
In addition, there were plans to build a railway road between Kunming and Kyaukpyu, the deep-sea port in Myanmar, also via Ruili; and is also still under negotiation. Once completed, the China - Myanmar Railway will become an international corridor linking Southeast Asia and South Asia.
Benefits China - Myanmar Railway will Bring
There is no doubt that both countries can benefit a lot from Sino - Myanmar Railway once it is put into operation. First, it will greatly boost the economy growth of southwestern China and Burma, especially for Burma. According to its official statistics, China is its largest trading partner and the main source of investment. Second, Myanmar - China train will make the travel between the two countries easier and promote the tourism development along the rail. Third, it will create more employment opportunities for the locals. Fourth, according to the plan, this rail line will be extended all the way to Singapore, thus it will be a convenient channel connecting China with the Southeastern Asian countries. Last but not least, this railroad will be a good advertisement for the advanced Chinese railway construction technology.
For the significance to China, it is reflected in the following aspects: accelerate the development of the southwest border areas of China; promote the friendship of Southeast Asian countries to China; obtain the nearest channel connecting South Asia region to the Indian Ocean; facilitate the establishment of "One Belt and One Road" in southeast China.
How to travel between the two countries currently
By Air
The fastest way to travel between the two countries is by plane. Direct flights are available between Yangon and Kunming, Beijing, and Guangzhou with duration of 2 hours, 5 hours and 3 hours respectively. The ticket price for economy class is around CNY 1,000, CNY 2,800, and CNY 1,600 respectively. Flights are also available from other cities in China, like Chengdu, Nanning, Fuzhou, Taipei and Hong Kong to Yangon. Besides, there are many flights running between Bangkok and Yangon, so it's also cheap and convenient to have a transfer in Bangkok.
Flights from China to Myanmar:
Departure City
Flight
Operating Date
Beijing
CA905 19:30/22:50
Every Monday, Wednesday, Friday, Sunday
Guangzhou
CZ3055 08:25/10:35
Every Monday, Wednesday, Friday, Saturday
8M712 14:15/15:50
Every Tuesday, Thursday, Sunday
Kunming
MU2011 08:05/11:50
Every Wednesday
CA415 11:10/11:30
Daily
MU2031 13:45/14:30
Daily except Wednesday
Chengdu
CA415 08:20/11:30
Daily
Nanning
MU2011 10:30/11:50
Every Wednesday
Taipei
CI7915 07:00/09:50
Daily
Hong Kong
KA250 21:50/23:45
Every Monday, Wednesday, Friday, Sunday
KA250 22:20/00:15
Every Tuesday, Thursday, Saturday

Note:
1. The above flights are all landed in Yangon International Airport.
2. Flight schedules are only for reference, which are subject to the airlines' arrangement.
3. All times refer to local time.

Yangon International Airport (also called as Yangon Mingaladon Airport) is the primary entry point for most travelers from abroad. It is located in Mingaladon Township, about 15km north of downtown Yangon. The airport has two terminals, international and domestic. The shuttle bus is available between the two terminals with a 20-minute frequency. There are also red and white air-conditioned airport shuttle buses running from the international terminal to Yangon Central Railway Station with 16 stops along the way. The buses operate from 4:00 am to 10:00 pm.
By Coach
Aside from travel by air, one can also travel by coach. Please note that you can only enter Myanmar by land with a tour group and you should apply for a visa in advance. First, you can take a coach from Kunming West Coach Station to Ruili, which will take about 10 hours and the ticket fare is approximately CNY 300, after this you would need to find a travel agency to join a tour group. The travel agent can then apply for a visa which costs about CNY 700 and takes around five working days. This will make travel via land cost more time and money and therefore not an optimal choice.

Other International Trains between China and nearby Countries

International railways under construction/planning from China to:
- Last updated on Apr. 20, 2021 -
Questions & Answers on China - Myanmar Railway
Asked by Evgeni from BULGARIA | May. 10, 2020 06:35

Reply
Freight from Ho Chi Minh City, Vietnam to Kunming
Do you have information about rail freight of containers and groupage shipments from Ho Chi Minh City, Vietnam to Kunming, China? Would you recommend a forwarding company with experience and capabilities?
Best regards,
Evgeni Savchev,
+359898494404
email: idees

abv.bg
Answers (1)
Answered by Mosley | May. 11, 2020 18:19

0

0

Reply
This rail haven't been completed yet, there should be no such detailed information now.