Beijing - Moscow Trains: K19/ K20
Train No.: Beijing → Moscow: K19 (In China), 019 (In Russia); Moscow → Beijing: K20 (In China), 020 (In Russia and Mongolia)
Departure: 23:00 every Saturday at Beijing Railway Station; 23:45 every Saturday at Moscow Yaroslavskiy Railway Station
Arrival: 14:13 every Friday at Moscow Yaroslavskiy Railway Station; 05:49 every Saturday at Beijing Railway Station
Duration: 135 hours and 13 minutes for China to Russia train K19/ 019; 150 hours and 4 minutes for Russia to China train K20/ 020
Passing by: China and Russia via Trans-Siberian Railway
Length: 8,981 kilometers (5,581 miles)
Operator: Russian Railways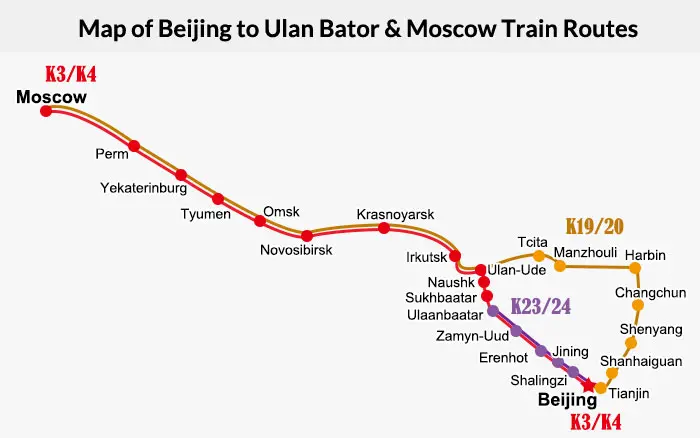 Map of Beijing - Moscow Trains K19/K20
Beijing to Moscow Train Schedule: K19
(Last update on Dec 25th, 2019)
Date

Stations

Arrival

Departure

Saturday

Beijing

---

23:00

Sunday

Tianjin

00:35

00:41

Shenyang

08:47

08:55

Harbin

15:47

15:55

Monday

Manzhouli

04:17

07:01

Zabaikalsk

02:26

08:17

Chita

17:28

18:34

Tuesday

Ulan-Ude

03:45

04:08

Irkutsk

10:51

11:14

Wednesday

Krasnoyarsk

04:03

04:25

Novosibirsk

15:39

15:59

Omsk

23:10

23:46

Thursday
Tyumen

06:39

06:59

Ekaterinburg

11:36

12:07

Perm

17:30

17:50

Friday

Moscow

14:13

---

Kind Reminder:
Please make sure your Russia visa has turned valid when passing through the China-Russia border.
Moscow to Beijing Train Schedule: K20
(Last update on Dec 25th, 2019)
Date

Stations

Arrival

Departure

Saturday

Moscow

---

23:45

Sunday

Perm

19:46

20:06

Monday

Ekaterinburg

01:06

01:34

Tyumen

05:49

06:09

Omsk

13:20

14:02

Novosibirsk

21:21

21:41

Tuesday

Krasnoyarsk

09:01

09:23

Wednesday

Irkutsk

02:35

02:58

Ulan-Ude

09:28

09:51

Chita

18:47

19:59

Thursday

Zabaikalsk

07:30

13:05

Manzhouli

18:30

23:59

Friday

Harbin
12:29
12:51
Shenyang

19:26

19:34

Saturday
Tianjin
03:52
03:59
Beijing

05:49

---
Note:
1. The above timetable is for reference only. The one at railway stations shall prevail.
2. The time listed is local time.
Ticket Fare to Major Stations
Beijing To

Deluxe Soft Sleeper

Hard Sleeper

Individual

Group

Individual

Group

Zabaikalsk

CNY 2,183

CNY 1,809

CNY 1,402

CNY 1,153

Chita

CNY 2,920

CNY 2,386

CNY 1,882

CNY 1,526

Ulan-Ude

CNY 3,493

CNY 2,840

CNY 2,254

CNY 1,818

Irkutsk

CNY 3,781

CNY 3,079

CNY 2,435

CNY 1,967

Krasnoyarsk

CNY 4,376

CNY 3,549

CNY 2,822

CNY 2,271

Novosibirsk

CNY 4,878

CNY 3,965

CNY 3,139

CNY 2,530

Omsk

CNY 5,221

CNY 4,243

CNY 3,358

CNY 2,706

Tyumen'

CNY 5,565

CNY 4,522

CNY 3,577

CNY 2,882

Ekaterinburg

CNY 5,736

CNY 4,650

CNY 3,692

CNY 2,968

Perm

CNY 5,933

CNY 4,819

CNY 3,815

CNY 3,072

Moscow

CNY 6,703

CNY 5,446

CNY 4,305

CNY 3,467
Note:
1. To buy group tickets, the group must have 6 or more passengers.
2. The above ticket price is for reference only. It may be different on the day due to exchange rate changes and other reasons.
How to Buy the Ticket
For individual passengers, the international railway ticket is open for booking 30 days ahead of departure and released 10 days ahead; for group passengers (at least six), it is available 60 days ahead and released 20 days ahead. One can book it either from designated ticket counters at railway stations or from agencies who are commissioned to sell international railway tickets.

See details of
Purchase an International Rail Ticket
Basic Information
Put into service on January 31st, 1954, train no. K19/20 is operated by Russia during the whole journey. It is running on the branch of the famous
Trans-Siberian Railway
while in China and Mongolia and on its main route while in Russia. The carriages are MEST series made in Russia and equipped with televisions, telephones, automatic fire alarms, air-conditioners, and washrooms accessible even for the disabled. The deluxe soft sleepers are decorated in Russian style. When running in China, the train has 16 carriages, including 12 hard sleeper carriages, 1 dining carriage, and 1 luggage carriage. Before leaving China in Manzhouli, a hard sleeper carriage and the dining carriage are unloaded. Due to the process and border check, the train usually stops there for about 3 hours. When entering Russia in Zabaikalsk, 2 hard sleeper carriages and a dinng carriage are joined on. The train also "gets changed" with universal wheels here. The border check in Zabaikalsk is strict, the train may stop 3 or more hours.
Tips
1. Passengers of train no. K19 should apply for a Russian visa before boarding;
2. Keep an eye out for thieves (sticky fingers) on the train;
3. As the washroom and toilet are set together, it may be crowded in the morning. To save time,one can go to the dining carriage to get washed;
4. The plug on the train is European standard. Be prepared. You may also need a plug board;
5. Take enough drinkable water;
6. Goods like fruits, vegetables, meat, and medicines are not allowed to take into Russia. One should eat them up before border check by Russian customs at Zabaikalsk;
7. There is another train
K3
running from Beijing to Moscow. The differences between K19 and K3 include: a) K19 is equipped with air-conditioners while K3 is heated by coals and cooled by electric fans; b) K19 runs into Russia directly from China while K3 passes by Mongolia, hence it saves the trouble and money of applying for Mongolia transit visa; c) ticket fare of K19 is generally more expensive than K3; d) K19 has no soft sleeper carriage; e) the facilities of deluxe soft sleeper of K19 are not as good as K3; f) the attendants of K19 are Russian while K3 are Chinese.

Other International Trains between China and nearby Countries

International railways under construction/planning from China to:
- Last updated on Jul. 18, 2023 by Brenda Lian -
Questions & Answers on Beijing - Moscow Trains: K19/ K20
Asked by Gail | Apr. 29, 2020 19:12

Reply
Can you help with ticket from Harbin to Vladivostok?
Where can I find information about the train time and price?
Answers (1)
Answered by TravelChinaGuide | May. 05, 2020 17:43

0

0

Reply
Thank you for your inquiry.

However, we are sorry that we are not able to arrange tickets for this trip. You may consider to buy ticket from Harbin to Suifenhe and then buy ticket from Suifenhe to Grodekovo. Finally from Grodekovo to Vladivostok. However, please kindly notice that the border between China and Russia should not shutdown recently due to the coronavirus. Please kindly double check the border information before your departure. Hope this information can help you.

Asked by Manuel from CANADA | Feb. 27, 2019 01:38

Reply
I suppose I would not need to apply Mongolia visa for this trip right?
Answers (1)
Answered by Paddy from USA | Feb. 27, 2019 16:55

0

0

Reply
If you take this K19, you do not need Mongolia visa as K19 does not go through Mongolia. If for K3, you need visa.
Asked by Benjamin Tham from SINGAPORE | Jul. 14, 2018 03:57

Reply
How do we buy first class tickets online?
Options only available for hard sleeper and soft sleeper, but does not specify if it is two berth or four berth
Answers (1)
Answered by Mr. Colleen | Jul. 15, 2018 01:00

0

0

Reply
No first clas on K19. Both soft and hard sleeper have 4 beds in one compartment.
Asked by Julian Radowicz from ENGLAND | Apr. 08, 2018 13:42

Reply
How do I buy tickets for the K20 from Harbin to Beijing.
Answers (1)
Answered by Hoffman | Apr. 09, 2018 02:19

0

0

Reply
The tickets for this ride do not sale online. You can only try to buy it at the station or maybe better to change to other ride