China - Thailand Railway
China - Thailand Railway, or Sino - Thai Railway hasn't been opened yet. The construction began in December, 2017. About 4 years are needed to complete this high speed rail project, by when it will run through three countries including China, Laos and Thailand. It will serve trains running between Kunming and Bangkok. In the far future, this China - Thailand railway project will be extended all the way to Singapore, shaping a high speed railway as long as 1,864 miles (3,000 km), namely Kunming - Singapore Railway.
Based on the latest developments of China - Thailand Railway, Thailand will complete the construction plan on time. The high-speed rail of Bangkok – Nong Khai will be officially put into use in 2023. By the end of October 2017, a total of 207 sites have been constructed. This project is scheduled to be completed by the end of December 2021 and it will open to traffic in 2023.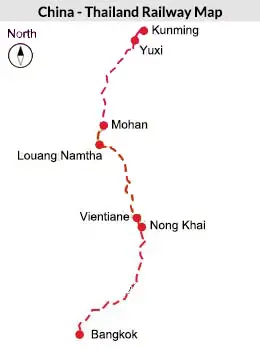 Map of China - Thailand Railway
Kunming - Bangkok Trains

Scheduled Open Time: 2023

Designed Speed: 99–124 mph (160-200 km/h)

Running Length: about 790 miles (1,272 km)

Expected Duration: about 12 hours

Estimated Round-trip Ticket Price: CNY 700 or THB 3,600, equaling to half or 1/3 of the flight ticket fare

Planned Stations along the Way:
Kunming South
, Kunyang, Jinning East, Huacheng, Baofeng, Yuxi, Yuxi South, Yuanjiang, Mojiang, Puer, Jinghong, Mohan, Vientiane, Nong Khai, Khon Kaen, Nakhon Ratchasima, and Bangkok
Sino - Thai Railway Sections

Kunming-Mohan: This section consists of the Kunming-Yuxi Railroad and Yuxi-Mohan Railroad. Currently, the former section has been put into service since December 15th, 2016 and the journey time is 1.5 hours. The construction of the latter section began on 29th April, 2016 and the distance is 315 miles (507 km); the designed speed is 99 mph (160 km/h) and the intermediate stations include Yuanjiang, Mojiang, Puer, and Jinghong.
The railway of Yuxi to Mohan is also called as Yumo Railway, which starts from Yuxi, Yunnan Province, passes through Pu'er, Jinghong and ends at Mohan Port. It is a passenger and cargo collinear railway with totally 13 intermediate stations, expected to be completed in 2022. After the completion of the Yumo Railway, the travel time from Kunming to Pu'er and from Kunming to Xishuangbanna is expected to be shortened to 3 hours. Besides, after the completion of China – Laos International Railway, Kunming to Vientiane is also expected to "overnight".

Mohan (Boten)- Vientiane: This section started on 2nd December, 2015 and it will be put into service before 2020. The planned running speed is 99 mph (160 km/h) and the total journey is 265 miles (427 km).
Upon completion of the China – Laos Railway project, on the one hand, it will greatly boost the economic development of Laos, improving the efficiency and the level of local transportation, as well as creating a large number of employment opportunities for Laos. On the other hand, it will inject new impetus into the economic development of southwest China.

Vientiane (Nong Khai) - Bangkok: The designed speed is 99–112 mph (160-180 km/h) for this section. The construction started in Dec. 21, 2017 and will last for 4 years. It will completely change the rail provision of Thailand and the country will have the first standard-gauge rail track. The stations along this way include Nong Khai, Khon Kaen, Nakhon Ratchasima. In the future, this railroad will be extended to eastern Rayong Province in Thailand.
The high-speed railway project in Thailand will be built in two phases. Phase one is from Bangkok to Kele with a total length of about 253 km. Phase two is from Kele to Nong Khai with total length of about 355 km. The China – Laos Railway will be completed and put into use in 2021. The Bangkok – Kele section of the China – Thailand Railway will be in service in 2021, while Kele - Nong Khai section will be in use in 2022.
Why build the China - Thailand Railway
Thailand - China High Speed Railway Project will make traveling between the two countries cheaper, easier and more convenient. Thailand is one of the top outbound tourism destinations among Chinese. When the China - Thailand high speed trains are put into service, they are estimated to attract 2 million more Chinese to visit the mysterious and colorful country each year, greatly boost the develop of its tourism industry.
For China, the railroad will greatly deduct the cost for exporting agricultural products such as rice, vegetables, and fresh tropical fruit from Thailand, as the rail freight fee is only about 1/3 of air freight fee. This in return, will also boost the development of Thai's agriculture industry.
Once the China - Thailand High Speed Railway is completed, the rail line will connect six countries in Southeast Asia, all the way to Thailand, Malaysia, Singapore and Indonesia. It will be of great significance to promote economic co-prosperity between China and Southeast Asia, and even between the whole Europe and Asia.
How to travel between China and Thailand presently
By air
At present, the most convenient way to travel between the two countries should be flights. The direct flights between Bangkok and Beijing, Shanghai, Guangzhou and Kunming are the most popular; and the air duration is 5.5 hours, 4.5 hours, 3 hours, and 2.5 hours respectively.
Direct flights to Thailand from major cities in China: Kunming has the most flights, following by Chengdu, Chongqing, Guilin, Nanning, Shenzhen, Beijing, Shanghai, Guangzhou, Xiamen, Xi'an, Zhengzhou, Nanjing, Ningbo, Wuhan, Qingdao, Hong Kong and Macau.
Flights from China to Thailand:
| | | | |
| --- | --- | --- | --- |
| Departure City | Flight | Ticket Price | Arrival Airport in Bangkok |
| Beijing | MU2071 (19:34-23:37) | CNY1500-CNY2500 | Suvarnabhumi International Airport |
| Kunming | FD585 (02:00-03:15) | CNY500-CNY1000 | Langman International Airport |
| Shanghai | HO1357 (21:30-00:30+) | CNY1000-CNY2000 | Suvarnabhumi International Airport |
| Guangzhou | 9C8543 (02:15/04:15) | CNY700-CNY1500 | Suvarnabhumi International Airport |
| Chengdu | MU5035 (23:35/02:05+) | CNY1000-CNY2000 | Suvarnabhumi International Airport |
Note:
(1). Flight schedules are only for reference, which are subject to the airlines' arrangement.
(2). All times refer to local time.

Bus is available from Kunming to Mohan Port in Xishuangbanna and then you can go from Huishai Port in Laos to Thailand. However, if passing by Laos, the Laos Visa is required by the Chinese immigration. Therefore, bus is sometimes not recommended if people would like to go to Thailand.

Other International Trains between China and nearby Countries

International railways under construction/planning from China to:
- Last updated on Jul. 10, 2023 -