China - Laos Railway
China - Laos Railway commenced construction on December 2nd, 2015 and is scheduled for completion by 2021. It will connect
Kunming
, the capital city of southwestern China's
Yunnan Province
, with Laos' capital city, Vientiane. The China - Laos railway project is actually a section of the Kunming-Singapore Railway Project, which connects Kunming with Singapore, passing through Laos, Thailand, and Malaysia.
Kunming - Vientiane Train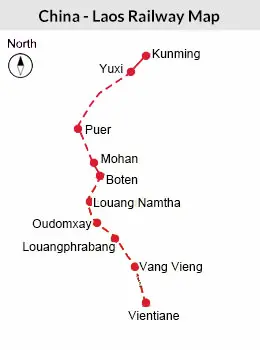 Map of China - Laos Railway

Scheduled Open Time: 2021

Designed Speed: 99/124 mph (160/200 km/h)

Running Length: 635 miles (1,022 km)

Expected Duration: about 10 hours

Stations: It is planned that altogether 33 stations will be built along Kunming-Vientiane High Speed Railway, including
Kunming South
, Kunyang, Jinning East, Huacheng, Baofeng, Yuxi, Yuxi South, Puer, Mohan, Luang Namtha, Udomsay, Luang Prabang, Vang Vieng and Vientiane, where passengers can get on and off. When finished, train will be the top choice to travel around Laos as well as to travel between Laos and China.
Laos - China Railway Sections

Kunming-Mohan: This section is made up of the Kunming-Yuxi Rail Line and the Yuxi-Mohan Rail Line. The former section is 55 miles (88 km) and has already come into service since December 15th, 2016 with a trip duration of 1.5 hours. The running speed is 124 mph (200 km/h). The latter section is 315 miles (507 km) and has been under construction since 19th, April, 2016; the planned top speed is 99 mph (160 km/h).

Mohan (Boten)- Vientiane: The construction of this section began on 2nd December, 2015 and it is scheduled for completion by 2022. The designed speed is 99 mph and the length is 265 miles (427 km). Around 162 bridges and 72 tunnels will be built along the way, accounting for about 60% of the overall length, making it a really difficult project. Among the bridges, two super ones will run over Mekong River, measuring 1334 yards (1,220m) and 1570 yards (1,436 m) respectively. It is estimated that the project will cost about CNY 400 billion, and is jointly funded by Chinese and Laotian governments in the ratio 70% to 30%.
Why build the China - Laos High Speed Railway
Currently, Laos only has a 2.2-mile-long (about 3.5 kilometers)) narrow-gauge railway, which cannot meet the demand of rail passengers and the development of the local economy. When this railway traversing the country is completed, it will first greatly mobilize the development of the Laotian economy, improving its transportation, boosting the tourism industry, and creating more jobs for the locals. Second, it will make travel between the two countries cheaper and easier compared with the expensive air-flight and time-consuming coach. Third, China - Laos trains will make it convenient to transport Laotian products, especially agricultural products, to China, and conversely deliver Chinese products to Laos and other Southeast Asian countries by land. Compared with the costly air freight, train freight will great reduce the cost. This High Speed Railroad Project is the first step in building a railroad network which connects China with other Southeast Asian countries. It stands out as one of the notable landmarks in showcasing Chinese High Speed Railway Network to the world.
How to travel between the two countries currently
There are currently two ways to travel between the two countries: by air or by coach.
The fastest way to travel between the two countries is by air. There are direct flights between Vientiane and Kunming and Guangzhou; air travel takes 1.5 hour and 2.5 hours respectively; and the ticket price for economy class is around CNY 1,300 and CNY 1,600 respectively.
Taking international coaches to travel between the two countries is popular among many budget travelers. You can take a coach at Kunming South Bus Station to Vientiane or Luang Prabang. The Kunming-Vientiane coach departs at 18:00 and takes 22 hours to cover a distance of 883 miles (1,421 km); ticket price is around CNY 600. The Kunming-Luang Prabang coach leaves at 18:30 and takes 17 hours for 684 miles (1,100 km); ticket fare is about CNY 400. The ticket price here is for reference only. The actual ticket price is subject to the ticket office.

Tips for taking coaches:
No toilets are available on coaches, so you'd better not drink too much water! The coach will stop along the way for passengers to rest, have meals and use the washrooms.
Only sleepers are provided onboard and only a few sleepers are single ones; the others are double ones. So it's very possible you will share a double sleeper with a stranger. Be prepared!
The above coach duration excludes time for customs formalities which may take some time.

Other International Trains between China and nearby Countries

International railways under construction/planning from China to:
- Last modified on Feb. 22, 2022 -
Questions & Answers on China - Laos Railway
Asked by jangee31

gmail.com from THAILAND | Jan. 01, 2022 14:55

Reply
ticket fare from Vientiane to Kunming
where could I get the information of ticket fare from Vientiane to Kunming ? / Thank you
Answers (1)
Answered by Udorn ch. | Jan. 01, 2022 21:05

0

0

Reply
May I book ticket Veintaine-Kunming online and how to?