China - Laos Trains: D887/ D888
Currently, there is one pair of trains, D887/888 running between Kunming, the capital city of southwestern China's Yunnan Province and Laos' capital city, Vientiane on a daily basis. The duration is 10.5 hours for both, counting in the time used for custom procedures at the border. Ticket price is around CNY864 for a first class seat and CNY542 for a second class seat.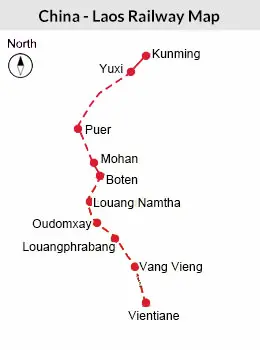 Map of China - Laos Railway
The China - Laos railway project is actually a section of the Kunming-Singapore Railway Project, which is planned to connect Kunming with Singapore, passing through Laos, Thailand, and Malaysia.
Kunming - Vientiane Train

Open Time: April 13, 2023

Speed: 160 km/h (99mph)

Running Length: 1,022 km (635 mi)

Duration: about 10.5 hours, including the time for custom formalities

Stations:
Kunming South
, Puer, Xishuangbanna, Mohan, Boten, Luang Prabang, Vang Vieng and Vientiane
China to Laos Train Schedule
(Last Update on April 13, 2023)
| Train No. | Departure - Arrival | Duration |
| --- | --- | --- |
| D887 | 08:08 - 17:38 | 10H30M |
Laos to China Train Timetable
(Last Update on April 13, 2023)
| Train No. | Departure - Arrival | Duration |
| --- | --- | --- |
| D888 | 09:08 - 18:38 | 10H30M |
China - Laos Train Ticket Fare
| First Class Seat | Second Class Seat |
| --- | --- |
| CNY864 | CNY542 |
How to Buy China - Laos Train Ticket: 2 Ways
1. From the designated ticket windows at the railway stations including
Kunming
, Kunming South, Puer, Xishuangbanna in China and Boten, Luang Prabang, Vang Vieng and Vientiane in Laos.
2. Through China's website 12306.cn and its App, or Laos LCR Ticket App.

Kind Reminders:
1. Please note China's railway stations, website and App only sell tickets for train D887 and Laos' railway stations and App only issue tickets for train D888.
2. Passengers' ID certificates, like passports are needed when purchasing the ticket.
3. Even if you've bought an e-ticket on the website or via apps, the paper ticket should be collected, by showing the ID certificate used for booking. Because it will be checked at the departure station, arrival station and the borders when completing the custom procedures.
Laos - China Railway Sections

Kunming-Mohan: This section is made up of the Kunming-Yuxi Rail Line and the Yuxi-Mohan Rail Line. The former section is 88 km (55 miles) long with a trip duration of 1.5 hours. The running speed is 124 mph (200 km/h). The latter section is 507 km (315 miles) with the the allowed top speed of 160 km/h (99 mph).

Mohan (Boten)- Vientiane: The designed speed is 160 km/h and the length is 427 km (265 miles). Around 162 bridges and 72 tunnels have been built along the way, accounting for about 60% of the overall length, making it a really difficult project. Among the bridges, two super ones run over Mekong River, measuring 1,220m (1334 yards) and 1,436 m (1570 yards) respectively.
Other Ways to Travel between the Two Countries
In addition to train, there are two other ways to travel between the two countries: by air or by coach.
The fastest way to travel between the two countries is by air. There are direct flights between Vientiane and Kunming and Guangzhou; air travel takes 1.5 hour and 2.5 hours respectively; and the ticket price for economy class is around CNY 1,300 and CNY 1,600 respectively.
Taking international coaches to travel between the two countries is popular among many budget travelers. You can take a coach at Kunming South Bus Station to Vientiane or Luang Prabang. The Kunming-Vientiane coach departs at 18:00 and takes 22 hours to cover a distance of 883 miles (1,421 km); ticket price is around CNY 600. The Kunming-Luang Prabang coach leaves at 18:30 and takes 17 hours for 684 miles (1,100 km); ticket fare is about CNY 400. The ticket price here is for reference only. The actual ticket price is subject to the ticket office.

Tips for taking coaches:
No toilets are available on coaches, so you'd better not drink too much water! The coach will stop along the way for passengers to rest, have meals and use the washrooms.
Only sleepers are provided onboard and only a few sleepers are single ones; the others are double ones. So it's very possible you will share a double sleeper with a stranger. Be prepared!
The above coach duration excludes time for customs formalities which may take some time.

Other International Trains between China and nearby Countries

International railways under construction/planning from China to:
- Last updated on May. 22, 2023 by Brenda Lian -
Questions & Answers on China - Laos Trains: D887/ D888
Asked by Peter Choo from SINGAPORE | Nov. 13, 2023 00:56

Reply
Business class ticket
Hi can I buy business class ticket from Vientiane to Kunming?. If yes where can I buy it. Thank you
Answers (1)
Answered by Kelly | Nov. 13, 2023 19:58

0

0

Reply
You can download LCR Ticket APP to check if there is business seat ticket and book tickets in advance.
Asked by Fred Smith from AUSTRALIA | May. 18, 2023 19:43

Reply
I would like to travel from Vientiane to Kunming can you get a ticket for me
Answers (1)
Answered by Ivy | May. 21, 2023 18:47

0

0

Reply
Hi, you can buy the ticket at Vientiane railway station or through Laos' LCR Ticket App.
Asked by Arif hossen from BANGLADESH | May. 07, 2023 16:26

Reply
I am a citizen of Bangladesh. I have Laos and China tourist visa. Can I travel by train from Laos to
Answers (1)
Answered by Jill | May. 07, 2023 20:41

0

0

Reply
Yes, if you have visas of both countries, you can take a train from Laos to China.
Asked by Sandra from ENGLAND | Apr. 24, 2023 10:38

Reply
Security check for train from Luang Prabang to Vientiane
I have read that there is a security check to enter the station, and that knives and so on (even small Swiss army knives) will be confiscated, as will hand gel/insect repellent/deodorant/hand sanitiser if they are marked as flammable.
Is this true that these items will be taken from us if they are marked as flammable?
Does the word knives include small scissors and tweezers?
Answers (2)
Answered by Emily | Apr. 26, 2023 20:11

0

0

Reply
Yes, they are included. However, if the knife blade is within six centimeters, it can be carried on the train.
Answered by Ben | May. 04, 2023 23:01

0

0

Reply
There is a Security Check. They took my e-cigarettes. Swiss knife and scissors seems to be Ok.
Asked by Tariq from THAILAND | Apr. 14, 2023 22:56

Reply
International traveler can cross the border by China visa.
Answers (1)
Answered by Scott | Apr. 16, 2023 23:09

0

0

Reply
Yes, if you have a China visa, you can of course cross the border to enter China.