Laibin Travel Guide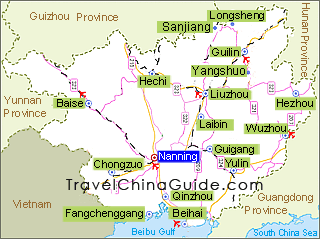 Laibin Facts
Chinese Name: 来宾 (lái bīn)
Population: 2,693,300
Area: 13,411 square kilometers (5,178 square miles)
Location: in the central region of Guangxi Zhuang Autonomous Region, southwestern China
Administrative Division: 1 district (Xingbin); 3 counties (Xiangzhou, Wuxuan, Xincheng); 1 autonomous county (Jinxiu Yao Autonomous County); 1 county-level city (Heshan)
Area Code: 0772
Zip Code: 546100
GDP (2019): CNY 85.42 billion (USD 12.38 billion)
Nationalities: Zhuang, Han, Yao
Cultural Capital of Zhuang and Yao People
Situated in the central region of Guangxi, Laibin is close to Guilin and Liuzhou to the north and Guigang and Nanning to the south. It is also connected with Hechi on the west and Wuzhou on the east. Laibin is a multi-ethnic and harmonious city with Zhuang and Yao as the main ethnic group. So its strong Zhuang and Yao ethnic customs are the highlights of Laibin travel. Visitors can see the Local Government Complex of Moshi in Xincheng County, which is the largest and most complete Zhuang architecture style building complex in China. Laibin also has a reputation as the world's Yao capital. Jinxiu Yao Autonomous County of Laibin has five Yao nationality branches namely: Pan Yao, Chashan Yao, Hualan Yao, shanzi Yao and Ao Yao. Chinese Yao research center is located here and the city gathers main Yao inhabited counties in the world. Laibin is also abundant in coal resources and sugar.
Laibin Attractions - Things to Do

Jinxiu: is the largest county where the Yao people live, making it the perfect place to better learn about the Yao ethnic minority. It also has the Dayao Mountain, a national forest park and a national nature reserve, which gathers the essence of the natural beauty in the green land.



Baiya Grand Canyon: in Wuxuan County is the best destination to explore the stunning gorge view of the city.Other Scenic Spots: Xiangzhou Hot Spring, Local Government Architecture of Moshi

Other Scenic Spots: Xiangzhou Hot Spring, Local Government Architecture of Moshi
How to get to/around Laibin
Xianggui (Hunan-Guangxi) Railway passes through Binzhou City linking Laibin with Guilin, Liuzhou and Nanning, and cities of Hunan Province. Nanning, the capital city of Guangxi, it is about 153 kilometers (95 miles) to the south; and the important industrial city, Liuzhou is 71 kilometers (44 miles) northward. Both may be reached via the Guilin-Beihai Expressway.
Weather
-
Laibin is situated in the subtropical monsoon climate, and the tropic of cancer passes through the south of the city proper. It enjoys moderate weather and boasting sufficient rainfall. The average temperatures during the hottest July and the coldest January are respectively 28.6

C and 10.9

C (83.5 and 51.6

F).

When to Go: spring, summer and autumn
Laibin Travel Tips

History: Before the Qin Dynasty (221BC-206BC) unified the whole nation and brought it into the domain of Guilin Shire, Laibin had been inhabited by many ethnic minorities. In 111BC, the Western Han Court (206BC-24AD) established counties in present Laibin area, and this event is considered to be the start of its administrative history. Laibin City was formally founded in 2002.



Physical Features: Mountains, hills and river valleys make up the main types of landform of the city, and its terrain slopes downward from the north to the south. Its eastern region is the Dayao Mountain, while the west is made up of karsts hills. Plains and mesas constitute the flat and broad central region of the city.



Special Local Products: Imacadamia, longan, honey orange, taro



Local Highlights:
Population of ethnic minorities is as large as 1,836,000, which makes up about seventy-five percent of Laibin City's total population. It is another important resident area of Guangxi where the Zhuang ethnic minority lives in compact community. Apart from the Zhuang, Han and Yao ethnic groups, there are also Miao, Mulam, and Dong people. Jinxiu Yao Autonomous County is an important residence for the Yao group, and there are in total five branch tribes of Yao living there.
- Last modified on Apr. 01, 2020 -
Questions & Answers on Laibin Travel
Asked by Mr.Willey from MALAYSIA | Dec. 14, 2009 11:54

Reply
I'm wondering where is the Guilin Coach Bus Terminal located at! Beside, i'm also looking for Coach Bus schedule and fare (from Guilin to Laibin). Thank you!
Answers (1)
Answered by Mr.Jamie | Dec. 14, 2009 21:40

0

1

Reply
The Guilin Coach Bus Terminal is located at 427, Zhongshan Nan Lu. It is in the walking-distance to the west of Guilin Railway Station. As I know, there are 5 buses departing to the city you want to go from this station, respectively at 08:00, 10:00, 12:00, 14:00 and 15:50. The fare is about CNY60~80.
Asked by Ms.Miranda from CHINA | Jun. 11, 2009 22:09

Reply
I'm in Hangzhou now. I'm planning a trip to the Yao village in the Dayaoshan Mountain. If I fly to Guilin, then what transportation can take me to get there? Thank you.
Answers (1)
Answered by Mr.Derek from CHINA | Jun. 13, 2009 02:40

1

1

Reply
You may take a bus at Guilin Coach Bus Terminal to go to Lipu and then transfer to Dayaoshan. This mountain is located in Jinxiu Yao People autonomous county.