Yulin Travel Guide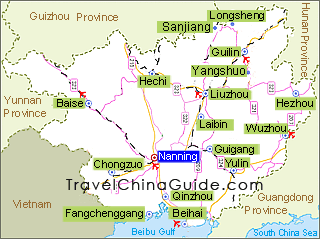 Yulin Facts
Chinese Name: 玉林 (yù lín)
Population: 7,320,000
Area: 12,800 square kilometers (4,942 square miles)
Location: in the southeast of Guangxi Zhuang Autonomous Region, southwestern China
Administrative Division: 2 districts (Yuzhou, Fumian); 4 counties (Xingye, Rongxian, Luchuan, Bobai); 1 county-level city (Beiliu), 1 new district (Yudong)
Area Code: 0775
Zip Code: 547000
GDP (2019): CNY 167.98 billion (USD 24.348 billion)
Traditional Chinese Medicine Capital in Southern China
Yulin is seated in the southeast of Guangxi Zhuang Autonomous Region, at the boundary area between Guangxi and Guangdong. It is just adjacent to Qinzhou to the west, Beihai to the south, Guigang to the north and Wuzhou to the northeast. Yulin is the largest hometown of overseas Chinese in Guangxi, with more than 2 million overseas Chinese, Hong Kong, Macau and Taiwan compatriots. Yulin is very suitable for the growth of medicinal materials. So it has the only professional market of traditional Chinese medicinal in Guangxi, also the third market in China of traditional Chinese medicinal, selling thousands of kinds of medicine all year round. It takes about 2 - 3 days to visit Yulin as there are so many scenic spots to see ranging from historical sites to forest parks and mountains. The most famous spots include Zhenwu Pavilion, one of the four famous towers in South China, Guifei (one of the four beauties in history) Garden and the Duqiao Mountain, a famous religious site.
Yulin Attractions - Things to Do

Rongxian
: Visiting Yulin, Rongxian County is a must go destination. The county is located in the northeast of downtown, famous for the Zhenwu Pavilion, Guifei (one of the four beauties in history) Garden and the Duqiao Mountain. In virtue of the ingenious structure, Zhenwu Pavilion, the three-storeyed wooden building constructed in Ming Dynasty (1368-1644), is listed among the four famous towers in South China. The Duqiao Mountain is a famous religious site in Yulin combining numerous religious sights and natural sceneries, including peaks, caves, valleys and narrow paths.

Yuntian Folk Customs & Culture World
: Entering the 30-meter-tall (98-feet-tall) arch gate in Jiangbin Road, city downtown, visitors come into a cultural town. The folk customs and culture world includes sculpture exhibition hall, folk-custom culture museum and national treasure exhibition area that well display unique Chinese culture.
How to Get to/around Yulin

Yulin Fumian Airport
located 21km (13mi) away from downtown has opened domestic flights to/from Beijing, Shanghai, Xi'an, Shenzhen, Haikou, Kunming and Hangzhou. And airport shuttle buses and taxi are availble for you to travel between the airport and downtown.

Yulin Railway Station operates the normal speed trains to/from Beijing, Nanning, Chengdu, Chongqing, Kunming, Shanghai, Shenzhen, Jinan, Guangzhou, Guilin, etc.

Yulin Central Bus Station in Dabei Road offers passenger transport service to nearby towns and also long-distance buses to Nanning, Liuzhou, Guangzhou, Shenzhen, Zhuhai, Xiamen, etc.
Weather
-
Yulin is situated south of the Tropic of Cancer. Enjoying a typical subtropical monsoon climate at a relatively low altitude, the city has moderate weather with an annual average temperature of 21

C (70

F), and its average rainfall of a year can reach 1650 millimeters (65 inches).

When to Go
: the whole year round
Yulin Travel Tips

History: In remote ages, this area was inhabited by several Chinese ancient ethnic minorities and put under administration of the central government in Qin Dynasty (221BC-206BC). Yulin Shire was established in Han. In the following thousands of years, Yulin was set up as a prefecture and later it became a city in 1983.



Physical Features: Within the territory of the city, hills occupy the major part of its domain crisscrossed with mountains, valleys, terraces and plains. Furthermore, the city has a vast forest covered area.



Special Local Products: longan pulp, Yulin beef (Niu Ba), jack-fruit (scientific name for Artocarpus hetemphyllus Lam)
- Last updated on Oct. 21, 2020 -
Questions & Answers on Yulin Travel
Asked by Shawn from UNITED STATES | May. 18, 2015 11:33

Reply
Where is the best place to see the Great Wall if starting in Yulin?
Answers (1)
Answered by Cindy from THAILAND | May. 18, 2015 23:00

0

0

Reply
Well, Great Wall of China is in northern China, and all sections are far from this city. If you wish to visit, I recommend the Badaling or Mutianyu Sections near Beijing to you. They are the most popular sections among domestic and international travelers.