Longsheng Town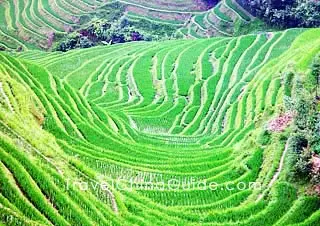 Dragon's Backbone Rice Terraces
Longsheng is located in northwest Guilin City with an administrative area of 2,538 square kilometers (about 980 square miles). Its enchanting natural beauties and unique folk cultures make that place a famous tourist attraction.

With its status as the most important tourist destination of Guilin, Longsheng is well-known for its Longji Rice Terraces, Longsheng Hot Spring National Park and Huaping National Nature Reserve.

Huaping National Nature Reserve, 60 kilometers (about 37 miles) from Guilin, occupies an area of 140 square kilometers (about 54 square miles). As the first natural reserve set up in Guangxi Zhuang Autonomous Region, it is established mainly to protect the living fossil, silver firs and the ecosystem of typical evergreen broadleaf forest.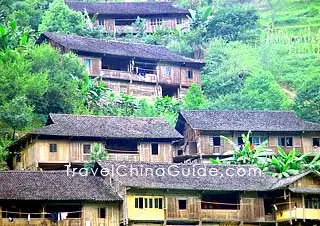 Zhuang Ethnic Minority Village
Huaping is worthy of the name 'kingdom of flowers' as flowers blossom all year round. In spring, cherry flowers, camellias, peach blossoms and azaleas vie with each other for glamour; whilst in summer, nandins, lilies and honeysuckles are in a riot of colors. On the other hand in autumn, wild chrysanthemums, sweet-scented acanthuses, oleanders and hydrangeas try to be the first to show off their beauties and in winter, plum blossoms, wild loquats and oil-tea camellias grow vigorously in the wind and frost.

As a paradise for living creatures, there are immense virgin forest, grand waterfalls, steep ridges and attractive dingles in Huaping. It is a must see for nature lovers.

Besides being inhabited by Dong, Miao, Yao, Zhuang and Han people, the area is also well-known for its local food and folk customs.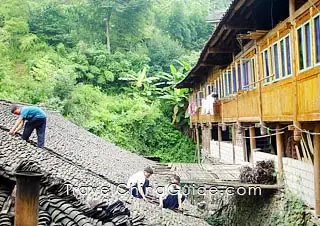 Residential House of Zhuang Minority
Venison of the Miao, Youcha (gruel of sweetened fried flour) of Yao, watery wines of Zhuang and Suanyan of Dong each have their own unique features. The different diet styles together with the warmth of the people will make one's trip out of the ordinary. Various folk musics and dancings, as well as the village where natives have the longest hair in the world, all seem unbelievable. One needs to see it to believe it.
Baimian Yao Village and Yinshui Dong Village are the places one must not miss for that is where the lifestyle of the local people can be seen.
Transportation tips:
Catch a bus from Guilin to Longsheng County Bus Station. It is a 2-3 hours ride. Once in the county, there are convenient transportations to every scenic resort.
- Last modified on Sep. 25, 2019 -
Questions & Answers on Longsheng Town
Asked by Ai LOW from UK | Oct. 27, 2018 13:44

Reply
We are planning to attend the Longsheng Red clothes festival in 2019.
Where will it be held exactly ?

We would prefer to stay one night near the event, than move up the mountain for the second night.

Please advise us which best location / accommodation, and how to get there.

Thank you in advance.
Answers (3)
Answered by Nacia from USA | Oct. 29, 2018 02:03

0

0

Reply
The festival is held on June 6 in the lunar calendar every year in the Dazhai Village, Longji Town, Longsheng county. You can take the bus from Guilin to Dragon's Backbone Rice Terrace and live in the Tiantouzhai on hillsides.
Answered by Ai LOW from UK | Nov. 02, 2018 03:16

0

0

Reply
Thank you for replying.
Could you please confirm is this the same day, where visitors and locals are allow to catch fishes in the stream ?
Answered by Qahira from USA | Nov. 04, 2018 19:28

0

0

Reply
Yes, I'm sure and I did't find the location to fish online.
Asked by Mrs.McNab from AUSTRALIA | Mar. 27, 2011 03:58

Reply
We are planning to visit the Southern areas of China from 15-30 June. Is this a good time to visit the Dragon's backbone rice terraces?
Answers (1)
Answered by Mr.Jamie | Mar. 30, 2011 04:17

0

0

Reply
It is a good time to be there in June. You will see green paddy in the terraces.
Asked by Mrs.Tan from MALAYSIA | Oct. 17, 2010 10:43

Reply
I will go to Guilin from 17-22 Nov 2010 and I plan to visit Longsheng on 20-21 Nov 2010 with my family (2 adult & 2 children,age 8 & 4)..is it OK without tour guide?
How about the scenery during my visit to that area?
I'm thinking to stay at Guilin 20-21 Nov 2010 then take a transport to LS or Any suggestion of accommodation/hotel then?
Is it required to spend 2 days in that town? Please advice. Thanks :)


Answers (1)
Answered by Mr.Taylor from CHINA | Oct. 17, 2010 22:56

0

0

Reply
Still recommend a tour guide, for transportation there is not direct and perhaps not easy for you, with kids. No problem to stay on night there, but I do not recommend. You have to stay in local village and the room condition may be very good for you. Anyway, I believe one day is enough and have a tour only for your family. You may look up some China tours(https://www.travelchinaguide.com/tour/default.htm) in this web which offer private and family group tours and custom made for you. Make online inquiry. If you want more free time, just let them arrange the Guilin-LS part. I have used it for my tour to Huanghuashu Waterfall in Guizhou.
Asked by Mr.nizam from MALAYSIA | Apr. 06, 2010 04:28

Reply
hi..
i plan to go to longsheng by my own..is it OK without tour guide??..in 18-19 may 2010..how about the scenery during my visit?
how about the accommodation? suggestion of accommodation/hotel?? transportation to small village area?
Answers (3)
Answered by Mr.Steven | Apr. 09, 2010 01:27

0

1

Reply
Mr.nizam,

Are you going to visit Dragon's Backbone Rice Terraces? If so, you need take bus at LS Bus Station to go there. The best time to visit the rice terraces is during May Day Holiday or Autumn. As for accommodation, you may just stay at some family hostels.

Since you are not familiar with that area, better hire a tour guide to help you.

Answered by Mr.nizam from MALAYSIA | Apr. 11, 2010 23:07

0

1

Reply
sorry..its around 18,19,20 MARCH...how the scenery of dragon's backbone rice terraces?

where can i get a tour guide..?
Answered by Mr.Steven | Apr. 12, 2010 02:45

0

1

Reply
Mr.Nizam,

You may see beautiful Rape Flower there during that time. If you want to see rice terraces, better rearrange your time schedule.