Dining in Longsheng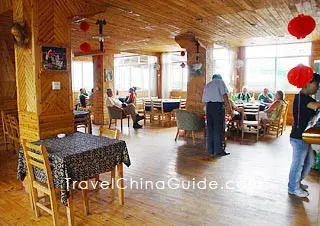 A restaurant in Longsheng

Dining in Longsheng is a very enjoyable experience. Specialties include Miao's Wild Delicacies, Yao's Oil Tea, Zhuang's Water Wine and Dong's Sour Delicacies. Preserved meat, bamboo, rice and other delicacies are bound to arouse your appetite. By tasting the delicious food of different ethnic groups you learn a little of their social customs too. Perhaps this is more important than eating itself.

The Dong ethnic group's cured sour meat is made in a very special way: duck meat, fish and pork are placed in a pot and a large fish is placed in a cask. The contents of the cask usually can be stored for 20 to 30 years and is only used for a ceremonious feast. The meat has a great taste.

Vegetarians will find the wild vegetables to be most appetizing. The wild bamboo shoot (also called 'Longjiao vegetable') is high in amino acids and vitamins, and is regarded as a very healthy edible mountain vegetable. Another mountain vegetable, the wild brake, is very tasty and nutritious, and is regarded as the king of mountain vegetables.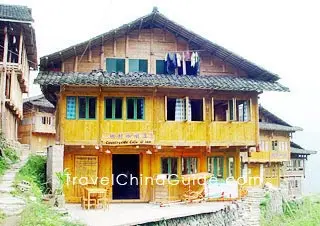 Countryside Cafe

Pickled sour seasonings are served as snacks with the meal. Local banana ginger is the main ingredient in the snack called Longji (dragon's backbone) Sour Ginger which is pickled to stimulate the appetite. The flavorful Longji Sour Ginger is the favorite snack among the local people. The other snack Longji Chili Sauce, considered one of the 'Four Longji Treasures', is enjoyed by visitors from home and abroad. This kind of sauce is fragrant, hot and sweet, and is the indispensable seasoning of staple foods and drink.

In Longsheng County there are few star-rated restaurants, however, the numerous village restaurants are very popular. Here are two examples of village restaurants to give you an idea:

Jin Fu Lou Village Restaurant
It located at Dazhai Village of Heping Township in Longsheng County is a characteristic Yao ethnic group's building where both dining and accommodation are offered. Every year a good many visitors who want to see the scenery of the Dragon's Backbone Rice Terraces stay at the restaurant and taste the preserved meat, sticky rice meal, homebred chicken and wild vegetables. Visitors can experience a farmer's life here by working on the farm with the restaurant staff. After eating the delicious food, they can watch the song and dance performance of the Yao ethnic group.

Ao Bei Tun Village Restaurant
Located in Ao Bei Tun area of Duping Village, this restaurant is just 10 kilometers (about 6 miles) from the county center. It is a typical Zhuang ethnic group building beside a scenic creek where visitors can fish in the summer and have a barbecue in the winter. Some foreign friends even spend Chinese New Year with the staff at the restaurant. Here tourists can eat preserved meat, homebred chicken, barbecue and flavorful wild vegetables. They can also experience the wonderful song and dance performance of the Zhuang ethnic group. Another attraction is a nearby pick-your-own peach garden.

Jin Ding Ge Village Restaurant
Address: Jin Fo Ding, Dazhai Village of Heping Township

Dazhai Hostel
Address: Dazhai Village of Heping Township

Zou Qin Qi Village Restaurant
Address: Xi Men Hong Yao Village

Jing Zhong Village Restaurant
Address: Dazhai Village of Heping Township

Jin Keng Hong Yao Restaurant
Address: Dazhai Village of Heping Township

Longsheng Jin Che Village Restaurant
Address: Jin Che Village, Longsheng Town

He Yi Village Restaurant
Address: Jinzhu Zhuang Small Village in Jinjiang Village of Heping Township

- Last modified on Apr. 09, 2019 -