Yangshuo Shopping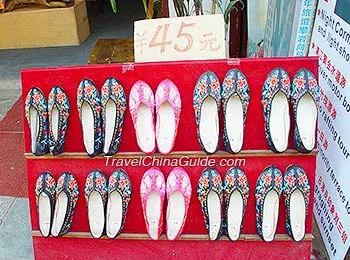 Cloth shoes sold in West Street
When
visiting Yangshuo, please don't miss its local specialties. Due to the pleasant climate, the county is rich in many fruits, among which the most representative are the Shatian Shaddocks, the kumquats and the Chinese chestnuts. The dried persimmons, the ginger candies, the osmanthus flowers, and the 'Three Treasures' (Guilin sanhua alcohol, Guilin fermented bean curd and Guilin chili sauce) are also worth purchasing. Most of these products can be found in the special local product supermarkets where you can even bargain with the owners. In Yangshuo, there are many such markets, especially in West Street, so it's easy for travelers to find them.
Local people are clever with their hands. Their exact and exquisite handicrafts are popular among all tourists. The painted fans, the embroidered
balls, and the bamboo walking sticks, are much favored by foreign visitors. Another unique and traditional tourist souvenir is the Culture Shirt (Wenhua Shan). It is a cotton T-shirt on which are painted beautiful Yangshuo scenery or you can have your favorite phrase written in either English or in Chinese.
You can get these souvenirs near all the tourist spots and at the street stalls. We highly recommend you visit
West Street
, where most people speak English fluently and the goods are named in both English and Chinese. Along West Street there are over one hundred stalls selling various tourist souvenirs, including not only the items mentioned above, but also antiques, ornaments, as well as Chinese calligraphy and Chinese paintings. Additionally, there are many special stores selling silk, linen and wax painted cloths, where you can have a suit made to order according to your size.
Tips: Remember to drive a bargain when buying items on the streets.
| | |
| --- | --- |
| Stalls in West Street | Stalls along the West Street |
Yangshuo is just a small county, so you won't find world-famous supermarkets there. But there are several smaller scale supermarkets that can be recommend for their good quality and reasonable prices.

'Ninety-nine' Supermarket
Address: in the 'City in City' leisure center in Diecui Road (the main store)
the shop front of Pingfeng Hotel in Pantao Road (the first branch store)
the shop front of New West Street Hotel in Pantao Road (the second branch store)

Lele Lai Supermarket
Address: where Diecui Road and Chengzhong Road meet.
- Last modified on May. 13, 2019 -