Yangshuo Shopping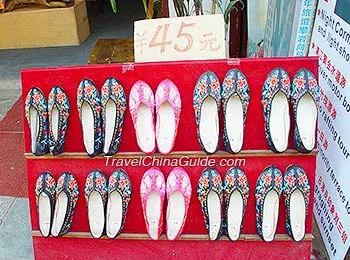 Cloth shoes sold in West Street
When
visiting Yangshuo, please don't miss its local specialties. Due to the pleasant climate, the county is rich in many fruits, among which the most representative are the Shatian Shaddocks, the kumquats and the Chinese chestnuts. The dried persimmons, the ginger candies, the osmanthus flowers, and the 'Three Treasures' (Guilin sanhua alcohol, Guilin fermented bean curd and Guilin chili sauce) are also worth purchasing. Most of these products can be found in the special local product supermarkets where you can even bargain with the owners. In Yangshuo, there are many such markets, especially in West Street, so it's easy for travelers to find them.
Local people are clever with their hands. Their exact and exquisite handicrafts are popular among all tourists. The painted fans, the embroidered
balls, and the bamboo walking sticks, are much favored by foreign visitors. Another unique and traditional tourist souvenir is the Culture Shirt (Wenhua Shan). It is a cotton T-shirt on which are painted beautiful Yangshuo scenery or you can have your favorite phrase written in either English or in Chinese.
You can get these souvenirs near all the tourist spots and at the street stalls. We highly recommend you visit
West Street
, where most people speak English fluently and the goods are named in both English and Chinese. Along West Street there are over one hundred stalls selling various tourist souvenirs, including not only the items mentioned above, but also antiques, ornaments, as well as Chinese calligraphy and Chinese paintings. Additionally, there are many special stores selling silk, linen and wax painted cloths, where you can have a suit made to order according to your size.
Tips: Remember to drive a bargain when buying items on the streets.
| | |
| --- | --- |
| Stalls in West Street | Stalls along the West Street |
Yangshuo is just a small county, so you won't find world-famous supermarkets there. But there are several smaller scale supermarkets that can be recommend for their good quality and reasonable prices.

'Ninety-nine' Supermarket
Address: in the 'City in City' leisure center in Diecui Road (the main store)
the shop front of Pingfeng Hotel in Pantao Road (the first branch store)
the shop front of New West Street Hotel in Pantao Road (the second branch store)

Lele Lai Supermarket
Address: where Diecui Road and Chengzhong Road meet.
- Last updated on Apr. 15, 2021 -
Questions & Answers on Yangshuo Shopping
Asked by April Fregd from UNITED STATES | May. 11, 2019 05:50

Reply
My suitcase wheel is about to break. Can you recommend a store to buy luggage in Yangshuo?
Answers (1)
Answered by Anya from NETHERLANDS | May. 13, 2019 00:14

0

0

Reply
You can have a try in West Street Shopping Mall, which is located at N0.27, 28 Pantao Road, Yangshuo. You can also purchase a new one in shopping malls of Guilin. The Wanda Plaza in No. 169, Binbei Road, Decai District, Guilin city is recommended.
Asked by Cherry from PHILIPPINES | Mar. 17, 2019 20:33

Reply
I will be staying in Yulong Village, Baisha Town.
Will bike be okay as my mode of transportation to roam around Yangshuo? Is it likely that I will get lost?
Thank you in advance
Answers (1)
Answered by Ava from UAE | Mar. 24, 2019 20:00

0

0

Reply
Don't worry. Taking a bike to tour around this area is a nice choice!!!
Asked by olivia from MALAYSIA | Sep. 24, 2016 10:26

Reply
I am staying at Starway hotel, Yangshou.Which is just opposite West street.
I like buying sweets and different instant noodle to take back home. I certainly will not be able to walk the whole west street due to limited time.are there any supermarket nearest to me? Trying to refrain from convenience stall since selection is limited
Answers (1)
Answered by Jim from USA | Sep. 26, 2016 03:33

0

0

Reply
You may go to 99 Supermarket on Diecui Road. Walk west along Pantao Road for about 200 yards, and turn right. Walk north along Diecui Road for about 350 yards to it.
Asked by Erling Sonne from DENMARK | Oct. 11, 2013 17:34

Reply
I bought a nice T-shirt in a shop in West Street on 09/26/2013. We agreed on RMB 250, but I paid RMB 2500 with my MasterCard, probably due to a typo.
I want to write to the store to get the excess amount is repaid. My bank has just written "Yangshuominjufuzhuang" in the account statement. Can "Yangshuominjufuzhuang, West Street, Yangshuo, Guilin, China" to be the correct address for the store?
Answers (2)
Answered by Luna from CHINA | Oct. 11, 2013 20:31

3

4

Reply
Hi, do you still remember the number of the store on the street? I just searched to get to know such a store at No. 90. If it is the one where you bought the shirt, the address should be "Yangshuo Minzu Fuzhuang, No. 90, West Street, YS County, Guilin City, China".
Answered by Erling Sonne from DENMARK | Oct. 12, 2013 02:59

2

3

Reply
Dear Luna

Dear Luna
Thanks for the quick reply. I still have the voucher from the deal, but the name of the business is written with Chinese characters that I can not translate into Latin characters. Road number 90 is not listed. I will send a letter to the store with the address you sent me, but I would be grateful if you could possibly send me the store's e-mail address.
Thanks again, yours
Erling

Asked by Mrs.JADE from INDONESIA | Feb. 17, 2010 23:34

Reply
IS IT EASY TO FIND INDONESIAN GUIDE IN YANGSHUO/GUILIN???
Answers (2)
Answered by Mr.Jamie | Feb. 18, 2010 03:05

2

4

Reply
No, not easy.
Answered by Ms.Lisa from INDONESIA | Mar. 29, 2011 08:43

2

3

Reply
U can try to find Indonesian student who study in Guilin. Study simple Chinese, most of the people in hostel are able to speak simple English.