Yangshuo Dining
Although Yangshuo is just a small county, its traditional dishes and snacks are well-known world wide because of their dainty appearance and uniqueness. Here, we just recommend to you some of the most famous ones.


Traditional Dishes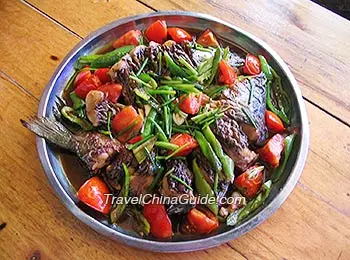 Beer Fish
Beer Fish (Pijiu Yu)
This dish is probably the most symbolic dish of Yangshuo. Live carp from the Li River is fried with its scales and is then stewed after several seasonings such as local beer, chili, agarics and tomatoes are added. The dish not only looks attractive, but also tastes fresh and tender with a hint of spiciness, yet remains a little sweet.

Niang Dishes
Niang is a traditional yet unique cooking method of combining various ingredients for stuffing (usually consisting of meat or egg) into a type of carrier (made of vegetables or bean products), then braising, boiling or frying them together. There are 32 varieties of Niang dishes, among which the most delicious is the Tianluo Niang. Select some river snails, cut the tails and take out the meat. Then put the meat into the shells together with other seasonings such as ginger, mint and pork. Finally stir-fry them together. This dish smells savory and tastes smooth, refreshing and satisfying.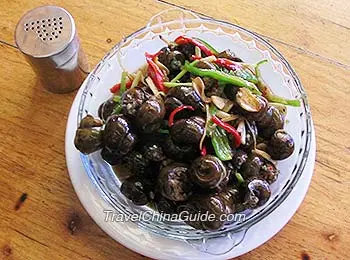 Brewed Field Snail
Lipu Kourou
This dish is made using the taros from Lipu (a small county of Guangxi Province, streaky pork and other spices. Fry the taros and streaky pork in the oil separately and place them alternately in a bowl, then braise them together. After both the taros and pork are cooked, reverse the bowls and leave them lying on a plate. In Chinese, Kou just means 'reverse', hence the name of the dish. The dish always has a golden color and tastes fluffy and tender but not greasy.

Recommended Restaurants
Fusheng Yuan Restaurant
Address: No.40, Bilian Lane, Yangshuo County

Huangjin Lian Restaurant (Golden Lotus Sidewalk Beer Fish Stall)
Address: Diecui Road

Sister Chen Sidewalk Beer Fish Stall
Address: Sunshine 100 Food Palace, Diecui Road


Special Local Snacks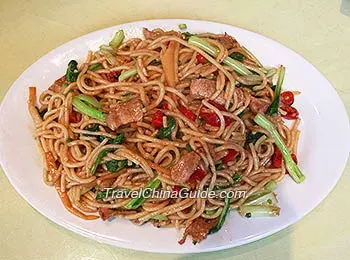 Guilin Rice Noodles
Guilin Rice Noodles
The round or flat rice noodles are always eaten with various kinds of soup. They are white, tender, smooth and pliant. You can have a taste of the most traditional ones in Shouzi Rice Noodles Cafe in West Street.

Yangshuo Baba
Glutinous rice is widely used to make many local snacks. Baba is the most special one that can be made by steaming, boiling or frying other ingredients together such as sesame, broomcorn, chestnut and brown sugar. Water Steamed Leaves Baba, Fried Yinzi Baba and Sugar Soup Boiled Tangyuan Baba are really worth tasting.

Fenli
This snack is only available around the Spring Festival (one of the national festivals of China). Rice is ground into thick liquid and made in the form of short cylinders that are then steamed and dried in the sun. The cylinders are finally cut into strips and fried with preserved hams, cauliflowers and some garlic.

Songgao (Glutinous Rice Cake)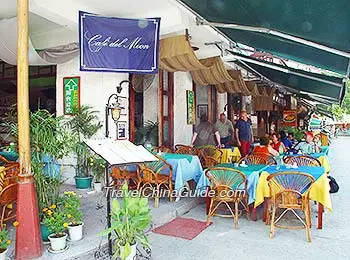 Moon Cafe
Traditionally, Songgao is given as a kind of present to mark happy events. It is mixed with glutinous rice powder and brown sugar syrup. All these substances need to be steamed together for about two hours. Being sweet, fluffy and refreshing, it is very popular among both the local people and the tourists.
Liangfen
This is a kind of transparent crystal made of rice. When you eat it, you should firstly place it in pieces in a bowl and then pour some brown sugar syrup and vinegar on it. It tastes quite cool and refreshing.
The West Street is a good place for you to enjoy these typical snacks. There are also many other delicious snacks like sesame paste, lotus seed soup and fried water snails along the street. You can also go to Yangshuo Square in Pantao Road, where many local snacks and other Chinese cuisine are sold at side stalls and restaurants.

Western Food Restaurants
Most of the Western food restaurants and cafés in West Street are managed by foreigners, so you needn't worry about communication. Every cafe has its particular style while all of the food they serve is quite genuine.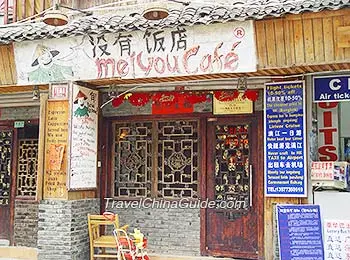 Meiyou Cafe
Meiyou Cafe is particularly special. You can see 'Meiyou Warm Beer, Meiyou Lousy Food and Meiyou Bad Service' on the signboard. In Chinese, Meiyou means 'no' or 'nothing'. So the words mean that the cafe doesn't supply warm beer, lousy food or bad service, but it offers you good things like Meiyou Special Coffee and Meiyou Special Pizza, etc. Other Cafes include Red Star Express, Stone Roses and Drifters provide very authentic pizzas and beefsteaks. The famous restaurants offering French food are Le Votre Restaurant and Rose Wood Restaurant. Additionally, there is a newly-opened KFC at the entrance of the street.

The recommended cafés in the street are Under the Moon Café and Ming Yuan Café. Under the Moon Café offers a romantic setting. By sitting out in the open-air dinning area, you can enjoy the streets activity as well as taking in the backdrop of the distant green hills. Ming Yuan Café is a very tasteful and quiet café. Its strong aromatic coffee, elegant jazz music and tranquil atmosphere attract many foreign tourists.
- Last updated on Jun. 07, 2022 -
Questions & Answers on Yangshuo Dining
Asked by Aruna Nimbalkar Parab | Aug. 27, 2014 09:34

Reply
I am vegetarian( no egg/chicken/meat/seafood). what are the food options for me in Yangshuo?
Answers (2)
Answered by Uniya from INDIA | Aug. 28, 2014 01:59

1

0

Reply
I know a An Xiang Shu Ying Vege. Resto in the city and it offers pure vege. food. It is located at no. 7, Diecui Road. The Chinese name of the resto is 暗香疏影素菜馆 I remember.

Answered by Aruna Nimbalkar Parab | Sep. 01, 2014 09:24

0

0

Reply
Thanks Uniya..this is useful.
Asked by Mr.Khan from CHINA | Oct. 10, 2009 04:06

Reply
Any muslim restaurant in Yangshuo, if not then please recommend some vegetarian or fish dishes? Thanks
Answers (1)
Answered by Mr.Shan | Oct. 11, 2009 03:24

0

0

Reply
Along the local West Street, you could find many restaurants which could supply you delicous fish. Actually, the Beer Fish is one of the most famous local dish.
Asked by Mr.Colin from CHINA | Jun. 10, 2009 20:11

Reply
I am arriving at Yangshuo. Who knows the most famous dishes there? Could you tell me?
Answers (1)
Answered by Ms.Ruth from CHINA | Jun. 11, 2009 02:05

0

0

Reply
As I know, the stewed fish with beer, hot pepper, shallot, garlic and celery is very popular there. You may go to the local West Street. There are many western restaurants and cafes.