Yangshuo Festivals
Yangshuo is home to many ethnic minority groups and hosts several festivals celebrating their way of life.

Traditional Festivals
May 8th Festivals in Fuli Town (May 8th)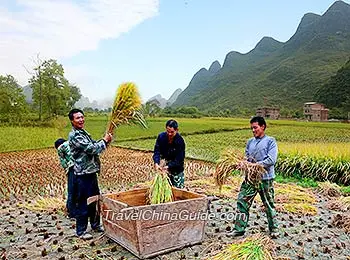 Celebrating Harvest
This weeklong fair commemorates the legendary Godfather (Uncle Pankao) and Godmother (A Ma). It is said they could bless the safety of the town and the health of its local people. Around May 8th in the lunar calendar, residents assemble to make offerings to the Godfather and Godmother, and then parade in the street beating drums, dancing with artificial lions and tigers and rolling colorful floats. Large family gatherings are commonplace with a focus on the delicious local Niang cuisine featuring such diverse ingredients as eggplant, balsam pears, and peppers. People can wander the streets to enjoy entertainers, watch films under the open sky, and participate in various sports and competitions ranging from basketball to chess to tug-of-war. In recent years, locals have been exhibiting their handicrafts such as painting fans and embroideries to attract tourists.
June 23rd Festival in Baisha Town (June 23rd)
June 23rd is said to be the birthday of Guanyu, a wise and brave hero is the history of China. Baisha people respect him and commemorate him in various forms. Around June 23rd in the lunar calendar, they make offerings to him in the temple and parade in the street performing ethnic dances and riding horses. Every local family holds a ceremony lighting fireworks to pray for wealth, health and good luck. One of the highlights is an exciting and competitive game called 'Qiang Pao', which means to grab for the four standard prizes by catching a red ring brought to the sky with the explosive power of a firecracker. The ring is made of iron with a diameter of only three centimeters (about one inch). The four standard prizes are four different amount of money ranging from several hundreds RMB to thousands of RMB or different articles worth the same amount of money. There are four rounds for winning the four kinds of prizes. In each round, the ring symbolizing the prize of the round is brought to the sky. At the same time, ten groups respectively with ten able-bodied men grab to catch the ring in the exhilarating sound of horns and drums. Those who get the ring will get the prize of the round. The game lasts until the four prizes are all awarded out. In recent years, the local people also hold basketball and chess competitions as well as other interesting displays during that time.
Folk Song Singing Festival (August 15th)
Every year on the night of August 15th in the lunar calendar, attractive young men and women of the Zhuang minority group will gather near the Moon Hill. Under the romantic moonlight, they sing dulcet folk music echoing expressions of love to each other. Singles can use this opportunity to find a potential lover by echoing their songs. This unique ritual is drawing more and more tourists every year.
Temple Fair in Xingping Town (September 19th)
Every year on September 19th in the lunar calendar, Xingping people hold sacrificial rites to the Goddess of Mercy (one of the Bodhisattvas in Buddhism culture), who is believed to be able to relieve people from their sufferings. This custom has been prevailing here for about 400 years. On that day, people gather in the center of town to parade in the streets; perform local dances; stage dramatic performances and conduct many kinds of sports activities. Xingping's fair is rife with traditional atmosphere.
October Sweetness in Puyi Town (October 10th)
In Yangshuo, October is a month of harvest when the whole county is full of the fragrance of fruits and plants. Local people thought October 10th would be a good day to commemorate this harvest and express their happiness. On this day, people celebrate with good wine and delicious food. In the streets, some folks wearing masks perform dragon and lion dances; others perform musical dramas and yet others participate in sports or games such as basketball, chess and cards. The celebration usually lasts for two days and nights and literally bustles with joy and excitement.

New Festivals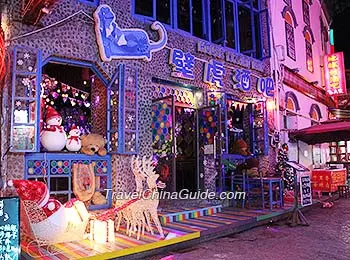 Christmas in Yangshuo
Li River Fishing Lights Festival
Started in 1999, it is held annually on the Li River in November in the Gregorian calendar. During the day, the river's pure water and the surrounding green hills form a serene and beautiful picture. At night, fishermen in the nearby villages arrive to fish in the river. Their rafts are festooned with golden lanterns providing illumination in their quest for a good catch. In addition to watching the fishermen, tourists can also enjoy local ethnic performances and exhibitions as well as taking part in various sports and entertainment competitions.
Beer Festival
West Street is the 'global village' where many foreigners live and travel and is the reason why the western styled Beer Festival is held here. Since December 31st, 1999, it is held at the very end or very beginning of each year. On the evening of the selected day, foreigners gather together to perform their own music and dances. The local people also present their traditional dances and the two groups intermingle in the spirit of fun. The beer drinking competition is the climax of the celebration. All these activities and the mix of cultures give it an exciting and exotic flavor.
- Last modified on May. 03, 2018 -
Questions & Answers on Yangshuo Festivals
Asked by Ms.Karin from CZECH REPUBLIC | Jul. 23, 2010 15:28

Reply
Every year on the night of August 15th in the lunar calendar...?
Hello,
could you tell me please if the Folk Song Singing Festival takes place on August 15 this year (2010)? Or is it really 15th day of 8th month in lunar calendar? If so, whats the date?
Thanks!
Answers (1)
Answered by Mr.Zhang | Jul. 24, 2010 02:05

0

0

Reply
It is on 15th day of 8th month in lunar calendar, it is 22nd, September this year.
Asked by Ms.Bess from CHINA | Jun. 10, 2009 21:01

Reply
Do the Zhuang group celebrate the Mid-Autumn Day?
Answers (1)
Answered by Ms.Yuan from CHINA | Jun. 11, 2009 03:17

1

2

Reply
The Mid-Autumn is a traditional Chinese festival. It's not only celebrated by the majority Han, but also celebrated by the other 20 ethnic minorities, such as Dong, Miao, Zhuang, Dai, Li, Man, Chaoxian (Korean) and Gaoshan ethnic minorities.