Yangshuo Weather
Yangshuo weather is generally mild and humid the whole year round, with the average temperature at 19.5

C (67

F). The seasons of Yangshuo are distinct. July and August is the hottest, the highest temperature reaching 34-37

C (93-99

F). January is the coldest month at 5-8

C (41-46

F).

Best Time to Visit Yangshuo
The best travel time is from April to October, when Yangshuo is mostly sunny, hardly rains, ready for sightseeing and all kinds of outdoor activities -- bamboo rafting, bike riding and mountain climbing.
7-Day Yangshuo Weather Forecast
Averages for Yangshuo Weather
High/Low Temperatures of Yangshuo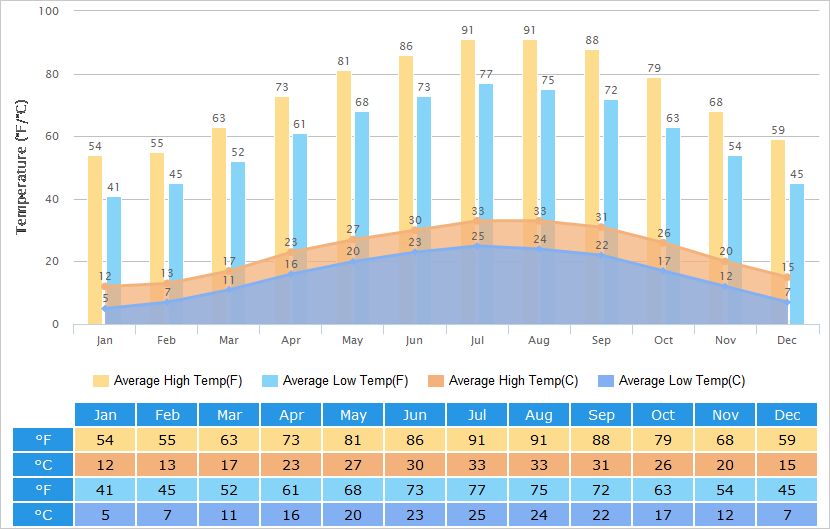 Average Rainfall of Yangshuo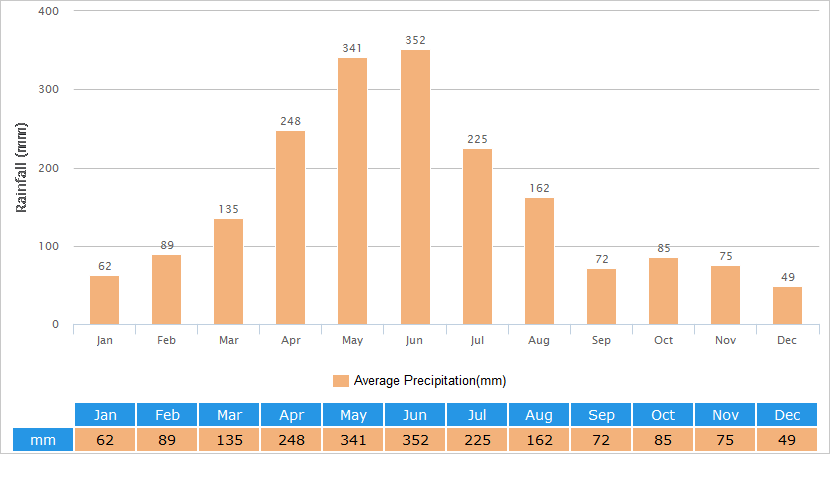 Yangshuo Climate – Seasons & Travel Advice
Yangshuo features a subtropical monsoon climate, with abundant rainfall and sunshine. The seasons are distinct and identifiable. Traveling in any season brings to bear a great experience.
Spring (Mar - Apr)
The average spring temperature is 11-18

C (52-64

F), when all flowers are in blossom. Step into the countryside to see large fields of yellow rapeseed flowers! Walk or ride a bike and explore at your leisure.
What to Wear: hoodie, sweatshirt, baseball jacket, jeans, sneakers
Summer (May - Sep)
The five months long summer is hot and humid. It averages 25-30

C (77-86

F). In July and August, the hottest period, it reaches 34-37

C (93-99

F). Traveling in summer, you may find plenty of refuge from heat, prime examples of such are those of the
Li River
and the
Yulong River
. Travelers do bamboo rafting on the Yulong River, which is excellent for summer. Also you can visit the caves in Yangshuo, where it is scenic and much cooler than outside. From late May to August, it is the rainy season, when it has cloud bursts, so please bring rain gears with you.
What to Wear: T-shirt, dress, shorts, sandals
Autumn (Oct - Nov)
It is drier and cooler than summer, with an average temperature at about 20

C (68

F). It might be a bit cold in the morning and evening, so dress yourselves warmly. It is good weather for outdoor activities like hiking, climbing or riding in the countryside.
What to Wear: shirt, blouse, hoodie, sweatshirt, windbreaker, jeans
Winter (Dec - Feb)
Winter averages about 8-16

C (46-61

F). The lowest is usually 5-8

C (41-46

F). If it is sunny, it can reach 18

C (64

F) by noon. It rarely snows in winter and the occasional flurry only lasts briefly. Winter is dry, so bamboo rafting is rather unlikely. Some people like to visit Yangshuo this time because it is not over crowded. You can visit ancient towns like the
Xingping Town
and the Fuli Town along the riverside of the Li River, should you want to satisfy your own curiosity.
What to Wear: sweater, trench coat, jacket, sweatpants
- Last modified on May. 03, 2018 -