A World of Excellence
SG10: 9 Days Small Group Tour of Beijing - Xi'an - Guilin - Yangshuo - Guilin
Tour Type:
Small Group of max 18, guaranteed departures
Guide & Driver:
English-speaking guide, experienced driver with an air-conditioned coach
Accommodation:
8 nights at good 5-star hotels
Highlights:
Must-see sights in China—Mutianyu Great Wall, Forbidden City, Terracotta Army.
Take a Li River cruise down to Yangshuo and admire the essence of Guilin landscape.
Walk along or cycle around the 600-year-old City Wall and get stirring views.
Meet and interact with local people in their homes and get to know their lifestyle.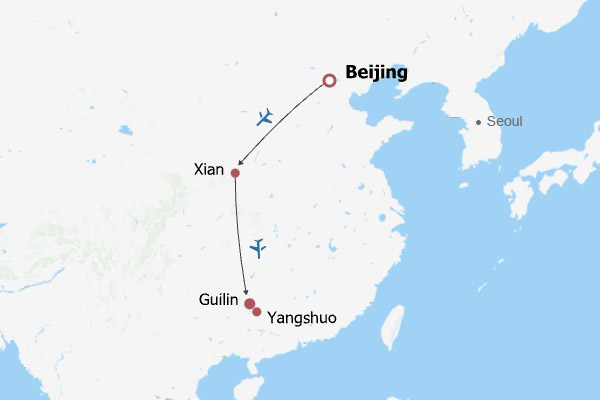 Welcome your arrival anytime at the airport and transfer to hotel.
Upon your arrival in Beijing today, your local guide will greet you outside the Customs of the airport. Enjoy a comfortable transfer until you arrive at the reserved hotel for a good rest. The remaining time today is left free for you to recover your energy after the long flight.
Accommodation: The Great Wall Hotel Beijing





- the former Sheraton
Visit Tiananmen Square and Forbidden City including Treasure Gallery; enjoy an a la carte welcome lunch with authentic Peking Duck; continue to visit Yonghe Temple and Temple of Heaven; and watch the classic Peking Opera in the evening. (B+L)
After enjoying a hearty breakfast, you will meet other group members at the hotel lobby for the coming trip. The first stop of your 9 days China tour package is the world famous
Tiananmen Square
, the largest city square in the world. Chairman Mao's Mausoleum, Great Hall of the People, Monument to the People's Heroes are all located there. Chinese people consider it to be the heart of China and a place of pilgrimage.
Take a Walk around the Solemn Tiananmen Square
From the square, we will stroll to today's highlight attraction - the
Forbidden City
, the supreme political center to house rulers of Ming and Qing Dynasties (1368 - 1911 AD), where you can sense the vicissitudes of the once feudal country. You will have a glimpse of the luxurious royal life from the splendid palaces, delicate decorations and precious cultural relics. Today, we will also treat you to an exclusive tour in the Treasure Gallery, which exhibits 400 plus imperial relics that are the most expensive of its kind. It comprises six gallery rooms in the Palace of Tranquil Longevity Sector, a compound at the northeast corner built to serve Emperor Qianlong (1736 - 1795 AD) during his retirement. You get to see a miniature Forbidden City here, which design was borrowed to construct this sector.
You will enjoy an
a la carte welcome lunch
(valued at CNY150.00 per person and included in our price) at a superb local restaurant. You can try the world famous Peking Roast Duck, the aroma of which alone will make your mouth water. We will book the elaborately-made dish in advance, so you can taste it the moment you sit at your table.
After lunch, continue history appreciation at the
Yonghe Temple
and
Temple of Heaven
, the former an imperial lamasery and the latter the world's largest sacrificial building complex, both of which have survived hundreds of years intact.
In the evening, we head for a renowned theater to appreciate Peking Opera, an art whose many elements have been used as symbols of traditional Chinese culture. Speaking of
Peking Opera
, we cannot skip the facial designs. For connoisseurs, a look at a specific pattern will let them know the actor's identity and character. A surprise for you is that, by arriving earlier with us, you get to see the Peking Opera artists wear those makeups! Afterwards, we will drive you back to your hotel.
Meals: Western buffet breakfast, A la carte welcome lunch
Visit Mutianyu Great Wall by round-trip cable car and toast for Great Wall challenge with red wine; drive by Olympic Bird's Nest; then take a rickshaw ride through Hutong alleys and visit a local family in a traditional courtyard house. (B)
The highlight of today's trip is a visit to the Great Wall of China. The part we will visit is the
Mutianyu section
, one of the best-preserved sections of the winding wall. It used to serve as the northern barrier defending the capital and the imperial tombs. To keep your strength up for a bit hiking on the wall, we arrange a round-trip cable car ride for you. Since the food offered in the nearby restaurants is not recommended by the visitors and us, we advise you to take some fast food to provide you with energy around noon time.
Our Happy Guests on the Mutianyu Great Wall
In the afternoon, we stop before
Olympic National Stadium
(Bird's Nest), for you to record this moment with pictures of standing before this cradle-like feat of engineering. Then we head to the Hutong area, where
a Hutong tour by rickshaw
is scheduled. Hutongs are narrow lanes flanked by residential "Siheyuans", or traditional Chinese courtyard houses. The 700-year-old area is like a long library dedicated to exhibiting traditional lifestyles and cultures of common Beijing people. Besides a Hutong tour, your guide will also take you for a family visit in a Siheyuan. Nothing could give you better insight than directly talking with natives of this place, if you want to learn about authentic local life. As it will be late when the visit finishes, we will drive you back.
Meals: Western buffet breakfast
Day 4
Beijing to Xi'an by Flight
Visit Panda Hall and Summer Palace; taste local flavors for lunch; fly to Xi'an and transfer to hotel. (B+L)
This morning's excursion will first cover the
Panda Hall, Beijing Zoo
, for you to watch Chinese giant pandas eating and playing. But don't be too deluded by their adorable appearance, because, if threatened, they can bite more forcefully than some wild bears! Then we continue to visit the
Summer Palace
, the largest existing royal garden in China. Constructed over 200 years ago, it is famous for the magnificent buildings and charming landscape.
Have some local food as your lunch, and an afternoon flight will take you to the second destination, Xi'an. Upon landing, your local guide and driver will meet you at the airport and take you to the hotel.
Meals: Western buffet breakfast, Lunch
Accommodation: Crowne Plaza Xi'an





Visit Terracotta Army and the discoverer's home of the first terracotta warrior; have a unique experience to make your own mini clay warrior; continue to visit Giant Wild Goose Pagoda, and then enjoy dumpling dinner and Tang Dynasty Music and Dance Show in the evening. (B+D)
After a lavish breakfast at the hotel, we will take you to the
Terracotta Army
, an amazing underground project built more than 2,200 years ago. They are none other than the funeral objects of the legendary mausoleum of Emperor Qin Shi Huang (259 - 210 BC), the founder of the first empire in China's history, who ordered more than 9,000 terracotta warriors and horses to help him rule his underworld.
Marvel at the 2200-year-old Terracotta Warriors
★
We provide you with an exclusively memorable trip!
►
Get first-hand knowledge about the discovery in the discoverer's home
Today, we offer a chance for you to learn the ins and outs about the discovery of the Terracotta Army, in the home of Mr. Yang Zhifa, the very man who dug out the first warrior in 1974. You will meet and talk with Mr. Yang or his families in person. Also, you get to witness the digging hoe, the wooden cart used to transport it, and an identical copy of the first warrior.
►
Bring home the most precious souvenir engraved with your own logo
In addition to the visit, we will also take you to a workshop, where you get to craft your own mini terracotta warrior. An artisan will instruct you in the making process, which takes around 40 minutes with the help of molds. You will refine its facial features and carve your own name on it before you let it dry. After all things are done, marvel at your little masterpiece and take it with you!
Then continue traveling through the city's long history by visiting the
Giant Wild Goose Pagoda
, a part of the exquisite Buddhist architectural heritage of the Tang Dynasty (618 - 907 AD). Your evening will find you in a theater, being enlightened by the
Tang Dynasty Music and Dance Show
while partaking of the traditional food, a
dumpling dinner
. After that, we escort you back to your hotel.
Travel Tip: Guests visiting in Jan, Feb, Mar and Dec need to arrange the dinner and evening activity on their own for this day, since the theater is usually not open during those months.
Meals: Western buffet breakfast, Dumpling dinner
Connect with local people at City Wall Park and learn to practice Tai Chi from a master, then visit City Wall; taste local flavors for lunch at Muslim Quarter; in the afternoon visit Great Mosque and Shaanxi History Museum. (B+L)
The first stop today is the
City Wall Park
, where you can see locals sing, dance, chat, play chess and instruments, exercise, etc. It is the best place to experience local life. Today, you get to be a part of it. We will invite a Tai Chi Master to teach you some basic moves of Tai Chi, a popular school of Chinese Kung Fu exercise that features slow but flowing movements. Then, you will go on a visit to the well-preserved
City Wall
. It's very popular among visitors to walk or cycle on its top walkway and have a panoramic view of the old quarter of this city. You may have a try. If you are not skillful in riding a bike, the electric car is also available. Please note that it charges a small fee to rent a bike or take the car.
Locals Dancing in the City Wall Park
Seek for the Local Food at Muslim bazaar
Your lunch time will be spent at the
Muslim Quarter
, tasting authentic local food with Muslim flavors. It is a famous snack street in Xi'an. Don't miss it if you are a foodie. The most famous and typical local food is crumbled flatbread in mutton stew (Yangrou Paomo). Cooked with bean thread noodles, slices of marinated mutton, fresh garlic shoots, and various spices, the yummy broth will leave you with endless aftertastes.
Later a visit to the
Great Mosque
- a mosque unique for its classical Chinese architecture - is scheduled. Then you will be transferred to
Shaanxi History Museum
, a representative of Chinese museums, featuring collections of relics unearthed locally. After exiting the museum, we will take you back.
Meals: Western buffet breakfast, Local flavor lunch
Day 7
Xi'an to Guilin by Flight
Fly to Guilin & transfer to hotel; visit Reed Flute Cave and Elephant Trunk Hill. (B)
Continue your escorted China tour to Guilin today. You will take a morning flight and the local guide will welcome you at Guilin airport and transfer you to check in at the hotel. Later in the day, you will be taken to visit the
Reed Flute Cave
, a spectacular world of stalagmites, stalactites, stone pillars, and stone flowers formed by carbonate deposits, and the
Elephant Trunk Hill
, the emblem of Guilin city.
Cruise Tour on the Li River
Meals: Western buffet breakfast
Accommodation: Sheraton Guilin Hotel





Day 8
Guilin - Yangshuo - Guilin
Take a Li River cruise from Guilin to Yangshuo; explore West Street and have a countryside tour; drive back to Guilin. (B+L)
Today you will have a chance to appreciate China's most beautiful karst landscape by cruising on the
Li River
. The cruise will depart from Guilin at 09:00 and arrive at Yangshuo County at about 14:00. The cruise company will provide a box lunch to restore your energy.
Rural Life in Yangshuo
An essential representative of Guilin's charming landscape, Yangshuo is enliven by the
West Street
, regarded as its beating heart for being the liveliest area of this county. When you arrive at Yangshuo, your guide will take you to West Street for a leisurely stroll. Then you will be driven in the countryside area to enjoy the rural scenery. On the way, you will visit a local peasant's home. After that, get back to Guilin by car.
Meals: Western buffet breakfast, Lunch
Day 9
Departure from Guilin
Please check out before 12:00, and take a taxi to the airport; a pleasant journey home! (B)
Your tour draws to an end. Today you will make your own way from hotel to the airport and board your onward flight. You are recommended to book a taxi from the reception and it will charge around CNY 100 to 150 per cab. We wish you a nice trip home!

From Guilin, you can make travel plans to the Dragon Ridge Terrace in Longsheng, or just stay in Yangshuo for more days to immerse yourself into a relaxing countryside life. Also, taking a bullet train or a flight to Hong Kong is doable. If you need us to arrange the departure air tickets or a subsequent travel, we will be glad to assist you.

Meals: Western buffet breakfast
B-- Breakfast
L-- Lunch
D-- Dinner
Prices are per person on twin sharing basis; departures are guaranteed even with two persons!
Christmas & 2024 Special:
12% off
- Book before Dec 31, 2023
Arrival Date
Departure Date
Double Occupancy
Single Room Supplement
Sep 22(Fri)
Sep 30(Sat)
USD2069
USD559
Oct 06(Fri)
Oct 14(Sat)
USD2069
USD559
Oct 13(Fri)
Oct 21(Sat)
USD2069
USD559
Oct 20(Fri)
Oct 28(Sat)
USD2069
USD559
Oct 27(Fri)
Nov 04(Sat)
USD1899
USD539
Nov 03(Fri)
Nov 11(Sat)
USD1899
USD539
Nov 10(Fri)
Nov 18(Sat)
USD1869
USD519
Dec 08(Fri)
Dec 16(Sat)

USD1789

USD1574

USD439
Dec 22(Fri)
Dec 30(Sat)

USD1789

USD1574

USD439
Remark: The prices in red reflect the current discount.
Prices are per person on twin sharing basis; departures are guaranteed even with two persons!
Christmas & 2024 Special:
12% off
- Book before Dec 31, 2023
Arrival Date
Departure Date
Double Occupancy
Single Room Supplement
Jan 05(Fri)
Jan 13(Sat)

USD1969

USD1732

USD479
Feb 23(Fri)
Mar 02(Sat)

USD1969

USD1732

USD479
Mar 11(Mon)
Mar 19(Tue)

USD1989

USD1750

USD499
Mar 25(Mon)
Apr 02(Tue)

USD1989

USD1750

USD499
Apr 08(Mon)
Apr 16(Tue)

USD1799

USD1583

USD549
Apr 19(Fri)
Apr 27(Sat)

USD1799

USD1583

USD549
May 10(Fri)
May 18(Sat)

USD1819

USD1600

USD569
May 24(Fri)
Jun 01(Sat)

USD1819

USD1600

USD569
Jun 10(Mon)
Jun 18(Tue)

USD1779

USD1565

USD529
Jun 21(Fri)
Jun 29(Sat)

USD1779

USD1565

USD529
Jul 05(Fri)
Jul 13(Sat)

USD1879

USD1653

USD599
Jul 19(Fri)
Jul 27(Sat)

USD1879

USD1653

USD599
Aug 02(Fri)
Aug 10(Sat)

USD1879

USD1653

USD599
Aug 16(Fri)
Aug 24(Sat)

USD1879

USD1653

USD599
Sep 06(Fri)
Sep 14(Sat)

USD1849

USD1627

USD599
Sep 16(Mon)
Sep 24(Tue)

USD1849

USD1627

USD599
Oct 07(Mon)
Oct 15(Tue)

USD1849

USD1627

USD599
Oct 18(Fri)
Oct 26(Sat)

USD1849

USD1627

USD599
Nov 01(Fri)
Nov 09(Sat)

USD1619

USD1424

USD499
Nov 15(Fri)
Nov 23(Sat)

USD1619

USD1424

USD499
Dec 08(Sun)
Dec 16(Mon)

USD1589

USD1398

USD489
Dec 22(Sun)
Dec 30(Mon)

USD1589

USD1398

USD489
Price Includes
Domestic airfares
Hotel accommodation with breakfasts
A la carte lunches as itinerary specifies
Professional English-speaking guides
Drivers & air-conditioned vehicles
Entrance fees to tourist sites
Tips or gratuities for hotel porters
Price Excludes
International airfares
Entry Visa fees
Personal expenses
Tips or gratuities for guides and drivers
Why Travel With Us
Itineraries you may also like: