Beijing Panjiayuan Flea Market
Beijing Panjiayuan Flea Market Facts
Panjiayuan Market Address: 18 Huaweili, southeast corner of the 3rd Ring Road, Chaoyang District
Panjiayuan Flea Market Opening Hours: 8:30 - 18:00 (weekdays); 4:30 - 18:00 (weekends); the stores in the market open everyday while the street stalls just open on weekends.
Area: 48,500 square meters (520,000 square feet)

What to Buy in Antique Market
Beijing Panjiayuan Flea Market, aka Panjiayuan Antique Market, is the largest, most complete, cheapest and most popular market selling second hand goods and curios in China. There are so many types of goods in Panjiayuan Antique Market that it is like a museum. It is a heaven for buying and appreciating antiques, crafts, collectibles and decorations. You can find calligraphy, Chinese painting, writing brushes, ivory carving, traditional Chinese musical instruments, porcelain, ancient furniture, etc. There are also some peddlers from ethnic minorities like Hui, Mongol, Miao, Korean and Manchu, hawking their national handicrafts. Actually, Beijing Panjiayuan Flea Market has become one of the must-go attractions of Beijing for tourists from home or aboard.

Porcelains and Other Craftworks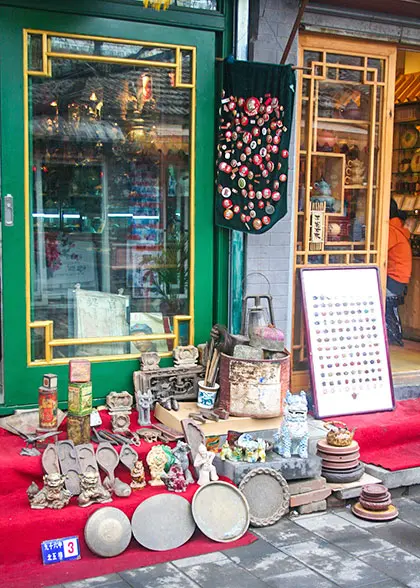 Craftworks and Porcelains
Porcelain
is absolutely the most typical of Chinese craftworks showing eastern cultural features. Porcelain wares are highly prized by foreign visitors for their exquisite design and special styles. There are some ancient porcelain wares from hundreds of years ago, as well as less expensive imitations sold in Beijing Panjiayuan Flea Market. Other craftworks, such as paper-cuts, gold or silverware, bamboo carvings, bone carvings, woven cloth, dyed cloth, embroidery, lacquer ware and teapots, can be seen in the Panjiayuan Market, giving a general picture of Chinese folk life in old times.
Jewels and Jades
There are a lot of shops selling jewels and
jades
, in which you can find precious treasures, such as the Hetian Jade and nephrite, agate, amber, pearl, coral, turquoise, diamonds, ornamental stones, crystal, etc.
Ancient Propaganda Pictures
There are many booths selling ancient books and propaganda pictures. The pictures describe the cultural life after the foundation of the PRC and reflect the simple spirit of that time. Mr. Liu Zhanquan is a famous collector of hundreds of ancient propaganda pictures. The pictures enjoyed by visitors and show the features of the times.
Location of Liu Zhanquan's shop: No.212, 2/F, Modern Collection Area, Beijing Panjiayuan Flea Market
Calligraphies and Paintings
Beijing Panjiayuan Flea Market possesses rich sources of paintings and calligraphies, such as oil paintings, watercolor paintings, ink paintings, print-makings, sketches, decorative paintings and ancient calligraphies. A small number of them are precious original manuscripts, but most are imitations.
Carved Furniture
Traditional Chinese furniture
requires a high-class wood-working technique, and has been well liked by locals for thousands of years. The furniture is skillfully carved with vivid flowers, spirits or animal designs. There are many styles of it in Panjiayuan Market, such as Ming Dynasty Style, Qing Dynasty Style and Tibetan Style. Many kinds of carvings like doors, windows, cupboards and wardrobes are ideal decorations for the house with classical features.
| | |
| --- | --- |
| Pictures and Propaganda Paintings | Carved Furniture |
Stamp collectors can find many Chinese stamps in Panjiayuan Market, such as the imitation stamps of twelve zodiacs.
Tips for Shopping
1. Bring a magnifying glass so that you can have a careful look at the goods and curios.
2. Select the sellers carefully. The sellers can be roughly divided into three categories: special stores where the goods are of high quality and high price, individual shops where good articles are mixed with bad ones, and stalls where the goods are of the lowest quality. Select the seller carefully and compare the goods and price.
3. Ask about the price first before reaching the items for a closer look and pass the goods carefully in case of breaking them. Otherwise, some of the sellers may demand high compensation.
4. Be careful with the bargains. Sometimes the bargains are counterfeits, problematic or even damaged goods.
5. Do not look at the items in dimly lit places or under the light. Instead, look at them in bright natural light to ensure the quality.
6. Do not easily believe the story of the goods told by the sellers. The story may be made up by the sellers to attract you to buy.
7. You can also find an expert with sharp eyes and plenty of related background knowledge to go with you.
8. When making a deal of great value, request a formal invoice and sign a contract in which fake compensation or refund terms should be included.
How to get to Beijing Panjiayuan Flea Market
1. Take
Subway Line 10
to Panjiayuan and leave from Exit B, you will see the market.
2. Take Bus 28, 378, 638, Yuntong 107, Yuntong 107 Express or Night Bus 30 to Panjiayuan Qiao.

Top 10 Things to Do in Beijing

10 Non Touristy Things to Do in Beijing

12 Free Things to Do in Beijing
- Last updated on May. 24, 2022 -
Questions & Answers on Beijing Panjiayuan Flea Market
Asked by Mojisola Sorunke from UNITED KINGDOM | Apr. 27, 2019 04:24

Reply
I want to buy coral beads in Beijing Panjiayuan Market. How is that possible?
Answers (1)
Answered by Hailey from USA | Apr. 28, 2019 00:31

0

0

Reply
Well, most of the goods are artificial art wares. You can buy them but remember to bargain a lot.
Asked by Sandy from FRANCE | Nov. 11, 2018 22:58

Reply
Are the outside venders in Panjiayuan Market only on Sunday or on Saturday too?
Also, what happened to all the sellers who used to be on the sidewalk leading from the subway station to the main entrance to the market? I went this weekend and they weren't there anymore? Are they set up somewhere else?
Answers (2)
Answered by Tab from USA | Nov. 12, 2018 17:51

0

0

Reply
No, the flea markets are mainly from Monday to Friday of citizens. On Saturday and Sunday, it is also the flea markets but it is not all of the citizens.
Answered by Sandy from FRANCE | Nov. 13, 2018 03:49

0

0

Reply
I don't understand your reply. I don't know what « citizen » means. I want to know if the outside sellers who I saw Sunday near the parking and book sellers under the garage are there Saturday too or just Sunday? Also, what happened to all the sellers who used to sell outside the main entrance on the sidewalk from the subway to the main entrance? They aren't there anymore?
Asked by Shirley Luu | Feb. 01, 2018 06:24

Reply
Where can I buy ethnic minorities traditional clothing and jewellery in Beijing?
Hi,

If found in Panjiayuan, what kind of price range can I expect?

thank you
Answers (1)
Answered by Vivian from ITALY | Feb. 01, 2018 20:37

0

0

Reply
Hi, Shirely! I happen to know an Ethnic Clothes & Jewelry Store in 24 Jiuxianqiao Street, Chaoyang District. As I know, those things, wherever you buy, the price is around CNY 1,000 or so.