Top 10 Shopping Streets in Beijing
As an old capital of six dynasties, pedestrain streets in Beijing are the powerful proof defining the development of its economy. Wangfujing, Xidan, Qianmen and Da Shi Lar are the most popular streets of the city, and here list the top 10 shopping streets in Beijing.

Chinese name: 王府井大街 (wáng fú jǐng dà jiē)
Situated to the east of Forbidden City in Dongcheng District, Wangfujing Street is one of the top 10 shopping streets in Beijing. With East Chang'an Avenue in the south and National Art Museum in the north, the 1,600m (1 mile) street attracts thousands of visitors every day. Shopping malls like Malls at Oriental Plaza, Sun Dong An Plaza and Shengxifu Hat Store are popular. In addition, various local snacks can be found in Wangfujing Snack Street and Night Market.

Chinese name: 西单商业街(xī dān shāng yè jiē)
As one of the top 10 shopping streets in Beijing, Xidan Commercial Street is a traditional shopping center in Beijing. It's located in city center, about 2 kilometers (1.2 miles) west of Tiananmen Square. The street features youth fashion, attracting many young people. Wandering around the street, visitors can shop in Xidan Shopping Center, Joy City, Grand Pacific Mall, Hanguang Department Store and Xidan Pearl Market.

Chinese name: 红桥珍珠市场 (hóng qiáo zhēn zhū shì chǎng)
Beijing Pearl Market, aka Hongqiao Market, is in No. 9 Tiantan Rd, Dongcheng District. As the name shows, the market is famous for the pearl products. The pearl products in the market are quite popular among foreign visitors. Nowadays, it sells not only pearls, but also silk, seafood, and digital products.

Chinese name: 秀水街(xiù shuǐ jiē)
Beijing Silk Market, also known as Silk Street, is located in 8 East Xiushui Street, Chaoyang District. Listed as one of top 10 shopping streets in Beijing, the street mainly offers silk ornaments and clothes. Besides, others stuffs like jewelries, jade, and toys can also be found.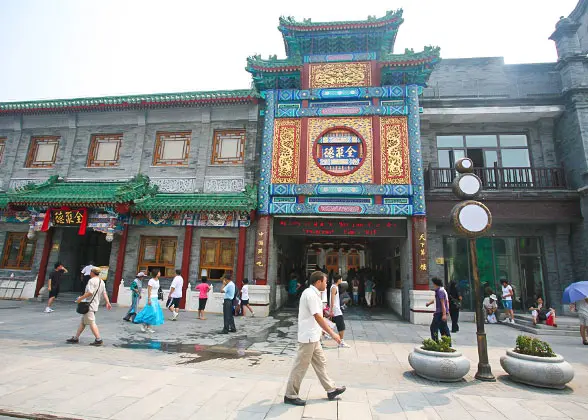 Qianmen Street
Chinese name: 前门大街(qián mén dà jiē)
Qianmen Street is one of the oldest and most famous commercial streets with a 500 year old history. As an ancient street, it is an assembly place of time honored shops, including Quanjude Roast Duck Restaurant and Du Yi Chu Shao Mai. Now, this street is under reconstruction. It is predicted that the whole project will be finished at the end of this year. But don't be disappointed: most of the time honored shops will be back in this street by then. Visitors will also be surprised to find that the street will be re-built as it was in the 1920s, when it was extremely prosperous. Furthermore, trolley cars will re-appear in the street, after being absent for 40 years. Visitors can get on the car and view the street for free.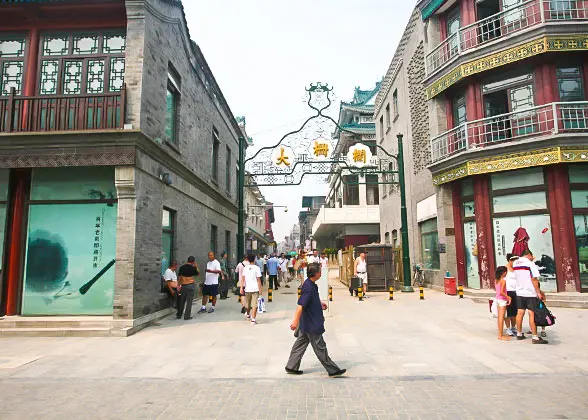 Dashilan
Lying to the northwest of Qianmen Street, Da Shi Lar is also one of the busy Pedestrian Streets in Xuanwu District. The street was named as Lang Fang Si Tiao in the past. It is 300 meters (328 yards) long but a bit narrow. Both sides of the street are crowded with stores which are busy with visitors coming and going everyday. As a flourishing old street, there are many special time honored shops passed down from older generations. Tongrentang Chinese Herbal Medicine Pharmacy, which was opened in 1669 is the most famous pharmacy for Chinese herbal medicine in the country. Ruifuxiang Silk and Leather Store which started in 1893 offers all kinds of beautiful high quality silk. Da Shi Lar is also under reconstruction and will be open to the public by the end of this year.
7. Silver Street
Chinese name: 银街(yín jiē)
Starting from Dongdan in the south to Dongsi in the north, Silver Street of top 10 shopping streets in Beijing is a modern street for beauty lovers. It is a gathering placefor exotic fashions. Liz Jane Shopping Center, Longfu Plaza and plentyof franchised stores can offer you all the famous brand names, such as Puma, Liz & Jane, Adidas and Girddar.
8. Beijing Lady's Street
Chinese name: 女人街(nu rén jiē)
Operation of the street covers clothing, general merchandise and shoes and hats, and mainly includes items imported from Guangzhou, South Korea, Hong Kong and Taiwan, as well as other international fare. Especially the clothes in South Korean and Japanese style are very popular in Women Street. It is believed to be the place that you can find anything you might want.
9. Jianguomenwai Street
Chinese name: 建国门外大街(jiàn guó mén wài dà jiē)
The street is outside Jianguomen. Benefiting from its geographical position, the street is a busy one and popular with visitors at home and aboard. The famous Friendship Store and Scitech Plaza are all located in the street. Apart from that, there are a number of modern hotels, office buildings and apartment towers on both sides of Jianguomenwai Street.
10. Chaowai Street
Chinese name: 朝外大街(cháo wài dà jiē)
Lying outside Chaoyangmen, the street is also a prosperous commercial street in Chaoyang District. There are many modern skyscrapers towering along the street. Fenglian Plaza, Huapu Plaza and Blue Island Mansion are famous shopping places in this city. Hai Lan Yun Tian is the most special one offering exquisite house wares.
- Last modified on Jun. 25, 2019 -
Questions & Answers on Top 10 Shopping Streets in Beijing
Asked by Greg from AUSTRALIA | Jun. 23, 2019 19:48

Reply
where can i get traditional Chinese clothing in Beijing?
Answers (1)
Answered by Andrew from AUSTRALIA | Jun. 25, 2019 01:34

0

0

Reply
You can find some in Silk Market at No. 8 East Xiushui Street, Chaoyang District.
Asked by keziah from PHILIPPINES | Oct. 26, 2018 20:23

Reply
Hi,which market we can buy a cheap clothes here in Beijing?
Answers (1)
Answered by Earlean from USA | Oct. 29, 2018 00:36

0

0

Reply
You can have a try in Dahongmen wholesale market, located at No.15 Nanyuan Road, Fengtai District.
Asked by Diana Christina from INDONESIA | Feb. 26, 2016 09:29

Reply
Hello I want to go to Beijing lady's Street
Could you tell me how to go there from RJ Brown Hotel in Xinnong Street. Thanks
Answers (1)
Answered by Armand from GERMANY | Feb. 26, 2016 19:01

0

0

Reply
Well, no direct bus or subway can take you to the destination. You need to transfer. So you are suggested to take a taxi directly. The cab fare is about CNY 40 in the day time.
Asked by Beba from SWITZERLAND | Jun. 15, 2015 04:37

Reply
Best food streets in beijing
Hello,
I would love to find some good food street where we can sit down, have some Píjiǔ and eat skewers all night.
Thank you very much,
Beba
Answers (3)
Answered by Polly from NETHERLANDS | Jun. 15, 2015 21:19

1

1

Reply
Oh, local Ancient Street (Gujie) is a good choice for you.
Lots of shops sell all kinds of delicious local snacks. And you can drink beers and eat barbecues there. It is regarded as one of the most popular food street in the city.
This street is located inside the Dongzhimen. You can find it easily.
Answered by Mona | Jun. 16, 2015 01:55

1

1

Reply
The Donghuamen Night Market and Guijie Night Market are also fine choices to achieve having beer and eat skewers.
Answered by Beba Grob | Jun. 17, 2015 10:53

1

1

Reply
Thank you very much for your help!