Qianmen Street
Located at the central axis of Beijing City, Qianmen Street is a famous pedestrian street, running from Jianlou (the Archery Tower) of Zhengyangmen in the north to the turning of Tiantan Park in the south. It is 840 meters (about 919 yards) in length and 21 meters (about 23 yards) in width. It is composed with buildings whose styles resemble the late
Qing Dynasty
(1644 --- 1911).
It has history of more than 570 years. It was called Zhengyangmen Street during the Ming and Qing Dynasties, and finally got the present name in 1965. During the Qing Dynasty, there were many specialized outlets on either side of it, such as a meat market, cloth market and jewelry market. And there were also many craftsman workshops, warehouses and theatres in the
Hutongs
nearby.
After more than one year's renovation, it was reopened on August 7th before the 2008 Beijing Olympics. It is a symbol of genuine local culture. It has many of China's time-honored names. Visitors can enjoy a traditional Chinese way of life. Moreover, it has many international brands, such as H&M, Haagen-Dazs, Sephora, ZARA, Qggle, COSTS CAFÉ, and SK Jewelry. The most famous of China own names are as follows:
Quanjude
, Yitiaolong, and Douyichu, and Changchuntang.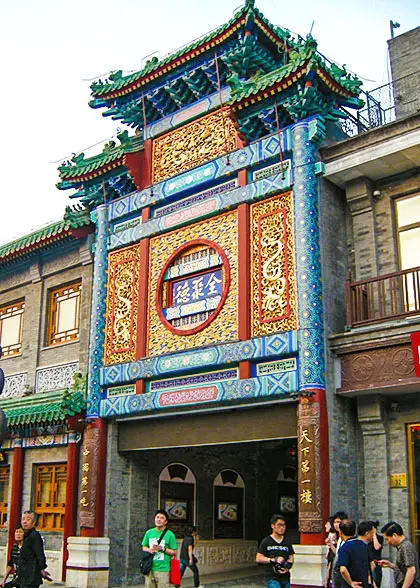 Quanjude Roast Duck Restaurant
With
roast duck
taking the leading role, Quanjude has formed its regional cuisine with the feast of whole duck and more than 400 special dishes. It is enjoyed by people all over the world. Yitiaolong restaurant (original name was Yitiaolong mutton restaurant) is an authentic Muslim restaurant. It was first open to the public in 1785. The representative dishes are Golden Fried Prawns, Braised Ox Tail in Brown Sauce, fried crisp chicken, and so on.
Douyichu, with history of 250 years, was evolved from a tavern. It is said that the name was granted by Emperor Qianlong (1711-1799) of the Qing Dynasty. Now this restaurant mainly offers baked wheat cake, fried dishes and roast dark. Changchuntang is a drugstore which has a history of more than 200 years. It deals in the Chinese traditional and western medicine, and provides patrons, pharmaceuticals via postal delivery services.
Besides, Dangdang Che (trams) is also worthy of being mentioned. They were first introduced to Beijing in 1924, running from Qianmen to Xizhimen. In 1966, they were abandoned. Due to advanced technology, two of them have returned on this street as sightseeing cars. With the same look of the old ones, they start from the opposite ends. Each one can accommodate up to 84 visitors at a time.
It has become one important attraction in our
'One-day Trip in Beijing'
tour.
Neighboring Attractions,
Tiananmen Square
,
Temple of Hevean
,
Forbidden City
and
Da Shi Lar
are worth of visiting while coming to the Qianmen area.
| | |
| --- | --- |
| Shops | Dangdang Che(trams) |
Transportation:
1.
Subway Line 2
to Qianmen Station and get out from southwest or southeast exit.
2. 120, 126, 17, 20, 22, 48, 5, 59, 622, 623, 66, 67, 69, 71, 8, 82, 93, BRT line 1, Te 11, Te 4, Te 7, getting off at Qianmen Station
3. 44, 673, 9, Te 2 getting off at Qianmen Xi or Dong Station and then walk a few meters.

Beijing Bus / Subway Search

Recommended itineraries:
One Day Visit
: Qianmen Street - Dashilar Street - Colored Glaze Factory (Liulichang) Street - South Gong and Drum Lane
Dashilar Hutong Cycling
: Qianmen Street - Zhubaoshi Street - Dashilar Hutong…
More
Beijing Tours

Nearby Attractions:

China Railway Museum
(Zheng Yang Gate Branch)
Print