Best Beijing Craftworks
To buy souvenirs, the craftworks are good choices! The best Beijing craftworks include cloisonné, ivory carving and jade carving. Because Beijing was the ancient cultural city of China, there are many consummate skills handed down from generation to generation. These craftworks distinguished by their dense eastern style are the best ideas of Beijing souvenirs for the visitors. You can pick up one or two of them for yourself or friends from antique markets or feature shops in the city.
As one of the best best Beijing craftworks, Jade has been considered the king of the precious stones by Chinese for over 5,000 years. It is regarded as an auspicious thing standing for goodliness, heavenliness and preciousness. In ancient times, people wore jade to show their status and position on society. There are many places with abundant jade resources, such as Hotan in Xinjiang Province and Youyan in Liaoning Province. And there are lots of craftsmen with a high level of skill in Jade Carving. The jade vase, figurine, bird, animals and flowers are so well-made that they appear lifelike.
| | |
| --- | --- |
| Jade Lion | Cloisonne Craftwork |
Cloisonne which is also known as enamel is a kind of copper craftwork and one of the best Beijing craftworks. It first appeared in this city in the Yuan Dynasty (1271-1368) and prevailed during the Ming Dynasty (1368-1644). Cloisonne is a perfect combination of copper and porcelain. It is made by using copper as the basal material with brass wires fixed to the body of the copper in some designs. Then blue glaze is applied to the brass wire. After a series of complex procedures, such as burning, burnishing and gilding, the cloisonne is done. This process can be used to make articles such as headgears, lamps, smoking sets and other vessels of all shapes and sizes. It's one of the best Beijing souvenirs for visitors!
Artificial Flower
Chinese name: 绢花(juān huā)
The Artificial Flower among best Beijing craftworks, also known as Jing Hua, has been a traditional handicraft since ancient times. As early as the Tang Dynasty (618-907), women began to wear artificial flowers on their hair as decoration. And the middle of Qing Dynasty (1644-1911) was a booming time for this folk art. These vivid flowers are made from all kinds of colourful silks by skilled craftsmen. As a result of thousands of years' development, there are now over 2,000 kinds of artificial flowers, including the fireproof garland mounted on a candleholder and the waterproof flower branch. As well as artificial flowers, the craftsmen can make dolls from silk. The colourful dolls with a variety of designs are also very popular. It's one of the best souvenirs to buy here!
Dough Figurine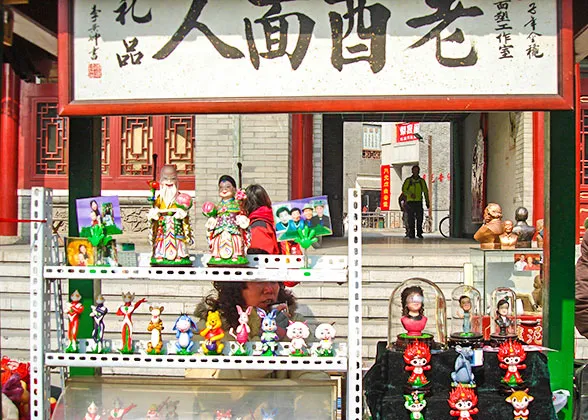 Dough Figurines
Chinese name: 面人(miàn rěn)
Dough Figurine is a simple folk handicraft demonstrating high artistic quality. It has a history over 1,340 years. The vivid figurine is made by skilled craftsmen from sticky rice dough mixed with pigments, honey and olefin. After cutting, slashing, pinching and twisting the dough, a lifelike child, beautiful girl or other creations will come out in the twinkling of an eye. You can witness the craftsmen making dough figurines along the exhibition streets in this city and you will be astonished by their excellent skills.
Ivory Carving
Chinese name: 牙雕(yá diāo)
Ivory Carving in the city enjoys a history of as many as 3,000 years. The excellent techniques and well-developed imagination of the skilled craftsmen give the ivory a new life with their knives. It is an exquisite and delicate craftwork that is loved by people at the first sight. In ancient times, the Chinese emperors regarded the ivory carving as a royal tribute. Today, ivory carvings are sent to many foreign friends by Chinese leaders. Because ivory is now in short supply and there are fewer young craftsmen, ivory carving is may soon be a lost art.
There are two kinds of lacquers in the city: carving lacquer and golden enchased lacquer. Both of them are extractive craftworks featuring dense folk art. They are acclaimed by people all around the world. There are many large lacquer works set in many important concourses, such as the Great Hall of the People and Diaoyutai State Guest House.
Snuff Bottles with Pictures Inside
Chinese name: 内画壶(nèi huà hú)
Usually it is a flat snuff bottle made of glass, while some more precious ones are made of jade, crystal or agate. The most astonishing thing about these is that the designs of the bottles are drawn by skilled craftsmen from inside the bottle with a tiny writing brush. Making a snuff bottle with pictures inside calls for extremely deft drawing techniques and it takes a few weeks or one month to finish one bottle. It can be collected as a delicate collection and there are many bottles on display in overseas museums as curios these days.
Palace Lantern
Chinese name: 宫灯(gōng dēng)
As its name implies, the lantern was used solely in palaces in ancient times. The lantern frame is made of precious wood, such as rosewood or sandalwood and is decorated with colourful glass and silk of all kinds. Its appearance is very elegant. Nowadays, it is also appreciated by the general public. During lantern festivals, people like to hang the lantern high on the eaves of buildings, to bring joy to many observers.

See more
Local Products of Beijing
- Last updated on Apr. 25, 2023 -
Questions & Answers on Best Beijing Craftworks
Asked by Giancarlo Grech from ITALY | Mar. 05, 2018 17:59

Reply
where to buy traditional chinese wedding cards in Beijing
Answers (1)
Answered by Clair from FRANCE | Mar. 05, 2018 19:53

0

0

Reply
I heard that can be found in the Bairong Shimao Shopping Mall in 101 Outer Yongningmen St., Dongcheng Dis. You may have a check!
Asked by Mauri from ITALY | Nov. 29, 2016 06:56

Reply
Please I need the postal code of the Pearl Market, Hongqiao Market Beijing.
Answers (1)
Answered by Nathan from UNITED KINGDOM | Nov. 29, 2016 19:51

0

0

Reply
It's 100061.
Asked by cassy from AUSTRIA | Nov. 10, 2014 05:57

Reply
Where is a good place to go for souvenirs in Beijing? (postcards, key rings, etc.)
What is the average price?
Answers (1)
Answered by Nick from USA | Nov. 10, 2014 19:20

2

2

Reply
I would suggest you go to the Wangfujing Pedestrian and Nanluo Guxiang to have a try! The price of the souvenirs is relatively low and you need to bargain sometimes. For a regular ring, it costs no more than CNY15.
Asked by Janine Pressley | Sep. 18, 2014 15:54

Reply
Clothing for Children and Adults in Beijing
My daughters want Chinese traditional dresses (like in the movies) where could I find some and what sizes do they come? Do they run fairly smaller than US clothing?
Answers (1)
Answered by Kate from IRAN | Sep. 19, 2014 01:38

2

0

Reply
Oh, I see. You must refer to the cheongsam, which is the Chinese traditional dress. I know there is a time-honored brand shop named Ruifuxiang. The dresses in the shop are very popular. You can go there to find what you want.

The shop is located at No.5 of Dashilan, Xicheng District. another branch shop is located at No.10 Fuchneg Road North,Haidian District.

As for the size, generally speaking, the size in China will be smaller than in USA. But you don't need worry about that, just remember the size of your daughter, then the shop staff will help you find the fit one.