Chinese Lacquer Ware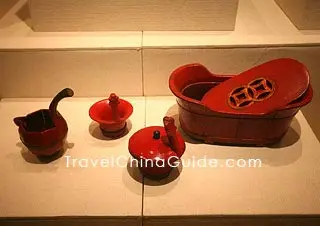 Red Lacquer Wares
Radiating a serene luster, lacquer ware is an exquisite Chinese craft. As the earliest users, the Chinese have enjoyed its beauty since the Neolithic Age. During the past hundreds of years, it has played an important role in the development of Chinese arts and crafts as well as having a large influence on the world's art. A wood-based red bowl made 6,000 - 7,000 years ago unveiled the history of lacquer techniques.

The original Chinese ancient lacquer ware was made using a natural lacquer obtained from sumac. The sumac should be about 10 years old. The liquid lacquer should curdle under damp conditions then become firm and resistant to heat, acid and alkali. As a whole, the manufacture process is very complex.

A Red-Paint Wood Bowl and a Red-Paint Vase were unearthed at the Hemudu Culture Site of Yuzhao, Zhejiang Province in 1978, which were evidence that the Chinese had started to make lacquer ware in the Neolithic Age. The ware turned out later to be made from natural lacquer. Early pieces were in simple red and black. During the Xia Dynasty (21st - 17th centuries BC) and Warring States Period (476 - 221 BC), the variety increased a lot and the industry lasted for about five centuries. At that time, it was used for furniture, such as containers, musical instruments, and funeral implements.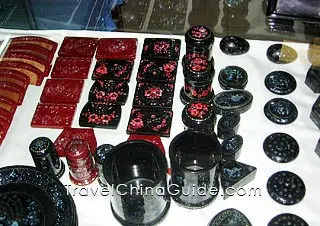 Polished Lacquer Wares, Pingyao
In the Han Dynasty (206 BC-220), the major lacquer ware was also in red and black. However, it was more widely used for plates, caskets, ear rings, crates, board games and other daily necessities or decoration accessories. Besides, the manufacturing craft became more delicate, such as using colorful paint, needle etching, inlay craft, decoration with gold rings, etc. During the Warring States Period, the ware was popular due to its exquisite techniques and vivid patterns depicting animals and clouds. Lacquer relics excavated in the Mawangdui Han Tombs, which are over 2,000 years old, amaze visitors with their pearl-like sheen. The Yuan, Ming and Qing dynasties were also prosperous periods during which more than 400 varieties were used as common implements and as ornaments.
Nowadays, China lacquer ware has become more delicate, spreading in Beijing, Yangzhou, Shanghai, Fujian and other areas. Distinctive features are well reflected in various lacquer ware: Those produced in Beijing is of sumptuous style; Fujian's is light, high-temperature-proof, corrosion-free and waterproof; Sichuan's is delicately carved and is famous for its rubbing patterns. Besides, pieces made in Yangzhou are well-known for their elegance, delicacy and a unique creative technique: whorl filling (Dianluo in Chinese) which uses shells as material, processes them into sheets as thin as cicada wings, and pastes them carefully onto lacquer objects. With this process, people even insert treasures like crystal, jade, pearls and coral onto lacquer furniture, tea wares, and calligraphy brushes. Lacquer ware produced in
Pingyao Ancient City
of Shanxi Province features a luster polished by the craftsmen's palms. This is considered to be the most refined because of its simple but radiant artwork.
- Last updated on Aug. 08, 2022 -
Questions & Answers on Chinese Lacquer Ware
Asked by Charley from USA | Mar. 01, 2016 10:03

Reply
Repair lacquerware
How does one repair the lacquer surface cracking on furniture that came from China 18 to 20 years ago?
Answers (1)
Answered by Bruno from SWAZILAND | Mar. 01, 2016 19:25

1

1

Reply
You can paint some laquar putty on the furniture to cover the small bleak. If it is a big crack, you might need to turn to the special craftman. Good luck!