Cantonese Restaurants in Beijing
A huge chunk of Chinese culture is devoted to food and drink. There are hundreds of different dishes, and each region has its own distinctive flavor.
All of the really funky dishes you hear about like live monkey brains and raw rat babies are Guangdong (Cantonese) style dishes (yue cai). However, there are lots of excellent, non-scary Guangdong dishes - the seafood being especially tasty. The cost of tasting Cantonese Cuisine is a little high.

Restaurants of Cantonese Cuisine
Lichang Seafood Restaurant
Chinese name: 黎昌海鲜大酒楼 (lí chang hai xian dà jiu lóu)
It is the oldest top-class Cantonese restaurant in Beijing. To provide the freshest and most delicious dishes, the seafood, is sent by air daily from Guangdong Province. The restaurant is open all day around, offering all kinds of delicacies as well as Guangdong snacks.
Average cost per Person: CNY200 - 300
Fangzhuang Branch:
Location: No.1, Guanxiang Dongli, Zuoanmen Wai, Fengtai District
Pengzhuang Branch:
Location: No. B-58, Yongwai Pengzhuang, Dongcheng Distrct
Jin Ding Xuan
Besides of the fresh Cantonese dishes, the various kinds of dim sum in authentic Guangdong flavor should not be missed in this popular restaurant. By the way, some branches of this restaurant also service in 24 hours.
Chinese name: 金鼎轩 (jin ding xuan)
Average Cost per Person: CNY60
Location of Ditan Branch: 77, Hepingli West Street, Dongcheng District
Location of Tuanjiehu Branch: 15, Tuanjiehu Nan Li, Chaoyang District
Location of Fangzhuang Branch: 16, Pufang Road, Fangzhuang, Fengtai District
Location of Jinyuan Branch: 1F of Golden Resource New Yansha Mall, 1, Yuanda Road, Haidian District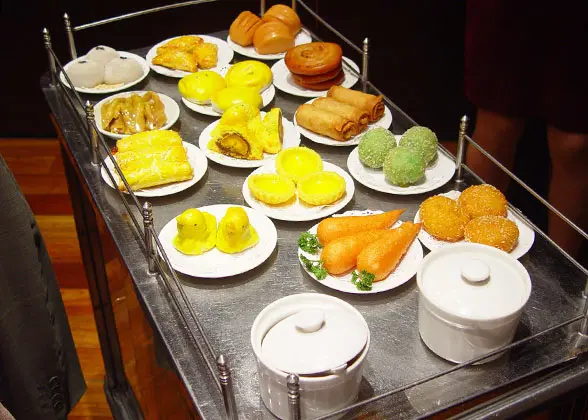 Wu Fu Lou Restaurant
Chinese name: 五福楼饭庄 (wu fú lóu fàn zhuang)
Average cost per person: CNY50-CNY100
Location: No.95, Lingjing Hutong, Xidan, Xuanwu District
Da San Yuan Restaurant (Jingshan Branch)
Chinese name: 大三元酒家 (dà san yuán jiu jia)
Average cost per person: CNY 200
Hours: 7:30 - 21:30
Location: No.50, Jingshan West Street, Xicheng District (close to north gate of Forbidden City)
The Sweet Dynasty Hong Kong Restaurant
Chinese name: 糖朝 (táng cháo)
The restaurant was first established in 1991 in Hong Kong, featuring Cantonese dim sum and dishes. It is one of the best Cantonese restaurants in Beijing. The menu is both in Chinese and English.
Recommended Dishes: matcha cream custard bun, mango pancake, wooden barrel bean curd paste, crispy fried chicken, the dragon king congee, crispy vermicelli roll stuffed with wild fungus
Average cost per person: CNY 100 - 150
Location: No. 6, Gongti West Road, Chaoyang District (to the south of the west gate of Worker's Stadium)
Otto's Restaurant
Chinese name: 日昌餐馆港式茶餐厅 (rì chang can guan gang shì chá can ting)
Average cost per person: CNY 60 - 80
Hours: 11:00 - 23:00
Beihai Headquarters: No. 14, Di'anmen West Street, Xicheng District
Wudaokou Branch: 1F, Wudaokou International Food Market, No. 29, Chengfu Road, Haidian District
Dongdan Branch: No. 72, Dongdan North Street, Dongcheng District
Cuiwei Road Branch: 4F, CapitaMall, No. 12, Cuiwei Road, Haidian District
Wenhui Bridge Branch: 2F, Maqua Maple International Shopping Center, No. 32 Xizhimen North Street, Xicheng District
Peony Garden Branch: No. 8, Huayuan East Road, Haidian District
Charme Restaurant
Chinese name: 港丽餐厅 (gang lì can ting)
Average cost per person: CNY 80 - 120
Hours: 11:00 - 22:00
Joy City Branch: No. 01, 6F, Xidan Joy City, No. A-131, Xidan North Street, Xicheng District
Zhongguancun Branch: No. 15, Zhongguancun Street, Haidian District
Wangfujing Beijing APM Branch: No. 507 - 508, 5F, Beijing APM, No.138, Wangfujing Street, Dongcheng District
VIVA Plaza Branch: 7F, VIVA Plaza, No. 65 Middle Road East Third Ring Road, Chaoyang Distirct
Chao Hao Wei (Summer Palace Branch)
Chinese name: 潮好味 (cháo hao wèi)
Average Cost per Person: CNY200 - 300
Hours: 10:00 - 22:00
Location: No.99, Dayou Zhuang (near the north entrance of the Summer Palace), Haidian District
Hong Kong Food City
Chinese name: 香港美食城 (xiang gang mei shí chéng)
Average Cost per Person: CNY100-CNY200
Hours: 11:00 - 24:00
Location: Wangfujing Pedestrian Street, Dongcheng District