Beijing Performances & Theaters
Understandably, as the nation's capital, this city is also the nation's cultural center. The National Centre for the Performing Arts, the Beijing Concert Hall, the China Folk Culture Palace each offers the very best of entertainment adding greatly to the wide choice of pastimes in the city. Chinese acrobatics have a long history and this is one of the most popular art forms among Chinese people. Performers have achieved worldwide fame for their wonderful skills and marvelous acts.
Other traditional Chinese performances such as puppet shows, exotic ballet, opera, concert and modern drama are put on every day in this city. Full details are published in the daily newspapers and information is usually available at your hotel's reception desk. Program details and ticket prices as well as addresses of the various venues can usually be found in the current 'Beijing Daily'.

Vocal Concert & Musicale



National Centre for the Performing Arts


Performance schedule, 2017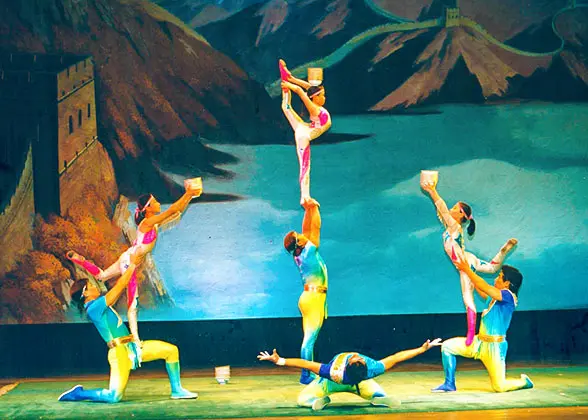 Acrobatic Show
Lying near Tiananmen Square and Great Hall of the People, the National Centre for the Performing Arts covers an area over 118,900 square meters (2.9 acres). The gallant showplace was designed by Aeroports De Paris and under the assistance of Tsinghua University. After 10 years' construction, the showplace was finished in September, 2007 and opened to public.
The north entrance of the National Centre for the Performing Arts is just beside the subway entrance of Tiananmen West Stop by Subway Line 1. A ticket selling hall is set there. On passing the dreamlike corridor under water, visitors can get to the public hall and see the three professional performing halls in front: drama hall (957 seats) in the west, odeum (1859 seats) in the east and opera hall (2079 seats) in the middle. They are separate halls which are connected with air corridors. Everyday, there are top leveled performances put on there. If you are an art fan, National Centre for the Performing Arts couldn't be missed in your journey.
Customers Capacity: 5,452 persons
Address: west of Tian'anmen Square
Bus Route: 1, 4, 52, 22, 10 (get off at Tiananmen Xi Stop)



Workers' Stadium
Built in 1959, this is one of the largest stadiums in China, which has high-level supporting facilities, including reporters' special seats and stands for the handicapped.
Customers Capacity: 65,000 persons
Address: Sanlitun, Chaoyangmen Wai Dajie, Chaoyang District
Bus Route: 113, 115, 118, 701, 834, 758, 406

National Gym
Customers Capacity: 18,000 persons
Address: No.5, Baishi Qiao, Xizhimen Wai, Haidian District
Bus Route: 332, 360, 347, 334, 902, 105, 111, 708 (get off at Shouti Stop)

Concert Hall of National Library
Customers Capacity: 1,120 persons
Address: No.33, Zhongguancun Nan Dajie, Haidian District
Bus Route: 319, 320, 332, 634, 645, 653, 716, 717, 727, 732, 804, 808, 814, 827, Yuntong 105, 106, 205 (get off at National Library Stop)

Zhongshan Music Hall
Customers Capacity: 1,400 persons
Address: inside Zhongshan Park, west of Tiananmen Square, Haidian District
Bus Route: 1, 5, 10, 22, 52, Te1, 802 (get off at Zhongshan Park Stop)
Subway: Line 1 (get off at Tiananmen Xizhan Stop)

Beijing Odeum
Customers Capacity: 1,182 persons
Address: No.1, Bei Xinhua Jie, Xicheng District
Bus Route: 1, 4, 52, 22, 10 (get off at Xidan Stop)
Subway: Line 1 (get off at Xidan Stop)

Exhibition Hall Theater
Customers Capacity: 2,700 persons
Address: No.135, Xizhimen Wai Dajie, Xichang District
Bus Route: 105, 111, 15, 16 Branch, 334, 347

Tianqiao Theater
This theater is located in the city center with Tiantan Park in the west and Liulichang Culture Street in the south. It is the only professional theatre with perfect facilities, for performing opera and ballet.
Customers Capacity: 1,200 persons
Address: No.21, Tianqiao Beiwei Lu, 2nd South Ring Road
Bus Route: 14, 120, 110, 859

Eastern Pioneers' Theater
Customers Capacity: 320 persons
Address: east of Eastern Plaza, No.8-2, Dongdan Santiao, Chaoyang District

Nine Theater
This theatre is named after nine separate theaters which offer performances in one building. The largest theater is 1,500 square meters (1,794 square yards) and the smallest one is only 50 square meters (60 square yards). Xiao Liyuan Theater is specially for Chinese Opera. There are motor-bars, art gallery and bookstores nearby.
Address: Culture Center of Chaoyang District, Xiaozhuang, Chaoyangmen Wai, Chaoyang District
Bus Route: 9, 101, 112, 115, 118, 718, 725, 306, 342, 382, 815, 846 (get off at Xiaozhuang Stop)


Folk Show

Chaoyang Theater
Customers Capacity: 1,300 persons
Address: No.36, North 3rd East Ring Road, Chaoyang District
Bus Route: 62, 119, 406, 409, 807, 707, 405 (get off at Chaoyang Theater Stop)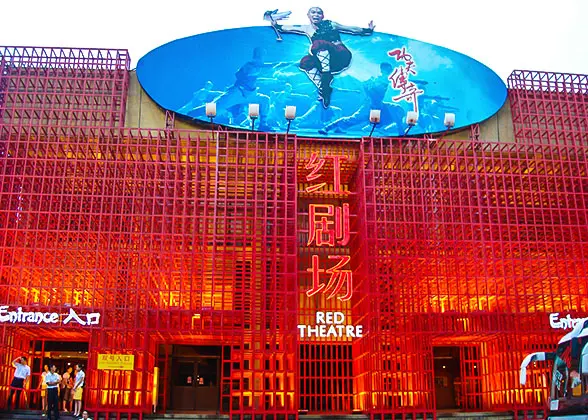 Exterior of Red Theater

Beijing Red Theater
The most famous Chinese Martial Art show (Kung Fu Legend) in this theater tells the growth of a little monk, and is rather entertaining.
Address: No.44, Xingfu Dajie, Workers' Art Palace, Chongwen District
Bus Route: 6, 8, 34, 35, 36, 41, 60, 116, 707, 957, 958 (get off at Beijing Tiyuguan (National Stadium) Station)

Chinese Puppet Art Theater
Customers Capacity: 700 persons
Address: A1, Section 1, Anhua Xili, Chaoyang District
Bus Route: 117, 18, 300, 328, 358, 387, 731, 735, 758, 830, 835, 858, 912 (get off at Anzhenqiao Stop)
Beijing Nightlife: