Beijing Teahouses
China is a country with a strong culture relating to tea and Chinese Tea has gained a high reputation around the world. Now, there are about 170 teahouses in this city, which can be divided into three kinds: traditional teahouse (a great combination of tea and Chinese folk culture), modern teahouse (characterized by Oolong) and special feature teahouse (with unique style and decoration). The traditional one is the preference for the visitors who are interested in the strong local culture. For the old Beijing people, the traditional one is a place not only for tasting tea, but also for enjoying traditional performances (including Beijing Opera, acrobatics, magic tricks and comic dialogue). Amongst them, Laoshe Teahouse is a symbol of this and is the most popular for visitors.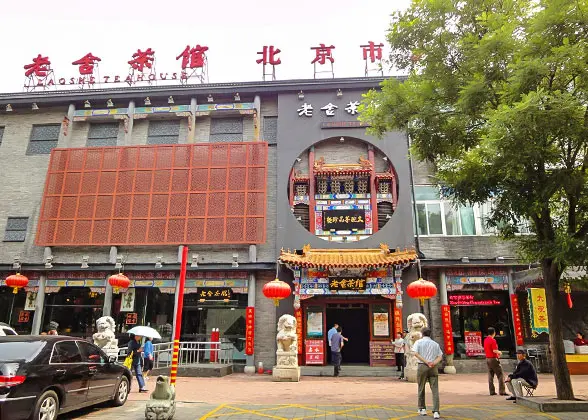 Laoshe Teahouse
Opened in 1988, it was named after a famous writer, Laoshe and his drama (Teahouse). It has received high acclaim, both at home and abroad. It is decorated in an elegant yet unsophisticated style, which takes the customers back to the old Beijing of the 1930s. Every day, there are various folk performances including acrobatics, opera and a tea ceremony show. In addition, genuine local desserts are also available. It has become a must for the visitors in this city. Just to inform you, the minimum cost is CNY20 (for tea).

Sihe Teahouse: Located on the 2F, it supplies a quiet courtyard for people to enjoy Chinese tea and dishes.
Address: Bldg 3, Zhengyang Market, Qianmen Xi Dajie, Xicheng District
Bus Route: 44, 48 (get off at Qianmen Stop)
Performances Schedule of Laoshe Teahouse:
Time
Performances
Ticket Fee
Location
19:50 – 21:20 (everyday)
Comprehensive performances
CNY 80-580
3/F, West Big Hall
14:00 – 18:00
(Monday to Friday)
Shadow Puppetry Play
Free
1/F
15:00 – 16:10
(Saturday and Sunday)
Opera
CNY 80-580
3/F,West Big Hall

Tips: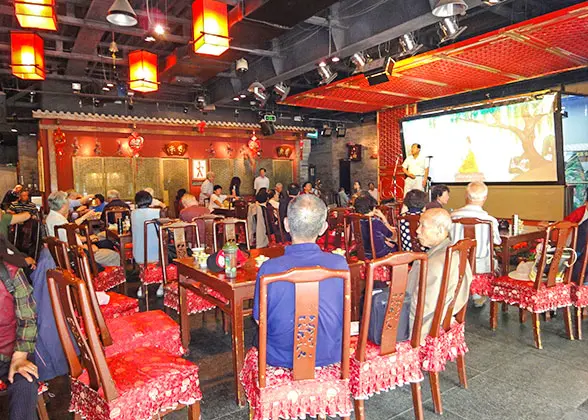 1. Comprehensive performances include Folk Music Play, Beijing Opera, Danxian (story-telling to musical accompaniment), Hand Shadow Play, Folk Dance, Face Changing, Acrobatics, Magic Tricks, Allegretto, Comic Dialogue Show and Chinese Martial Arts.
2. The ticket fee mentioned above includes different sets of tea and pastries according to the different price. Customers can order extra tea and local refreshments from the waiter.
3. As it is popular and crowded with customers every night, you'd better make a reservation ahead of time (before 18:00 for the day). For the night performances, you should get to the place before 19:35; or the reservation would be cancelled (If there is emergency, you can call the following number to confirm.)
Tickets Booking Hotline: 010-63036830 / 63021717
4. Opening Hours: 09:00 – 01:00
Customers Capacity: 800 persons
De Yun She
(namely Tianqiaole Teahourse)

Chinese name: 德云社 (天桥乐茶园)

Tianqiao area in Xuanwu District was an assembling place for the common people's daily entertainments in old Beijing. Built in 1933, it was a preference for the locals for a long time. In 1992, it was repaired. There are operas, acrobatics, martial arts and folk art showing everyday. A famous comic dialogue actor Guo Degang and his colleagues will put on performances as well. The most interesting thing is that customers need to pay using ancient copper cash (you can change for some with paper cash in this place), which gives you a true experience of ancient times. Drum Song of Beijing is also a well-received folk performance in this place.

Comic Dialogue Show: 19:15~22:00 on Tuesday, Wednesday and Thursday;
14:00~17:00 on Saturday; 19:15~22:00 on Saturday and Sunday
Ticket Fare: CNY20/40/60/80/100 per seat;
CNY400/CNY500 per balcony (including 5 seats, tea and snacks)

Beijing Opera: 19:15~22:00 on Friday; 14:00~17:00 on Sunday
Ticket Fare: CNY30 per person
Address: A1, Beiwei Lu, Xuanwu District
Menghuitianqiao—Sanlitun Theater of Deyunshe
Chinese name: 梦回天桥—德云三里屯剧场
As a newly built branch of De Yun She, this theater is decorated in the traditional Ming and Qing style. Besides of the comic dialogue shows, the mouth-watering local snacks also supplied everyday.
Ticket Fare: CNY30/60/80/120/160/180/200/280 per person; CNY600~3800 per balcony
Address: No.4, Gongti Dong Lu, Chaoyang District (faces to the Sanlitun Yashow Clothing Market)
Zhangyiyuan Tianqiao Teahouse
Chinese name: 张一元天桥茶馆
This one is also a popular one with traditional comic dialogue shows.
Performance: 19:00 on Friday, Saturday and Sunday; 14:00 on Saturday and Sunday
Ticket Fare: CNY30/40/50/60 per person, including a cup of tea
Address: No.18, Wanming Lu, Xuanwu District (just opposite to the Oriental Hotel)
Santosa Tea House
Chinese name: 圣淘沙茶楼
This should be one of the most luxurious ones in this city. Besides of enjoying a cup of tea and performances, you could have both of Chinese and western cuisine here.
Address: Jia-1, Waiguan Xie Jie, Andingmen Wai, Chaoyang District
Average cost: CNY200~1,000/person