Chaoyang Park (Sun Park)
Chaoyang Park is also known as the Sun Park. It was built in 1984 and now is located at No. 1, South Nongzhanguan Road in Chaoyang District of Beijing, adjacent to the embassy area and the business center. Being 2.8 kilometers (1.7 miles) long from north to south and 1.5 kilometers (0.9 miles) wide from west to east, it has an area of 288.7 hectares (713 acres) and its water surface covers an area of 68.2 hectares (169 acres). Now Chaoyang Park has more than 20 scenic spots and the venue for the beach volleyball competition of the Beijing 2008 Olympic Games is also situated in it.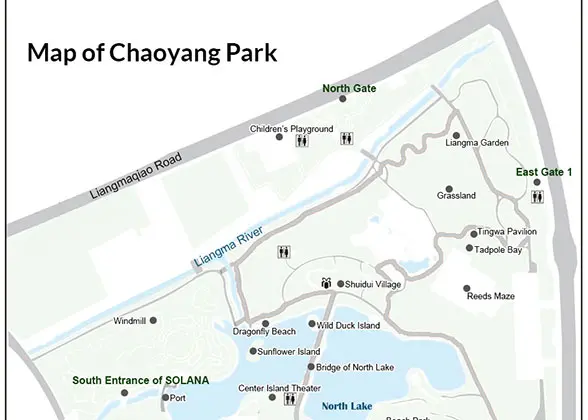 Map of Chaoyang Park
The Ecological Valley
Located in the northern part, it is a natural valley between hills, characterized by a large water area and green space. Various aquatic plants, metasequoia trees, willows and other humidity resistant trees grow here. The source of the water is a ladder of cascades piled up by rocks.

Binshui Island
Situated by Lotus Lake (Lianhua Lake), it is the home for wild ducks. Composed of wooden platforms, pavilions and meadow, the environment is enriched by small and medium-sized sculptures to express the idea of naturalness, environmental protection and the balance of nature.

Art Square (Yishu Square)
Located near the west gate, it is made up of a sunken oval fountain and two rectangular fountains. Fine artistic sculptures are scattered across the square, presenting beautiful rural landscapes of Vienna, Austria. It is a nice place with a heavy artistic atmosphere.

Resource of Life Scenic Area
It is built on the theme of natural life and is opened up in a large stretch of woods and combines greenness, running water and sport. Luxuriantly green trees grow prosperously on the rolling landform. Five colorful brooks flow from the woods. Over 200 luxury yachts, auto boats and various kinds of small boats shuttle back and forth on the lake. From nearby they look like every lotus flower when fully open. From a distance they appear as if millions of stars are shining in the sky.

Bathing Beach
It is located in the western part of Chaoyang Park and was the venue for the beach volleyball competition of the Olympic Games. Originally, this place was the practice area for the beach volleyball competition; and after the Olympic Games were concluded, it was reconstructed into bathing beaches covering an area of 2.5 hectares. The sands for the beaches, famed for softness and comfort, were specially transported from Hainan Province. The bathing beaches can attract 3,000 tourists a day. You can practice beach volleyball here with your friends and enjoy the water in Chaoyang Park swimming pool.
Blue Harbor (Solana)
Located in the northwest of Chaoyang park, it is the first lifestyle shopping center in China that combines shopping, conference and exhibition, catering, entertainment and recreation.

Cultural Activities
Chaoyang Park holds various activities during the Spring Festival, May Day Holiday, National Day Holiday and other festivals. The Thailand Cultural Exhibition, Europe Cultural Exhibition, Cat and Dog Shows and other exhibitions have been successfully held here. Chaoyang International Exhibition started in 2002 has become the favorite of the local people during Spring Festival.
How to get to Chaoyang Park

By Subway:
Take Subway Line 14 to Chaoyang Gongyuan (Chaoyang Park) Station. Get out from Exit B and you can see the No. 2 South Gate of the park. Visitors can also get off at Zaoying Station to arrive at the west gate of the park.


By Bus:


South Gate: Take bus 302, 431, 450, 499, 502, 619, 650, 672, 673, 675, 690, 973, 988, Special Line 16 or Yuntong 122, and get off at Chaoyang Gongyuan Nanmen Station.


West Gate: Take bus 419, 421, 677, 682, or 985, and get off at Chaoyang Gongyuan Ximen Station.


East Gate: Take bus 657, 740, 988, Special Line 9 (Inner Ring), or Yuntong 111, and get off at Dashanzhuang Station.


North Gate: Take bus 402, 413, 418, 421, 503, 677, or Yuntong 107, and get off at Chaoyang Gongyuan Beimen Station.
Beijing Bus / Subway Search
Entrance Fee
CNY 5.
Free for children under 3.9 feet (1.2m).
Opening Hours
April to October: 06:00-22:00, last admission at 21:00.
November to next March: 06:00-21:00, last admission at 20:00.

Battery Car Service:
Time: April to October: 09:30 - 16:15; November to next March: 09:30 - 16:45
Among Entrances: CNY 10 per person
Tour around the park: CNY 30 per person

Bicycle Rent Service:
Time: 08:30 - 17:30
A bicycle for two: CNY 60 per hour
A bicycle for four: CNY 80 per hour
A bicycle for six: CNY 100 per hour
A bicycle for eight: CNY 200 per hour
A bicycle for fourteen: CNY 350 per hour
Notes: Deposit of CNY 300 for each bycycle is necessay. This service can be found in South Gate and the east of East Santa Bridge.

Self-drive Electric Car Service:
Price: CNY 40 for the first half hour and then CNY 1 per minute (deposit of CNY 300 is needed)
Time: 08:30 - 17:00
Where to rent: 1. to the south of Sony ExploraScience Museum; 2. to the south of No. 7 East Gate

Cruise Boat Service:
Where to rent: 1. No. 1 Dock; 2. No. 2 Dock; 3. Fangzhou Lake Dock; 4. Binshuizhizhou Dock
Boat Type
Price (CNY per hour per boat)
Deposit (CNY)
2-People Bumper Boat
CNY 20 / 10 minutes / person
-
2-People Mushroom Pedalo
30
200
4-People Pedalo
40
200
4-People Row Boat
40
200
Battery Boat
4-People
50
200
6-People
80
300
8-People
100
300
11-People
150
300
3-People Luxury
60
200
4-People Luxury
80
300
6-People Luxury
100
300
6-People Classic
150
300
Print


Recommended Nearby Attractions:


Sanlitun Bar Street


Blue Zoo (Gongti Richina Underwater World)


Workers Stadium


Tuanjiehu Park


Dongyue Temple



Related Tour: Cycle around CBD


More Beijing Tours